Home
»
Disney Pixar CARS 3
,
Disney Planes
,
Mattel Disney Pixar Diecast CARS
Mattel Disney Toon PLANES & CARS: The Retail Peg Competition This Summer
As it's nearing summer time and the opening salvo of the licensed movie selling season, one big question is what about peg space for PLANES & CARS?
CARS as an ongoing line has an advantage that space is more or less reserved for it. CARS also has an advantage that it's diecast vehicles – there's rarely any new competition in this category (that Mattel doesn't already own – Hot Wheels & Matchbox). There is another Fast & Furious film coming but so far, they have not sold a lot of merchandise for this property … this summer, Dreamworks seemed convinced that Turbo is a licensing and sales juggernaut (see this post for photos) but I can't see it happening – technically, they are vehicles but I'm not not very convinced retailers will commit much to this line nor sell a lot of merchandise (unless there is a secret pent up desire of kids to play with snail cars) so it might crowd CARS along the edges but they'll just move the non-Mattel diecasts/skateboards/vehicles a few pegs over … that is if your store actually has CARS on the pegs. If not, it won't matter a whole lot.
For CARS, the summer months will bring us Kmart CARS Month June – though my feeling is the hoopla will last about as long as the last Francesco Fan Mater sells out which might be 20-minutes into the month (if there's one case) to a few days if 5 cases show up.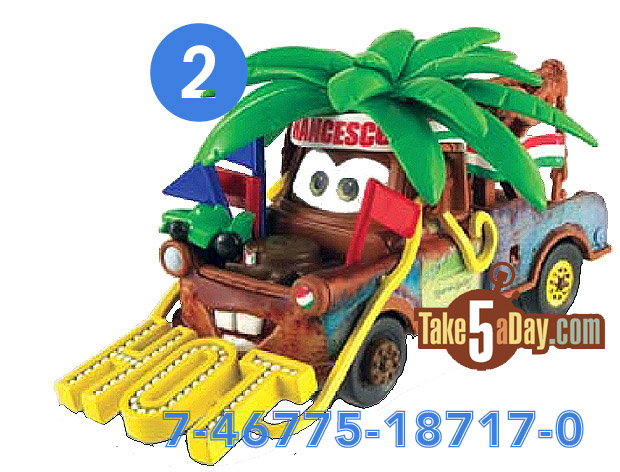 CASE G singles will be out in a few weeks. There will probably be a new 2-pack case out. The next oversized deluxe case will probably be held until July or later so Kmart has their first to market window.
Other than Iron Man 3 opening this weekend, most of the rest of the merchandise for non-sequels should start arriving in the next month or so (non-sequels generally do not want to reveal too many characters early or give away spoilers with characters in plastic) … the summer movie slate …
Iron Man 3, Star Trek 2, Fast Six (Fast & Furious), Hangover 3, Leafmen (Ice Age/Rio creators), Lone Ranger, After Earth (Will Smith), Man of Steel, World War Z, Monsters University, Wolverine, Robopocalypse (Spielberg), Despicable Me 2, Pacific Rim, Turbo, Smurfs 2, Red 2, 300-Battle Of Artemisia, Planes, RoboCop, Sin City 2, Phineas And Ferb & Evil Dead (reboot).
As noted, if there is merchandising, it'll be action figures or toys other than Fast Six and Turbo … and of course, PLANES.
Will PLANES affect the peg space for CARS?
I think the big merchandising question will be if Mattel/Disney commits to new sectional signs for Target & Walmart. If Target swaps out the top banner for a CARS & A WORLD ABOVE CARS-PLANES, that pretty much answers itself.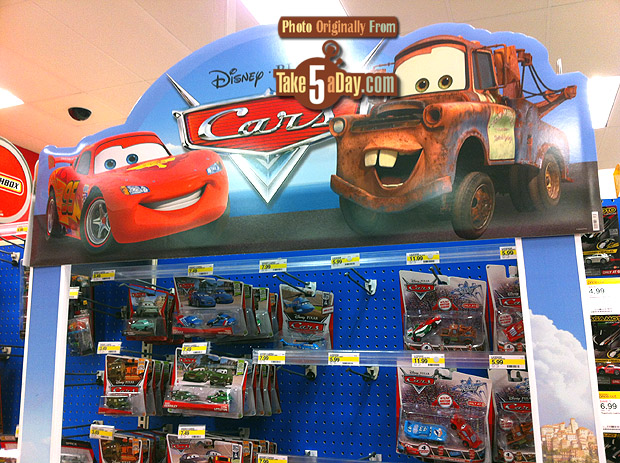 The sign itself is not real expensive but getting Target to commit to changing it and then getting it shipped, and praying it gets installed correctly is the big hassle … I did not study the design but you might have to replace the whole setup and Mattel/Disney is loath to mess with it because if it actually requires just removing the header piece, some stores might wreck it and just toss it. But the bigger question is – does Mattel/Disney risk their giant extravaganza display at Target to includes PLANES if PLANES, the merchandise mostly tanks by December? If PLANES is a typical movie property that pretty much goes away after the holiday season/DVD release window? Does Mattel/Disney then have to send a CARS header again or a whole new setup?
While there have been rumblings of a PLANES 2 already, my feeling that while PLANES might encroach upon the CARS shelf space, they are not going to take this one down or do a combo one yet … if PLANES is a successful ongoing property through the Spring of 2014, then next year – we might see a combo header at Target.
Walmart has mini headers and in most cases, it's easy to swap out.
The bottom line is there are about 15 SKU's + 3 for Micro Drifter PLANES. There are at least three others that are Fisher Price so they should be one aisle over and not counted here. Of the "18" items listed, only the diecasts, the gift sets (with a hanger facade, Pitty & Plane), the Micro Drifter 3-pack and probably the Runaway Flyer will be on cards. The Gift Sets may be on that hanging box design so Target may choose to simply stack it on the shelf so it might only be three items on cards and based on stock in most stores, it should not be difficult to fit 3-6 pegs of PLANES cards within the CARS section.
The rest will all go in the shelf below anyway – the current playsets are not selling very well so Target might simply decide to do a markdown on those to make room for PLANES.
So my guess is this summer, they will emphasis PLANES. While a few cases of diecasts will be released, and the new Silver Racing Toon will debut in June, there does not seem to be any silver racer CARS scheduled anyway in the next 2 months – clearly, they are waiting until the rest of the summer blockbusters are done – air two more Silver Racing Toons this Fall and use the pre or post Labor Day reset to probably get Toons & Silver Racer Toons relaunched – and the Super Chases will also appear then – plus whatever CARS are lined up for Kmart CARS Day #10 in October … then it's CARS Year 2014.
If all goes right for Disney, then PLANES becomes the second CARS related property to be continual/evergreen. However, it seems much more likely the diecast planes will be the only surviving element to the line and fall under the CARS Take Flight umbrella of diecast releases going forward. Some of the minor characters will be probably rarely if ever get re-released while we see the main characters and the Navy Jets more often.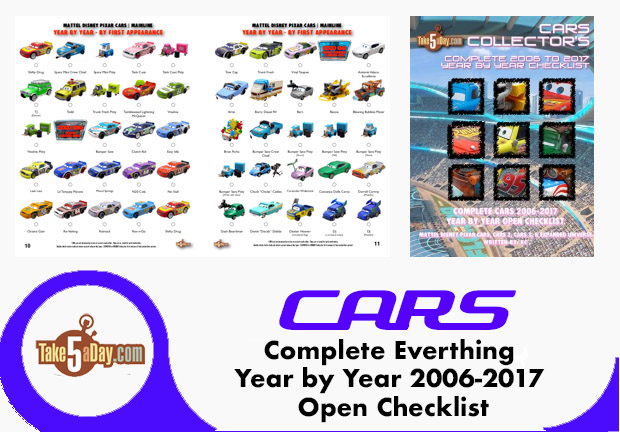 metroxing

1 May 2013

Disney Pixar CARS 3, Disney Planes, Mattel Disney Pixar Diecast CARS


13 Comments