Home
»
Disney
,
Disney Pixar
,
Disney Pixar CARS 3
,
Mattel Disney Pixar Diecast CARS
,
Mattel Disney Pixar Diecast CARS 3
Disney Pixar CARS Silver Series: An Entire Line Extension Coming
There's an interesting article in this month's "Licensing" magazine …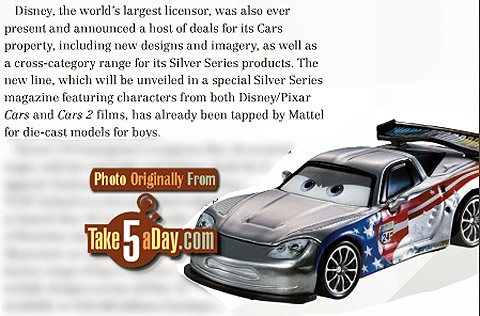 And "ToyNews" adds … "Disney is to launch a new special edition range of cross-category Silver Series products from its popular Cars film and franchise.
The new range will have its own backstory, which will be revealed in a special Silver Series edition magazine, and has been designed to provide a fresh range of products to the market and drive collectability amongst Cars fans.
As part of the new series, Mattel will develop new die-cast models, which will be produced with double Ransburg Zamak paint.
The Cars Silver Series will be launched in Spring 2013."
Interesting.
There's no diecast release listings yet – other than the 10 Kmart CARS from 2012 in Metallic Silver will get a full European release (already covered earlier) … the story alludes that the magazine's Silver Series racing storyline will feature CARS 1 and CARS 2 characters so does that mean the next Kmart CARS Day will feature a silver metallic Rip along with Piston Cup racers from CARS 1? it certainly seems pretty likely and would make economic sense – what better way to refresh the CARS 1 racers than by painting them silver metallic?
Collect them all like you've never collected them before all over again. Again. 🙂
On a related note, there is a listing a Silver Series STUNT CARS with accessory so apparently there will be a line extension of a line extension (if the Stunt CARS last until June, 2013), there will be be silver versions coming also not silver metallic as the stunt racers are not metal.So, really, really Collect 'Em All!And if the book/magazine comes out, then the Kmart Silver Metallic CARS can officially join the canon – so if you were calling us heretic and witch! How the pagan tables have turned. Nener-nener as Pope Rack-Pinion the 4th might say.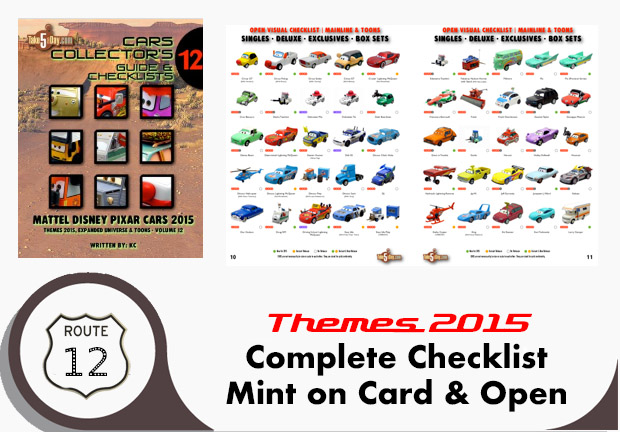 metroxing

15 January 2013

Disney, Disney Pixar, Disney Pixar CARS 3, Mattel Disney Pixar Diecast CARS, Mattel Disney Pixar Diecast CARS 3


13 Comments