Home
»
Disney Pixar
,
Disney Pixar CARS 3
,
Mattel Disney Pixar Diecast CARS
,
Mattel Disney Pixar Diecast CARS 3
Mattel Disney Pixar CARS 2: Rest of 2013 Diecasts Revealed + Poster
There is a new poster out that reveals most of the scheduled diecasts through Summer 2013 … There is a download link at the end of this post. The themes checklist has been updated to show the NEW 2013 diecasts that "complete" the numbering scheme for each theme.
AIRPORT ADVENTURE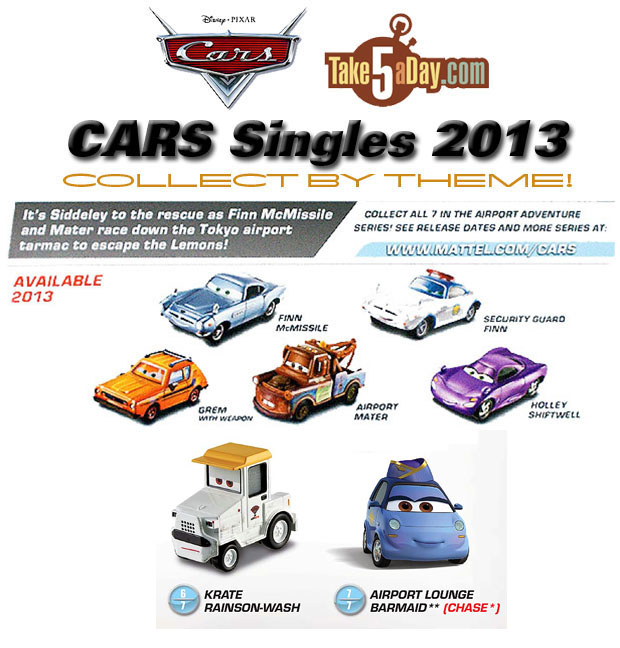 The Luggage Truck was pretty much known and we pretty much guessed this was the barmaid but still nice to get confirmation.
FESTIVAL ITALANO
Again, we pretty much knew the Luigi and Guido dance partners were in and since they are the new Fiat 500, it was easy to envision what they would look like as diecasts. The reveal of the band is super nice and hilarious. It might bode well for a Toons release of the Nightclub Band.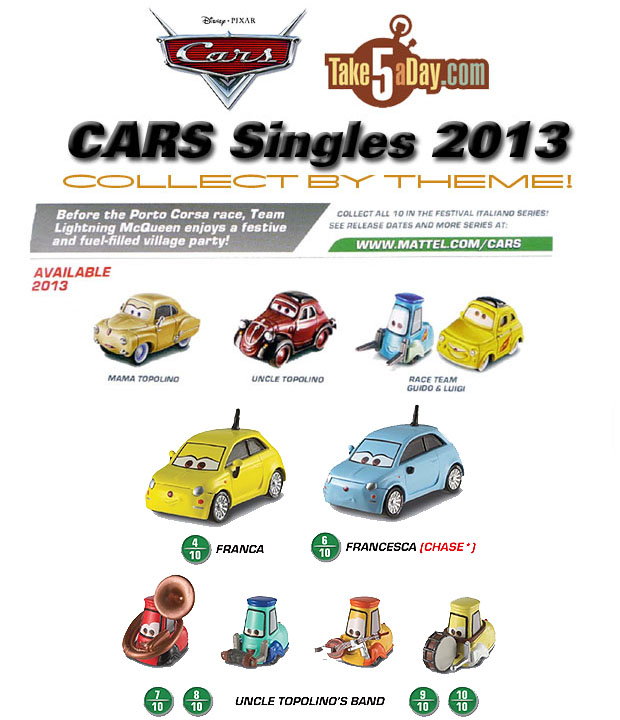 LEMONS: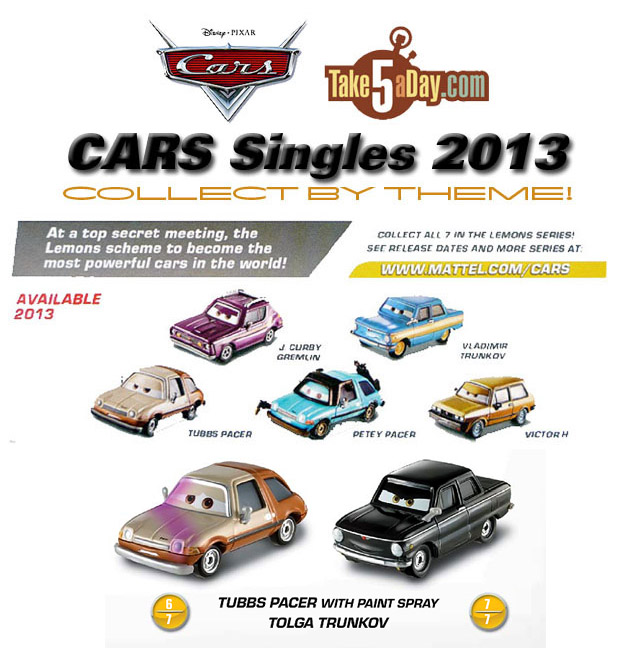 The two MIA Lemons were actually unknown. One we presumed was IVAN (deluxe oversized) but he is NOT shown on the poster – has he been dropped – moved to later 2013? He is no longer assigned a number. And the two in its place are not barnburners. Tubbs with a slash overspray of purple – weak. While a black Trunkov (without the party hat) is not horrible, it's not super imaginative.
MATERS: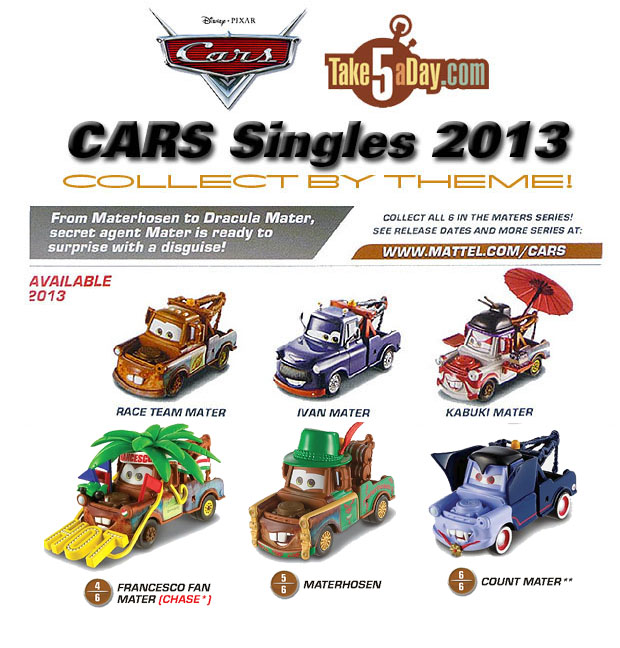 Since we had a Disney Store Count Mater & Materhosen, not too super difficult to envision what they would look like as 1:55 but while Francesco Fan Mater is super and properly accessorized (it's a CHASE – does it fit in the singles packaging? When Ivan mater wouldn't? First CHASE oversized?) … That Materhosen hat looks terrible – maybe it's just the lighting but Materhosen looks pretty weak.
PALACE CHAOS: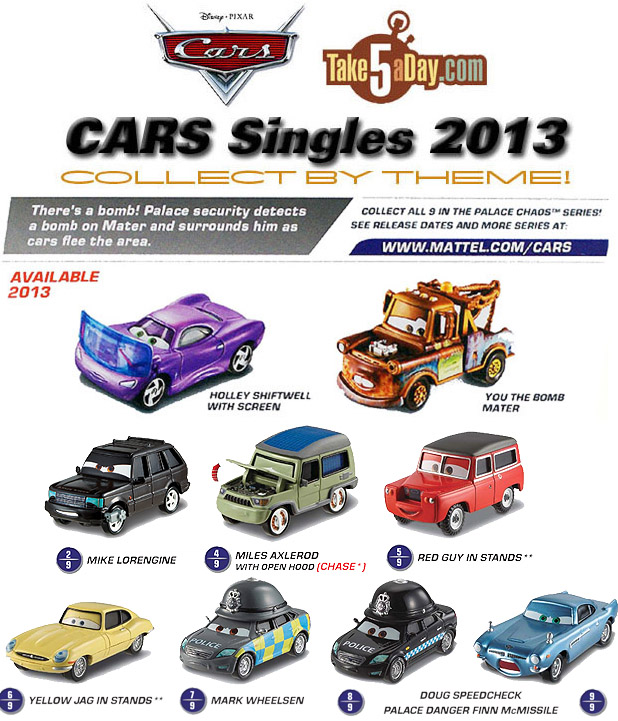 Palace Chaos had the biggest unknowns so it's great to see confirmation. These ALL look pretty great and with RED GUY IN STANDS coming means with a hat and a gun, you have an easy path to Palace Guard Sgt. Highgear so in this case, repaint (and accessory) is a good thing. The Big Mouth Finn is not particularly exciting but hey, at least it's different and pared with a bobbie, good enough.
RUST-EZE: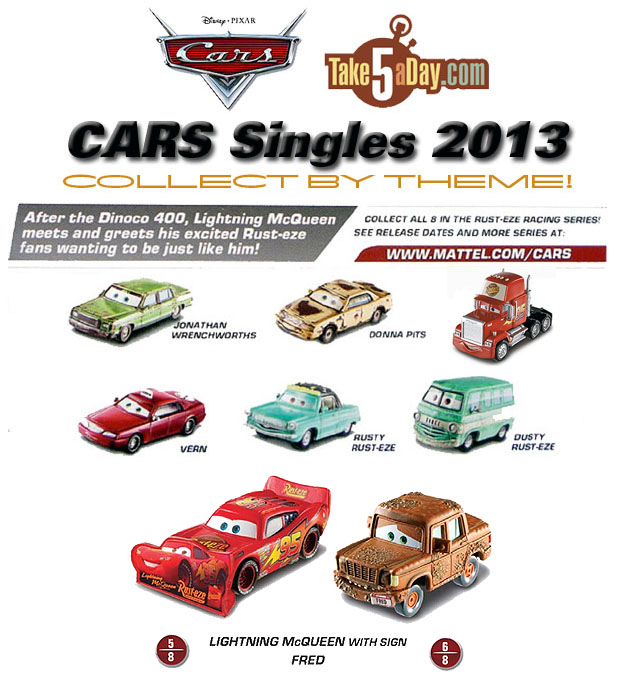 We knew Fred was on the list but we did not know he was paired with a weird LM with Sign. Is the sign glued on or an accessory? Pretty lazy.
TUNERS: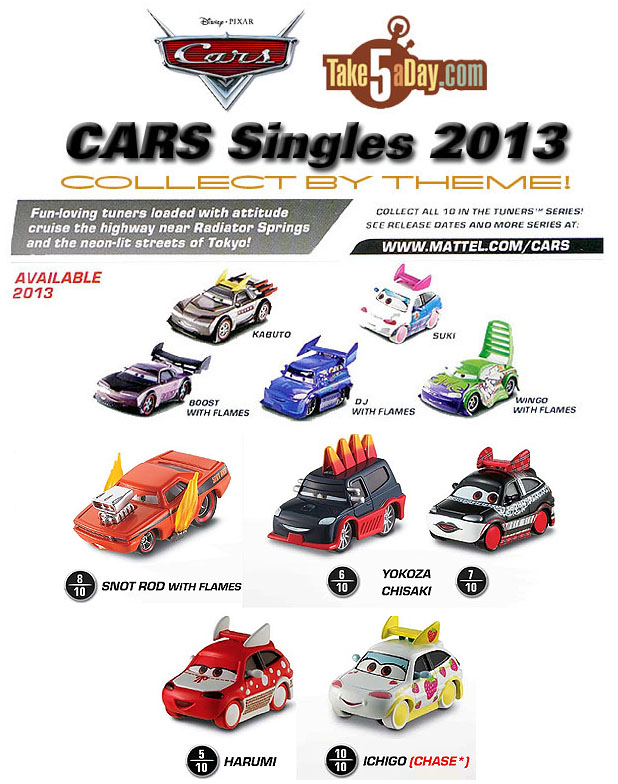 Snot Rod with Flames has possibilities and it's nice to get the other Japanese tuners. I'm not sure they are the listings of the Japan game show CARS and more of the Girls on the Party Bridge but cute and fun enough … In his case, keep bringing on the repaints.
WGP: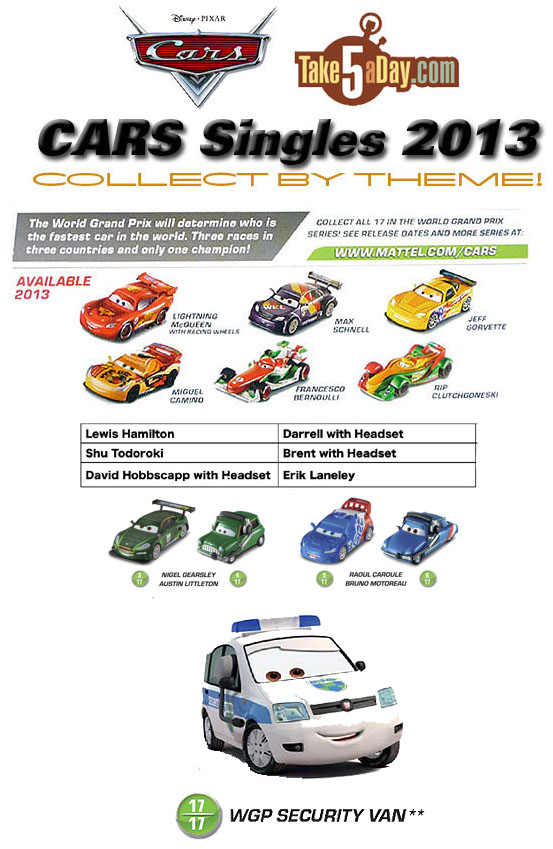 I did not bother to show the announcers with headsets. I think we all pretty much know what they look or the repeat racer releases. The only real unknown was the Security Van which is nice as it's not just Murakarmi with headphones so solid.
WHEEL WELL: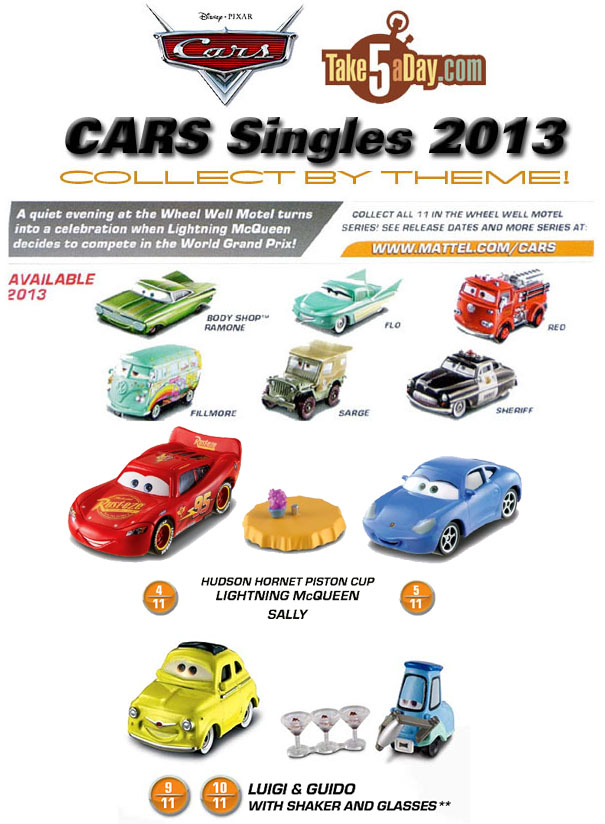 These were definitely just added and NOT part of the original list. The Luigi & Guido with glasses is cute enough though a cheap 2-pack … The LM & Sally with a table is definitely some weird cost cutting measure but hey collectors will collector it.
One thing to note – UK Ramone with Paint Gun is not shown on the poster and not assigned a number but he's scheduled in Case D? What's the deal? Is he really coming in CASE D? He could belong in several categories – WGP? Palace Chaos?
So, overall – since we knew the scene from the film, we had a pretty idea of what the missing diecasts would look like but it's always nice to see a prototype or finished one … and one noticeable theme within this world of themes is that a lot of the revealed additions are all tiny diecasts … Japanese tuners, Guido's, Pitty's and Fiats. And plastic accessories with Lightning, Sally and Guido. Though the Palace Chaos CARS are fairly substantial diecasts (Range Rovers, Mondeo's, etc …) so I suppose going by overall weight of zinc purchased, it balances out.
Clearly, it's no Golden Age 2 but at least it's not Finn's with multi colored plastic face plates as "different" releases – much better to get a weak repaint (Tubbs Pacer with spray) than 2011. And the 2-packs are at least 2-packs come with something extra versus one "exclusive" eyebrow expression … I'd much rather have a mini table than another Finn.
I did not bother to update the Piston Cup or Retro Radiator Springs Themes as everything is a re-release.
You can download the poster in PDF format here.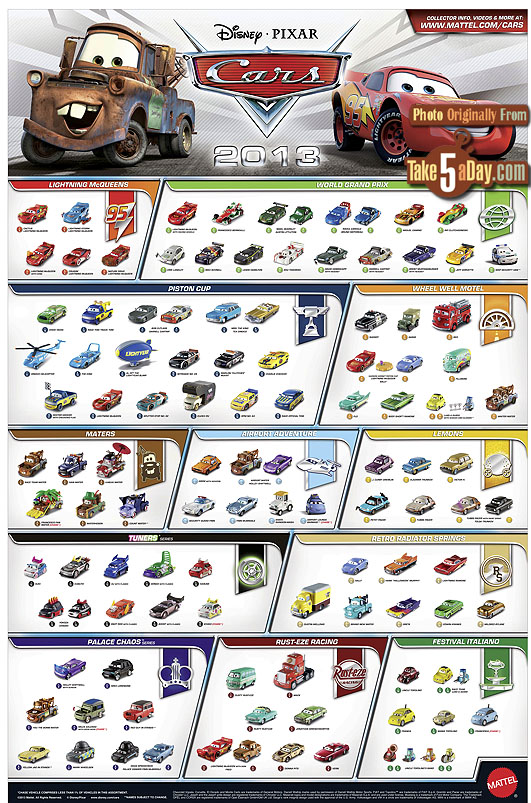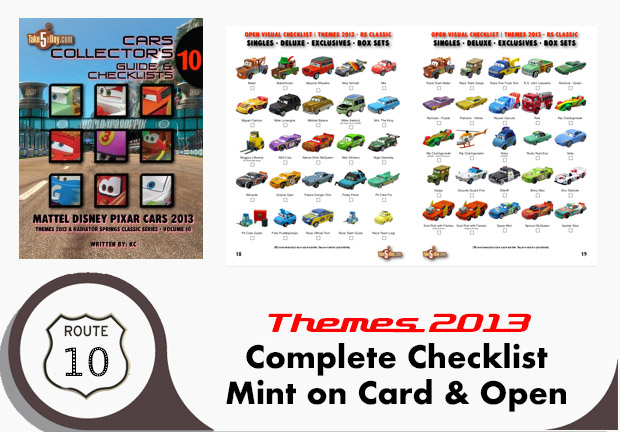 metroxing

28 December 2012

Disney Pixar, Disney Pixar CARS 3, Mattel Disney Pixar Diecast CARS, Mattel Disney Pixar Diecast CARS 3


26 Comments