Home
»
Disney Pixar
,
Disney Pixar CARS 3
,
Mattel Disney Pixar Diecast CARS
,
Mattel Disney Pixar Diecast CARS 3
Mattel Disney Pixar CARS 2 Diecast: Canada Overstock Over The Top
"Frank DF" sends along some of the scariest, and saddest CARS photos you might see in a while – so brace yourself …
Here's overstock in a Montreal, Canada store …
Um, yea, note the RED BAND from May 2011 … yea, not May 2012, May 2011.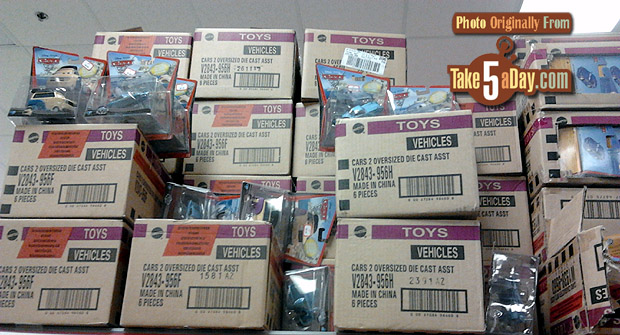 These are the international cases so I do not know if it matches the US case F but it appears to: 2 Double Decker Bus, Hydrofoil Finn McMissile, Kingpin Nonbunga, Pinion Tanaka & Submarine Finn McMissile (only 6 to a case so 1 of everything but the bus?)
Closeup pics of the RED BAND F case?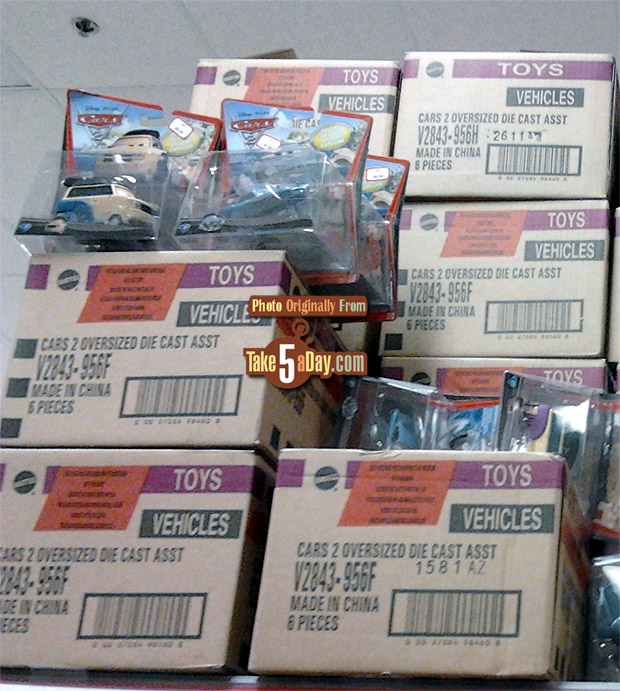 At least 9 full or close to full cases plus what's floating around outside?
(Because the film opened in different territories at different times through the entire summer, international cases had the red band not to open early but no specific date).
And on the right side, 9 more cases … perhaps 2 more cases of red band CASE F?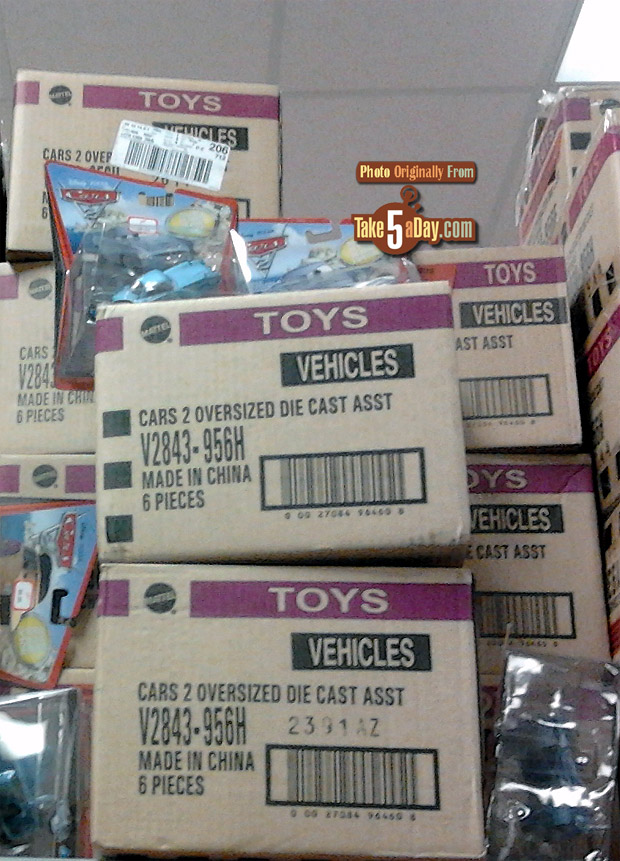 Case H – What's that old saying about insult to injury, you fall into a waste sewer and after you climb out, you discovered they towed your car?
It looks like a match as there is a Pope, the US case was: Hydrofoil Finn McMissile, Red, Submarine Finn McMissile, Pinion Tanaka & Pope Pinion IV.
So, if you have time at work – tally it up for us. I'm too sleepy.
BUT WAIT.
The overstock shelf does not end THERE.
Yep, MORE.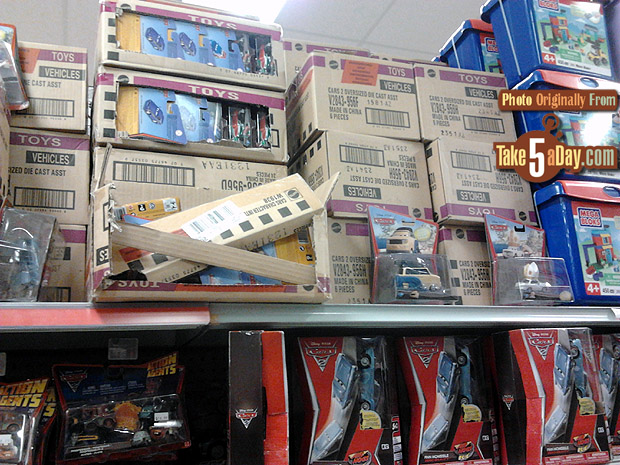 I'm presuming that's Lights & Sounds CARS … At 4 cases plus a few in the front … and what's that to the right of the L&S?
Holy snickey! It's MORE CASE F & CASE H's. Presuming all the ones in the back are CASE H's, that's another 10 CASES of CASE H and 1 more of F.
NOW, add it all up.
AND that's the overstock. I'm presuming the pegs are packed – along with Action Agents & Air Hogs.
As Frank notes, they never even got the Popemobile … who wants that when you can get another Hydrofoil Finn or Sub Finn?
And they're priced to sell …stick on the overstock shelf.
Singles are still 6.99$ + 14.5% tax
Deluxe are 9.99$ + 14.5% tax
As Frank sadly notes, they will not be any more CARS until 2020? 2025? When the next Mayan calendar cycle through?
Thanks for the scary & sad photos, "Frank."
And more insult, Tim Horton's is offering a free donut if you buy a cup of coffee on their US Facebook page.
But hey, if you need a Pope CAR, they are available in Canada with a ladder and $12 CAD – all you need!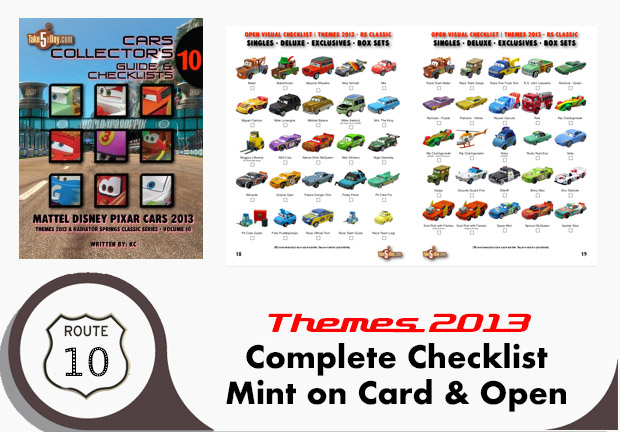 metroxing

4 December 2012

Disney Pixar, Disney Pixar CARS 3, Mattel Disney Pixar Diecast CARS, Mattel Disney Pixar Diecast CARS 3


13 Comments