Home
»
Disney Pixar
,
Disney Pixar CARS 3
,
Mattel Disney Pixar Diecast CARS 3
Mattel Disney Pixar Cars 2 Diecast: Target 20-Pack Now a 12-Pack
"Jason V' found it in Montana – thanks for the nice photos!
There was originally a listing for a 20-pack called 'Radiator Springs to the Rescue" with 20 CARS. I had a feeling it was too big for a retailer to fit on the shelf – not size wise but price wise, it would've had to be (for 20-CARS) anywhere from $49 (for a Black Friday item) to around $69-$79 for a regular item and since this was not the movie launch year, It would've been a tough sell.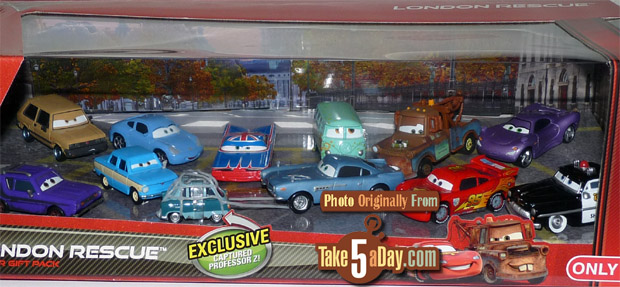 So, I suspect the 20-CAR Radiator Springs to the Rescue in London 20-pack has been downsized to a London Rescue 12-pack.
It's $49.99 (for now) – more below.
The obvious new CARS included are the Union Jack Ramone and Captured Professor Z …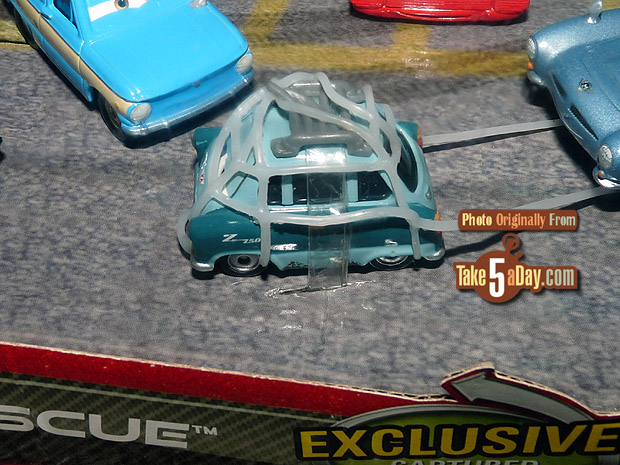 I'm presuming since Finn is not called Titanium Web Capture Shootin' Finn that the little beginning points of this "web" are just tucked under Finn. It looks like Professor Z does NOT come with a monocle so it's a true "new" version. I'm not saying you have to buy it but he is another release version – no matter how minimal the difference. I only make the rules but you are free to abide, dude. I am the judge but I do not judge you. I'm only here to judge the CARS.
Oh, and in case you think it's yet another Finn – look closer. Yep. Variant unibody Finn.

So much nicer looking without the front giant plastic faceplate that looks like it's about to snap off at any point – now, 100% diecast metal … so that's a nice upgrade and it's three "new" releases in this box set.
(For those confused, VARIANT is a different production version of a release with the EXACT SAME NAME … VERSION is a production variant of the main production release with a DIFFERENT NAME … 😆 Yes, I could have stated it less confusing like but what's the fun in that?).
For those who did not buy You 'Da Bomb Mater from the "exclusive" TRU 5-pack, here's your first chance though he is scheduled as a single. I'm presuming he has the same time stamp on the bomb sticker as the You 'Da the Bomb Mater even though he should have more time showing when he's in this scene.Remember to do the Hulk rage thing in the store aisles, Target will change it for you.*
*That previous sentence only applies if your name is Robert Bruce Banner or Dr. Bruce Banner.
From here, all the other CAR releases look like their most recent release – since the lemons on the left are all fairly recent releases, I presume they have not been changed production wise.
Union Jack Ramone is an interesting story. He is NOT listed as an exclusive so Mattel knows something we don't. 🙂
He is scheduled as a single but he's listed as Union Jack Ramone with paint gun. So, the following scenarios may be true eventually …
Mattel has decided not to bother to release him with a paint gun and he won't come with a paint gun as a single.
This will be the only release of Union Jack Ramone without a paint gun as Mattel is confused about the single version with a paint gun versus this one.
He will be released as a single with a paint gun but comes like this in a 2-pack or some other box set.
So, according to Mattel as of right now. Union Jack Ramone is NOT an exclusive. You can take it to the bank … or a bank of dirt or a bank run by Bernie Madoff. So, take it for what's it's worth.
In addition …
I don't know what Target's return policy is how many days in before you must return it but I would NOT be surprised if this were the CARS Black Friday item. If Target puts some on the shelf and lists it at $49.99 – then the markdown on Black Friday is much more impressive when it gets reduced to $24.99 or $29.99. It's not much of a markdown when the only selling price is $24.99 or $29.99. As of now, I have no idea since listings rarely read BLACK FRIDAY item so I'm just saying it's a consideration. The reason I think so is that the last CARS box set was enough of a draw (not great but good enough) and at $49.99, just too spendy of a "regular" item for CARS 2 now that hardly anything above $19.99 sells … so keep it in mind – we're about 6 weeks out from Black Friday. Most info now leaks out by about mid-November … so if target's policy is 30-days, then you might be cutting it close but if it's 60-days, then you are pretty safe in buying it and waiting a few weeks to a month before actually opening it and/or finding out if this is the CARS Black Friday item to get the difference refunded or if you have to return it …
Thanks for the nice photos, "Jason V."

metroxing

16 October 2012

Disney Pixar, Disney Pixar CARS 3, Mattel Disney Pixar Diecast CARS 3


28 Comments