Article Archive for 8 October 2012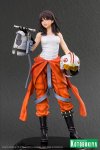 Now I'm Ready To Join the Rebel Alliance: Jaina Solo ARTFX Bishoujo Statue
Posted in
Toys
on 8 October 2012
Stats: and
3 Comments
Okay, now I'm ready to join the rebel alliance … I was kind of wavering … that gold chrome robot was really annoying and would never stop talking … but now I'm sold. FREEDOM! Death to the Death Star III! Where do I sign up? More Photos at Kotobukiya's facebook page.

Takara Tomy & New Era Caps Team Up "Transformers Cap Bots"
Posted in
Toys
on 8 October 2012
Stats: and
3 Comments
It seems to imply you can wear it as a real cap but I'm not sure if they're confusing it with the regular New Era 59FIFTY Transformer caps. You can read more here.

Mattel Disney Pixar CARS 2 Diecast: No Need to Riot in Europe (Over CARS)
Posted in
Disney Pixar
,
Disney Pixar CARS 3
,
Mattel Disney Pixar Diecast CARS 3
on 8 October 2012
Stats: and
10 Comments
Arrived in Europe after a nice ocean voyage … Clearly the mold is tested and squeezing out diecasts … So, now you can duck away from a tour of the Louvre (what, like it's gonna close down soon?) and run down to le toy shop. okay, you do have to pay a skoosh more […]