Home
»
Disney Pixar
,
Disney Pixar CARS 3
,
Mattel Disney Pixar CARS
,
Mattel Disney Pixar Diecast CARS 3
Mattel Disney Pixar CARS 2 Diecasts: New CARS 2 Singles in 2013 (The Known Ones)
Coming in 2013 – new singles – visual checklist #1 – the "Known Ones."
These are the new singles coming in 2013 that you pretty much knew were coming – whether they made the list in 2012 but never appeared or were featured in the CARS Encyclopedia Book or in MEET THE CARS 2 … presenting …
The KNOWN CARS 2 that are now COMING in 2013 …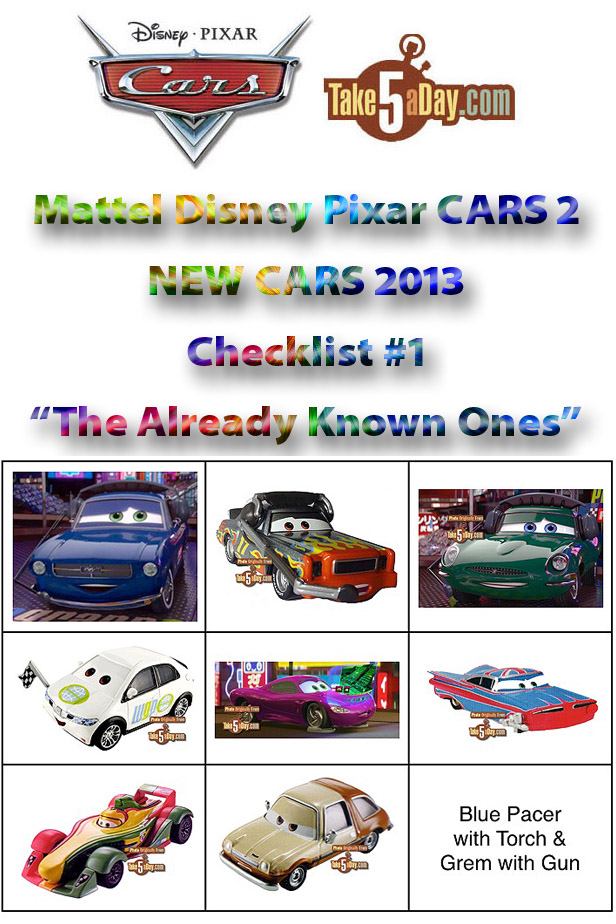 Headphones on the three race announcers: Brent, Darrell and David Hobbscapp. (Darrell is borrowed from the L&S version but I'm presuming it'll pretty much look like that – thanks, John H. for the photo).
Eric Lanely – moved from 2012.
Holley Shiftwell with Screen.
Ramone Union Jack design with Paint Gun.
Yep, Rip Clutchgoneski is on the list – whether he actually gets a release, well, we'll just have to wait and see.
Tubbs Pacer – head of the Pacer family.
Two lemons with accessories – I did not bother to look for a screenshot as you can pretty much envision what they look like.
Yes, these are the best known of the CARS 2 CARS but we had to start somewhere so why not start with these that we already know what they look like. Of course, David Hobbscapp and Rip Clutchgoneski are high on most WANT lists so it's not like we're really tired of looking at the pics but a release, already … we're ready. I did not include J. Curby Gremlin as he's in CASE A as we don't have long to wait.

metroxing

8 September 2012

Disney Pixar, Disney Pixar CARS 3, Mattel Disney Pixar CARS, Mattel Disney Pixar Diecast CARS 3


8 Comments