Home
»
Disney Pixar CARS 3
,
Mattel Disney Pixar Diecast CARS 3
Mattel Disney Pixar CARS 2 Diecast: New Movie Moments – If You Like Variants
If you like your CARS 2 CARS different different but not too different, then you will love the latest Movie Moments 2-pack releases.
The Darrell Cartrip & Brent Mustangberger looks like there are no changes to the diecast – the packaging has been updated and since this one seems to sell briskly, it's not a tragic repeat …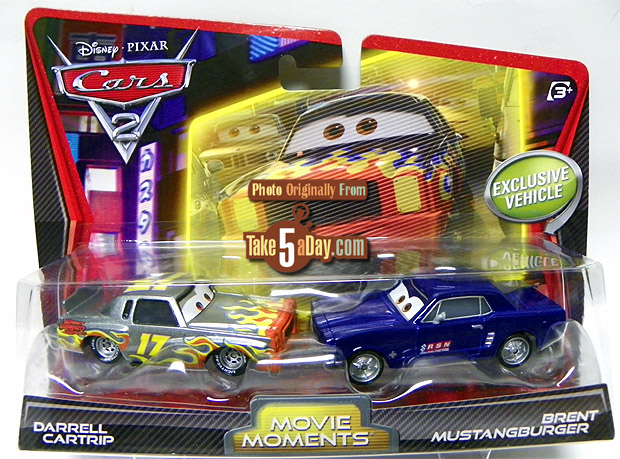 The newest CAR is the Acer with helmet. I know some of you might grumble but in addition to the new helmet, they gave him new eye position, new eyebrows and a new expression so all and all, it's a nice new edition …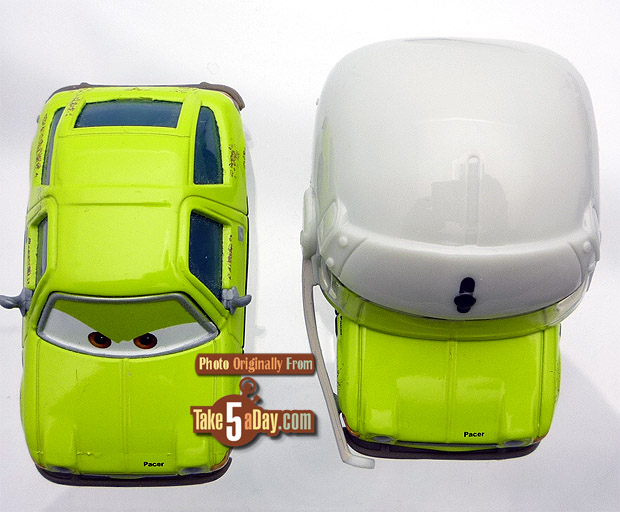 His helmet is ginormous …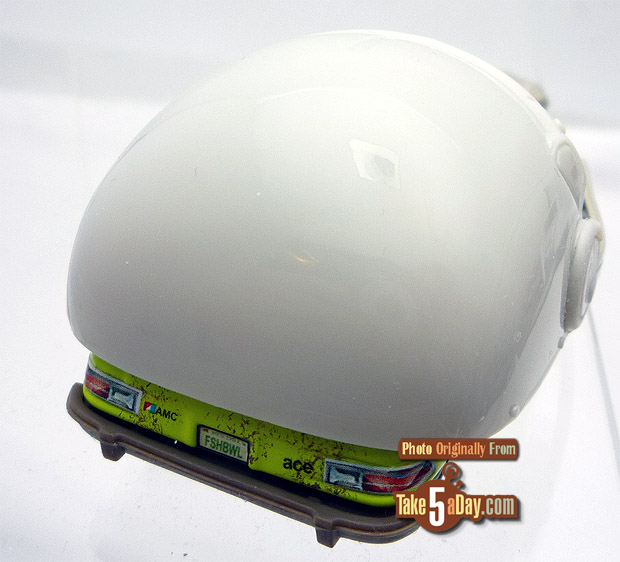 No, it's not removeable.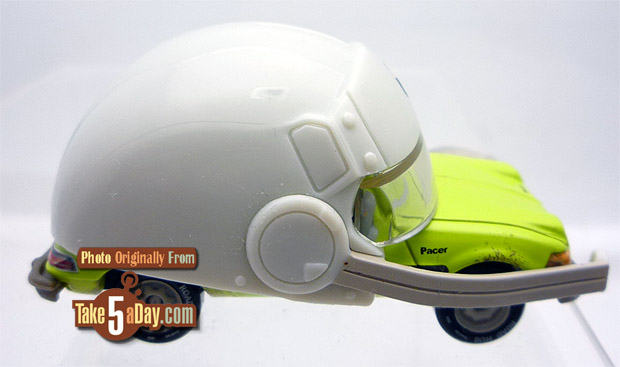 He does look mostly in scale to the Disney Stores Combat Ship …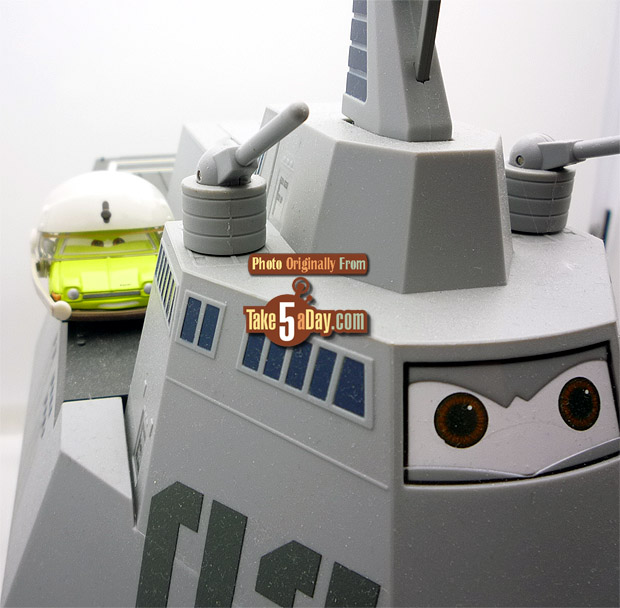 Though technically, he should be on the level with the turret …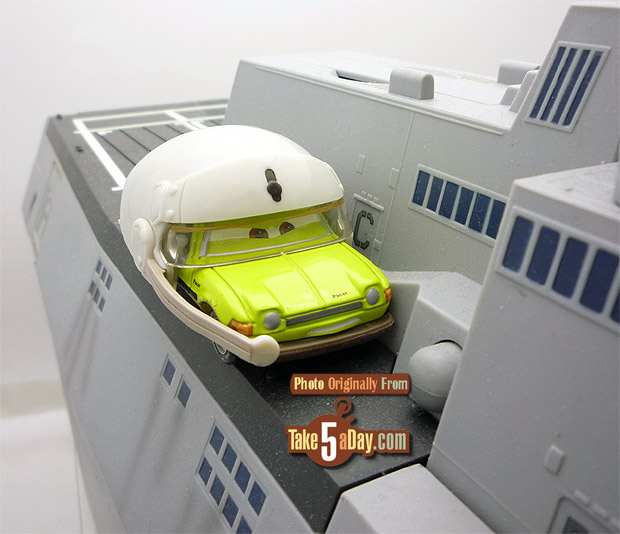 And if you like your other releases as variants, Professor Z is one.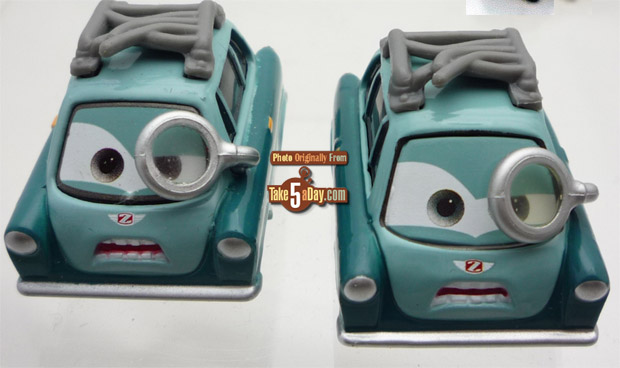 The previous release of Professor Z (left) has a black windshield black ring all around … and while in theory, you could argue the new MM release also has a black ring and maybe it just slipped down slightly, the last Professor Z has a nubbin in the center of his windshield – probably his wiper merchanism? – that the current releases does not and if you turn him over …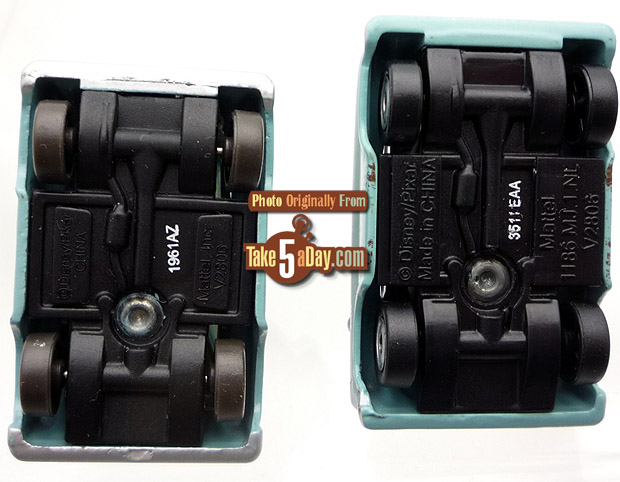 While his bumpers are still silver when right side up, upside down, they are not extended underneath him as they were in the last release. Plus, his tires are dark black and not gray black … and of course, the factory marks and production info is different … plus they were made at different plants.
The Ka Ciao Lightning McQueen is released way too early – this addition of the bumper sticker is something that would be better as the 200th release of CARS 2 …

But at least he's a one-piece all metal release. He shares the same expression as one of the other releases (too lazy to look up – party wheels?) which was a 2-piecer so it's nice and interesting they went to all the trouble to create a new mold with this expression.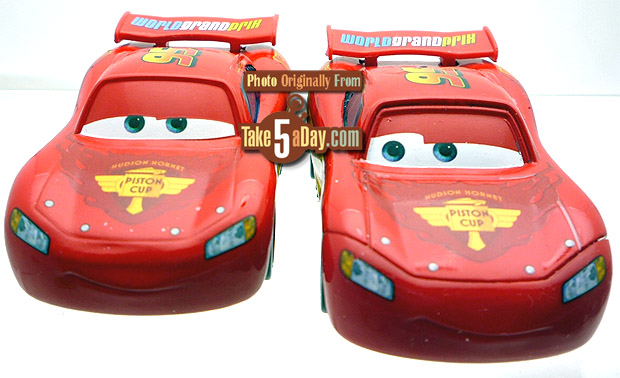 (he doesn't have a dent crease, that's just a weird shadow).
And if you like any kind of variant, Francesco is the lamest excuse for a variant.*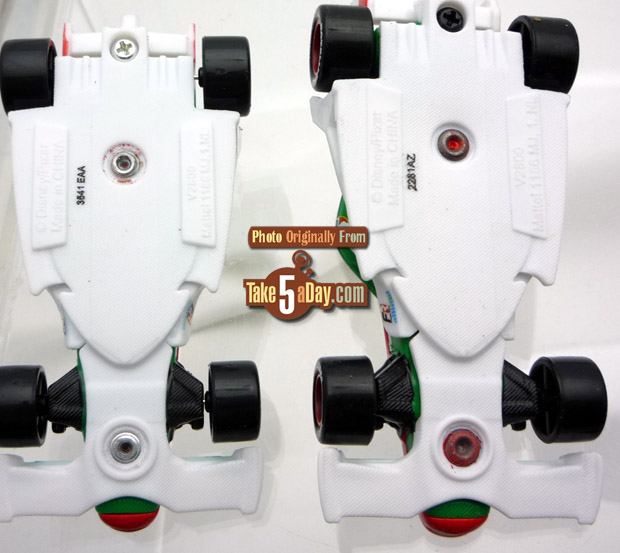 Yep, you get a silver screw and not a black one … plus the area around the solder is clear of red plastic … so be careful in 5 years when Francesco's are going for $20k, you don't overpay for a non-black screw …
* Technically, this is a variant of a variant – line up the backs of Francesco's, some have an extra green area … so compared to no CARS, these'll do … and if you're a variant collector, you can dance in the streets.
Thanks Rob's Palace of Disney CARS.

metroxing

27 May 2012

Disney Pixar CARS 3, Mattel Disney Pixar Diecast CARS 3


10 Comments