Article Archive for 14 May 2012

Pamper Your Pooch With His Own Airstream
Posted in
Gadgets
on 14 May 2012
Stats: and
2 Comments
Don't forget the satellite hookup. Via Straight Line Design.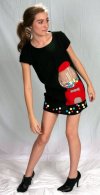 The Gumball Dress
Posted in
Design
on 14 May 2012
Stats: and
3 Comments
I wonder if you might get a few comments … well, any that you could repeat without getting slapped or beaten. 🙂 You can order it HERE.

Mattel Disney Pixar CARS 2 Diecast: San Diego Comic Con Exclusive Mater 2012 Sneak Peek Preview!
Posted in
Disney Pixar CARS 3
,
Mattel Disney Pixar Diecast CARS 3
on 14 May 2012
Stats: and
41 Comments
The San Diego Comic Con "Restroom Mater," looks pretty great. This year's Comic-Con vehicle captures the hilarious scene from Cars 2 when our beloved Mater finds himself in a Tokyo bathroom stall. Just like in the movie, Mater is surprised with flashing lights, catchy music, and a thorough scrub down! This memorable moment comes to […]