Article Archive for 20 May 2012

What Can You Build with 15-Million Lego Bricks?
Posted in
Lego
on 20 May 2012
Stats: and
4 Comments
Adam Reed Tucker—who's also one of 11 LEGO Certified Professionals in the world—along with other LEGO artists, have recreated the world's tallest skyscrapers using more than 15,500,000 LEGO Bricks. LEGO® Architecture: Towering Ambition, with the additional models and the LEGO® play area, is on view through Labor Day, September 3, 2012. The National Building Museum […]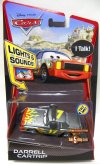 Mattel Disney Pixar CARS 2 Diecast: Lights & Sounds Darrell Cartrip + Checklist
Posted in
Disney Pixar CARS 3
,
Mattel Disney Pixar Diecast CARS 3
on 20 May 2012
Stats: and
11 Comments
CASE L of Lights & Sounds has also arrived. There's nothing else new in the case (2 Spy Finn's, 1 Finn, 2 Lightning, 2 Mater, 2 Francesco's and 3 Darrell with headphones). Thanks for the nice pics & info, Rob's Palace of Disney CARS. He has it in stock. Thanks, Rob!