Home
»
Disney Pixar
,
Disney Pixar CARS 3
,
Disney Store
,
Mattel Disney Pixar Diecast CARS 3
Disney Pixar CARS: Disney Store Combat Ship Review (Awesome 1:55 Ship)
The Disney Store Combat Ship is massive.

It's even got lights and sounds! If you look closely, you can see the lights at the tip of the ship and when you press down on the gun turret, there are at three phrases it shouts (I'm not sure the ship has that many more lines in the film). I did not change it from demo mode.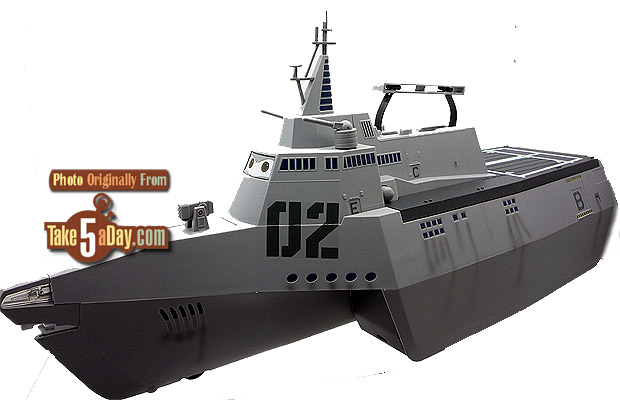 The front gun actually pops up & pivots underneath the front deck with a button. And while it's solidly built, it's actually not that heavy since it's also designed as a carrying case. Note that handle is popped up here.
It even has wheels underneath so kids can roll it around.
And if you press the two round buttons just behind the bridge, it unlocks the top deck … or if you're already drunk on champagne – the poop deck. 🙂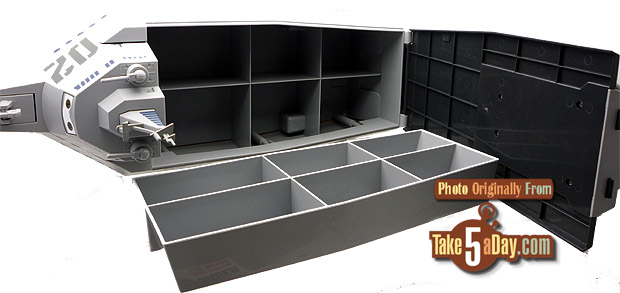 Very solid looking carrying case portion with a tray. One of the few trays that can carrying the London Double Decker Bus.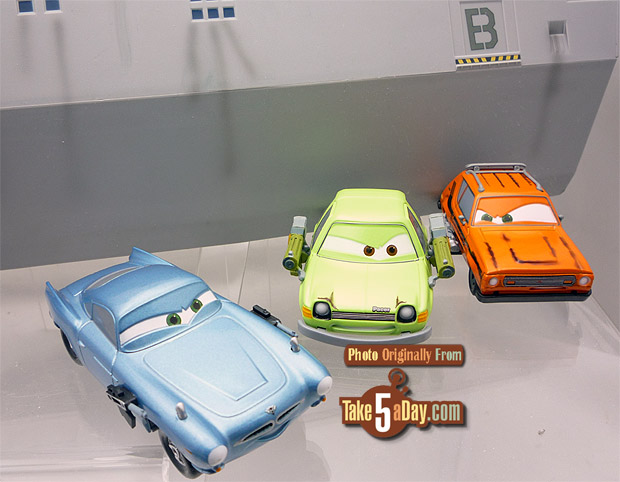 It comes with three Disney Store CARS – all solid metal (guns are plastic) … you can see the size comparison to the Mattel 1:55 CARS. About 35% larger …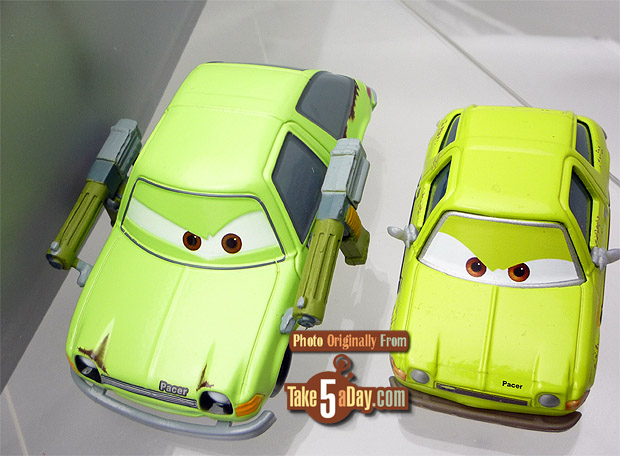 Since there are not a lot of diecast releases of Gremlin & Pacers to begin with, the Disney Store ones are great – excellent executions and sculpts – plus the nearly all metal thing is nice.
But strangely, the ship is too small for the Disney Store CARS – it does make sense as you would need another foot length and 6″ width across to scale it right … but then you would need a bigger boat to bring 'em over. 🙂
BTW – according to an old sea hand, a boat is a sea vessel that can carried on a ship but a ship is anything too big to be carried by anything else. Knowledge!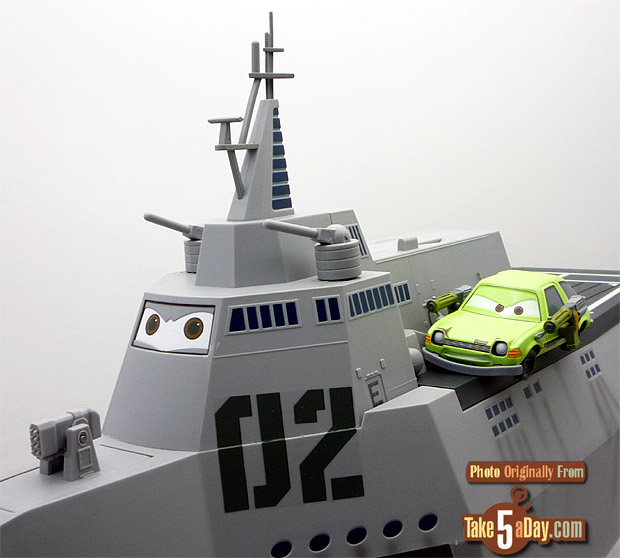 If only there was a smaller diecast toy line available to use with this playset … humm …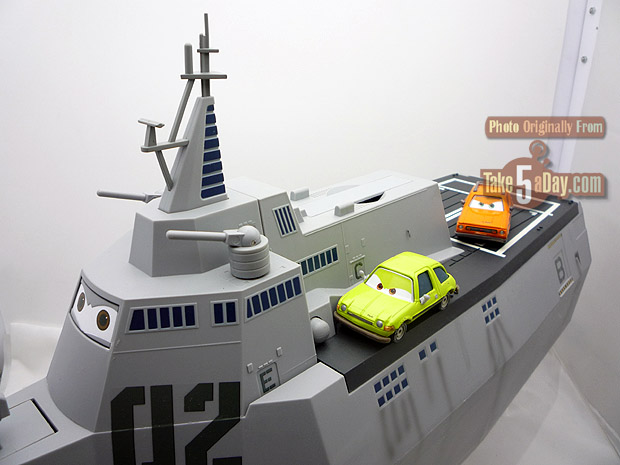 Yep, pretty much scaled right. Not perfect but pretty good for 1:55 CARS. And yes, there is a Gremlin coming with the helmet so a pretty nice display also.
Yea, it looks big but is it really all that massive?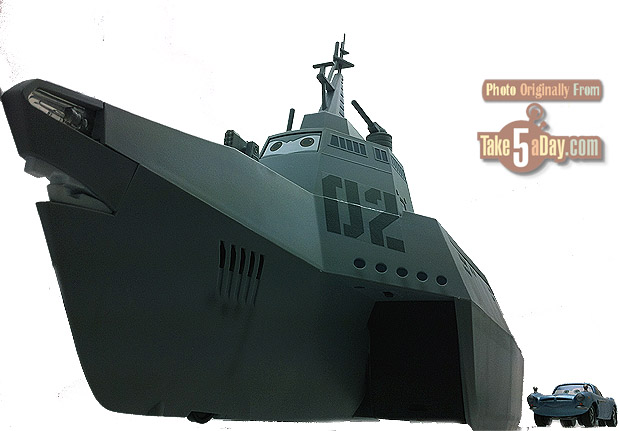 There's Mattel's Finn – dreadnought enough for ya?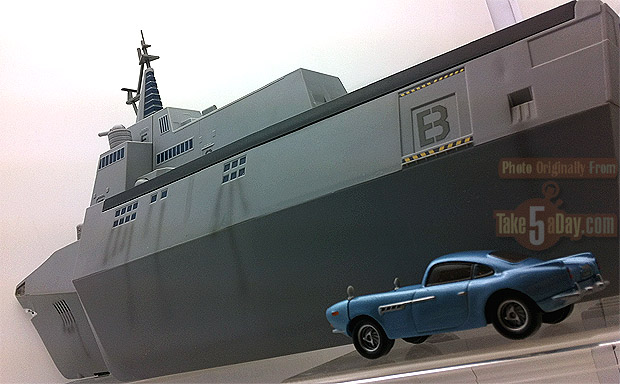 At it's full price of @$40, it's not cheap but it's a huge and solid & detailed display for CARS 2. It even has lights and sounds.* It also doubles as a carrying case** and comes with 3 Disney Store CARS – I did not bother to check if they were exclusives but they are a nice bonus in any case as they are solid metal diecasts.
* Yes, it's usable as a flashlight but it pretty much only lights up for about 3-seconds.
** If you don't need to neatly store your CARS, (aka: a thrower) you can probably get about 40 CARS below decks with the tray removed.
At $40, it's a A- (it could be a skoosh wider on the side deck so Grem and Acer don't fall off as easy) but when it was 50% off, dude what are you waiting for? At $20, the only complaint might have is not being able to change out the giant 02 stencil to another number so you buy a fleet of them. 🙂
Looks like the COMBAT SHIP is back in stock at $29.99. (thanks John H.)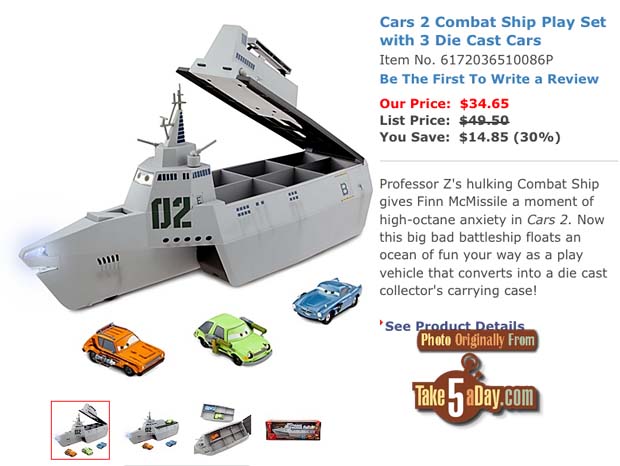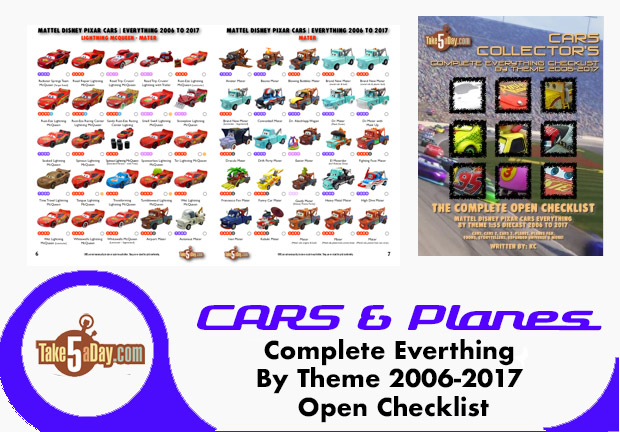 metroxing

30 December 2011

Disney Pixar, Disney Pixar CARS 3, Disney Store, Mattel Disney Pixar Diecast CARS 3


14 Comments