Home
»
Toys
Mattel Monster High Holiday Exclusives 2012: Get Ready To Go to Every Store …
Monster High is getting the exclusive treatment at a whole slew of stores this holiday/Christmas season.
The Coffin Bean Giftset (Costco)
Includes Clawdeen Wolf and Draculaura, Coffin Bean shop, couch, chair, coffee table, food piece-count and a "Monster Beat" magazine.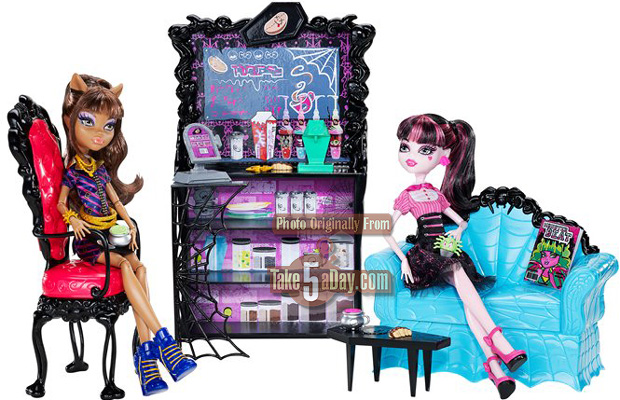 Customized Assortment (Kohl's)
This assortment includes Monster High ghouls Operetta and Clawdeen Wolf dolls. These are two cool ghouls who always look "fangtastic" whether inside or outside the howl-ways of Monster High. Each sold separately.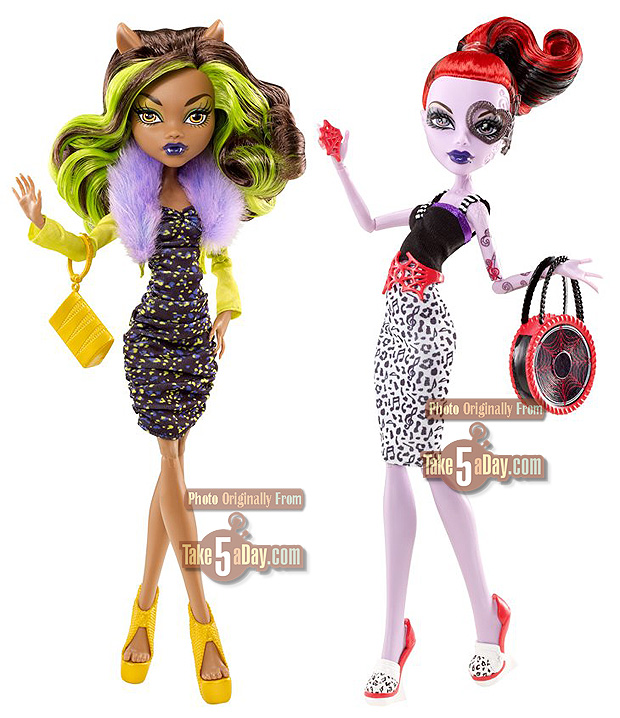 Dead Tired Doll Assortment (Kmart – Online Resellers)
Assortment includes doll with eye mask, Dead Tired outfit and accessory for the sleepover. Each sold separately.
Dot Dead Gorgeous 3 Pack (Walmart)
What's a high school party without a theme? This year, Monster High students selected polka dots, and they're getting glammed up for the party! Draculaura, Abbey Bominable and Ghoulia Yelps dolls are arriving together in this three-pack. Each has on a "fangtastic" fashion featuring polka dots and signature accents with accessories to die for. It's time to polka…dot! Dolls cannot stand alone.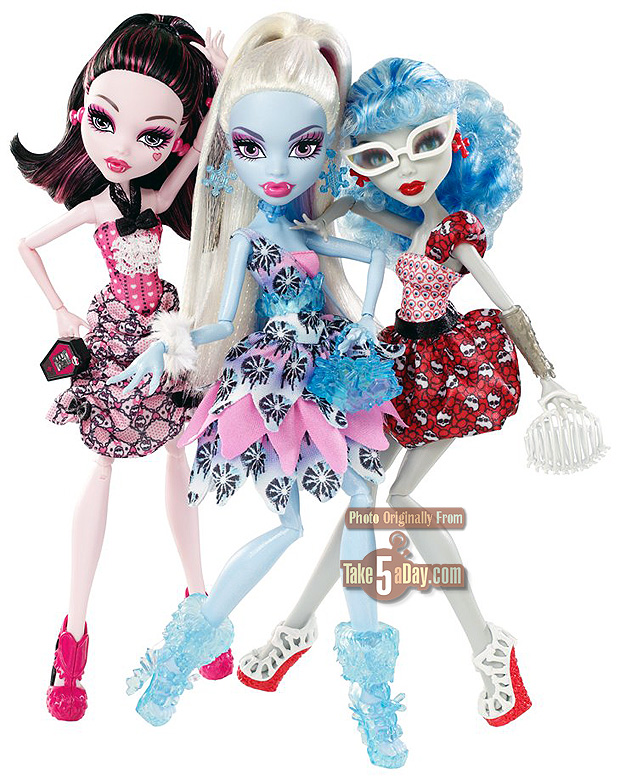 Draculaura Doll + Roadster Giftset (JCP)
The wheels move, the steering wheel turns and even the blinker control switches position (though lights do not blink).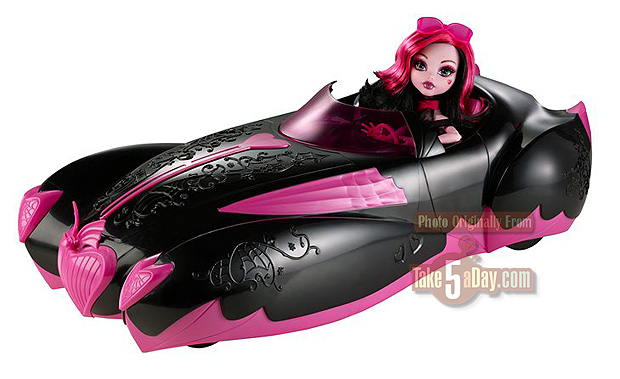 Monster High Doll & Accessory Giftset Assortment (Toys R Us) (no photos):
Ghoulia Yelps + this scooter: Her scooter features great spine detail, a rib-cage basket for Sir Hoots a Lot and a femur-bone kickstand so she can park it at school. The turning wheels, handle ribbons and helmets for Ghoulia Yelps doll and her pet assure a fun and safe ride-zombies.
Draculaura + powder room. Draculaura doll can watch her head in her new vanity complete with a vampire mirror, toiletries (Draculaura uses fang-paste) and monogrammed towel. The black-and-pink claw-foot tub is to die for and the perfect spot for Draculaura doll to relax and boo-tify.
Each sold separately.
Scary Tales Collector Quality Doll Assortment (Target)
Rather than fairy tales with happy endings, monsters' bedtime stories are more often scary tales with chilling endings, but they are just as well loved by little ones! In this assortment, Frankie Stein, Draculaura and Clawdeen Wolf are dressed as their favorite characters. With signature details and character accents, these dolls are ready to live scarily ever after! Dolls cannot stand alone. Each sold separately.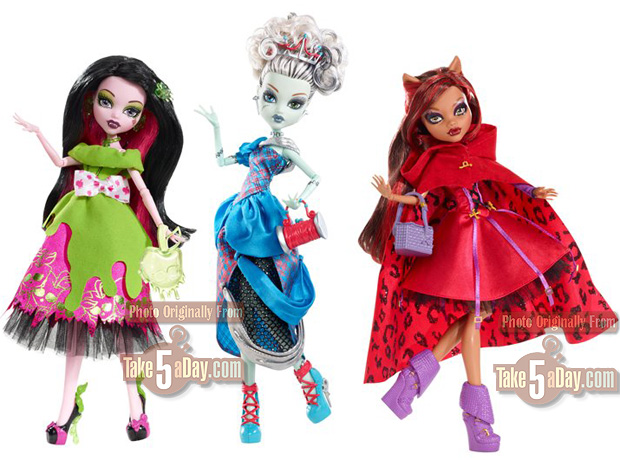 Skull Shores Multipack (Target)
These five vacation-bound students of Monster High are decked out in "spooktacular" swimsuits and cover-ups. Draculaura doll has accessorized for the beach with a small sailor cap. Ghoulia Yelps doll is sporting sunglasses. Clawdeen Wolf and Cleo de Nile dolls wear unique outfits that cannot be found anywhere else. And Frankie Stein doll is in color for the very first time! Each doll comes with a cool treat, like a shaved ice or fruity drink, to help "spring" into break. Dolls cannot stand alone. Includes 5 dolls and fashions.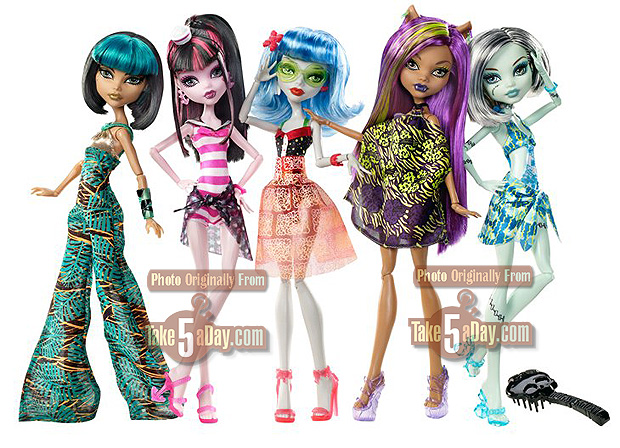 Skultimate Roller Maze Ghoulia Yelps & Abbey Bominable 2-Pack (Kmart)
Each player wears a uniquely "fangtastic" skating outfit complete with helmet, knee pads and skates. Dolls cannot stand alone.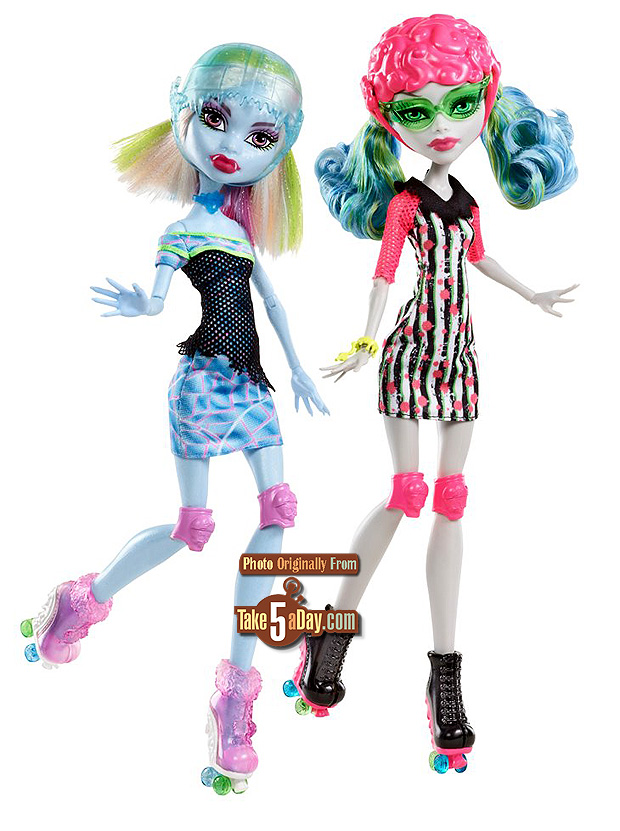 Hope you won't be dead tired after running to all these stores!