Home
»
Financial
Disney Pixar CARS Diecast: Mattel Financial Numbers
As you might know, Mattel announced the Q4 and 2011YTD earnings report yesterday … as a CARS buyer concerned with what's going at retail … What does it all mean?
Fourth Quarter Highlights
Worldwide net sales up 1% from the prior year;
Domestic gross sales down 2% and international gross sales up 5%;
Worldwide gross sales for core brands: Barbie® up 6%; Hot Wheels® up 11%; Core Fisher-Price® down 3% and American Girl® up 4%;
Gross margin increased 230 basis points of net sales; SG&A decreased 110 basis points of net sales;
Operating income was $497.5 million compared to operating income of $428.6 million in the fourth quarter of 2010; and
Earnings per share of $1.07 vs. prior year of $0.89.
Full-Year Highlights
Worldwide net sales up 7% from the prior year;
Domestic gross sales up 3% and international gross sales up 12%;
Worldwide gross sales for core brands: Barbie® up 12%; Hot Wheels® up 6%; Core Fisher-Price® up 2%; and American Girl® up 5%;
Gross margin decreased 30 basis points of net sales; SG&A decreased 160 basis points of net sales;
Operating income was $1.04 billion compared to operating income of $901.9 million for the full-year 2010;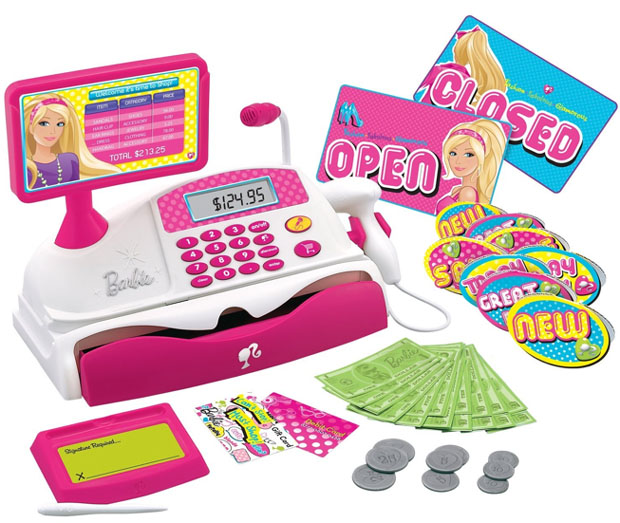 Well, the problem is that is that Mattel really only reports three groups: Boys & Girls, Fisher-Price and American Girl.
Boys & Girls pretty much encompasses EVERYTHING at Mattel that is NOT Fisher Price or American Girl (the giant dolls).
So, while Boys & Girls sales are up nearly $500 million dollars, it's easy to cloud the CARS 2 results because it's buried in there in a myriad of ways.
"Disney portfolio performed well throughout the year with CARS 2 meeting its high expectations and Disney Princess remaining a solid evergreen property."
A) The most basic – well, CARS 2 in its launch year better beat CARS, a property on its 5th year – especially since they pretty much slowed the line to a crawl in its 5th year so that by itself says pretty much nothing.
B) Meeting "high expectations" is fairly meaningless since they never announced a sales target BEFORE they released any CARS 2 merchandise. Since 2010 was a fairly slow year for CARS diecasts, CARS 2 should easily double or triple those sales so it meets "high expectations," so if you're goal is not get robbed on the way to work and you arrive safely, you have wildly exceeded expectations, corporate-speak wise.
What's left unsaid is that with a better and consistent mix & release of CARS 2 products, they might've tacked on another $50 million in sales and reduced operating expenses for a greater profit.
C) In addition to the Barbie & Hot Wheels, there are board games, WWE, Monster High, Disney Princesses, Toy Story, DC Comics Characters, Matchbox, Tyco, Radica, CARS 2, Mattel licensing (of their properties), and many more obscure but still money generating lines.
D) There is also huge growth in markets such as Brazil, Argentina and China …
"4/FY growth driven primarily by CARS 2, Monster High, Barbie, and Radica."
So, if you add that all up, an extra $500 million dollars in revenue actually might mean pretty much nothing. So, some of that growth is CARS but how much when between Monster High & Barbie + Radica did not have a good last couple years so while 2011 might've been good, like CARS 2 to CARS 1, growth as just a number by itself does not mean much without context – it does sounds good – but for instance, between 2007 and 2009, the revenue of 'boys & girls' dropped by @$400 million (1.43B to $1.39B) so while the division is growing again, there were two lost years there.
12% growth in revenue is still growth but one telling stat is that Holiday 2011 to Holiday 2010 is ONLY up $25 million – practically a rounding error for a company that rings in $6.3 BILLION dollars in sales (that's less than .004% growth) . No surprise, Q3 was up much more in revenue – that was the quarter of record for CARS 2 product.
And you should be happy to know that Mattel actually pays taxes (almost $100 million) so at least they're not some tax dodge. 🙂
"Shipping, POS, and retail inventory were aligned for the year … I do think since we shipped a lot of Cars in the second quarter in 2011, we'll have tough comps in the second quarter."
This first statement by itself is also meaningless in the overall scheme of things – as CARS 2 is lumped in with everything except for Fisher Price & American Girl so even if there is $50 dollars worth of "excessive" CARS 2 in the retail channel (or an out and out flop like Green Lantern), spread that out over a $4.2 BILLION dollar division, that's nothing – what's an extra $50 or $75 million dollars of inventory? Less than 1%. But the second sentence is pretty straightforward as there obviously won't be a major motion picture launch blitz in 2012 that happened in 2011.
One other telling stat is that receivables increased to 52 days (up from 48 days) … one way to soften the blow of excessive inventory is to let retailers pay a little slower.
With CARS (World), it's not an immediate killer because clearly it's a property with a long life ahead of it (CARS Land, Planes, Toons, and possibly a CARS 3 in 3 years, etc …). So retailers are willing to let some items linger longer – eventually they will start rapid discounting … probably April to clear the way for the summer of 2012. Mattel will probably just let them take it off the next round of invoices so the hurt is spared out over several quarters … but the big test will be retailers commitment to CARS – retailers may decide to swap out CARS in the ledger to Hot Wheels or Barbie …
"CARS is the 2nd largest diecast revenue brand."
Um, yea, after Hot Wheels and CARS, it's a long drop – Matchbox or Greenlight is probably third – maybe 10% of the business of CARS? So whoever is third, like saying you're the 5th best men's tennis player these days …
Related to the inventory situation?
Looks like the singles D case is delayed 3-4 weeks … why? retailers lack of interest?
You can check out all of Mattel's released numbers here.
Those that want to hear the presentation & Q/A … The number to call in for the replay is area code (404) 537-3406, and the passcode is 40640038.