Home
»
Disney Pixar
,
Disney Pixar CARS 3
,
Mattel Disney Pixar Diecast CARS 3
Mattel Disney Pixar CARS 2 Diecast: What the **** is Happening at Retail
While there are a lot of interesting diecasts to come (both singles, oversized & Toons), for the averge buyer, it won't be as simple as walking into a store and buying them.
Why?
Retail Inventory.
The simple reason is that employees who can peek into the back room have told us there is an enormous backlog of CARS products. And retailers simply go by SKU. They don't really care or even notice individual product numbers but go by the main OVERALL COUNT of a SKU – such as oversized-deluxe CARS 2 cars. There are approximately 8,000 Walmarts, Targets & TRU in the US – so if they have 15 Submarine Finn's on the shelf on average, that's approximately 120,000 on the pegs and in the backrooms. How many oversized CARS would they like on the shelf? 120,000 is not a problem if they were selling at a reasonable rate – even 3 a day means in a week they are all gone – and certainly if Taco Mater, the Popemobile or the Queen were on the shelf, you could reasonably expect that but are there 120,000 customers for Submarine Finn? Clearly not. And that clot presents several additional problems.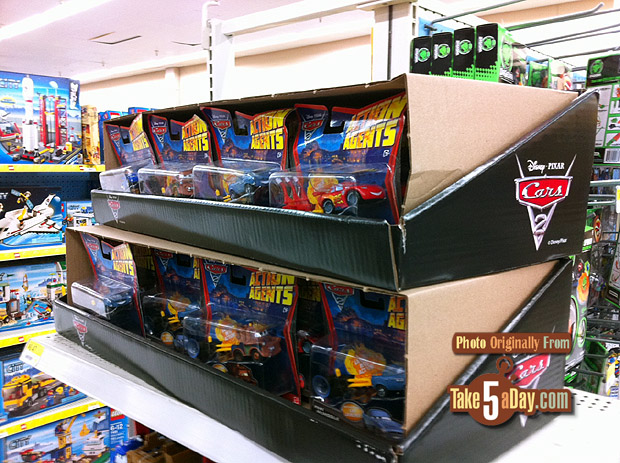 The biggest is until that clot on the shelf gets reduced, retailers are simply not going to order a lot more product. Again, they don't care what the mix is – they do not want to add to their inventory of that SKU. They treat Submarine Finn & every other oversized CAR as they would Smokey Brie Flavored Pepsi. We do not want anymore.
AND when product sits on a shelf, it not only draws lower sales as nothing new ever shows up but when shoppers see the same options everytime they stop by the Big Three (nearly 90% of Americans will stop by the Big Three 2-3 times this week), they become less and less interested as it visually looks less and less enticing. Plus, consumers are not fools. They might want that Finn but if they see 15-30 to the shelf, they will simply wait for a clearance … and of course, nowadays, they will now simply wait for the best clearance.
I'm sure some of their excuse is that CARS 2 did not perform up to expectations … perhaps in a small sense but it was the 9th highest grossing film worldwide – about $550 million dollars plus Disney has sold about $150 million dollars worth of Blu Ray & DVD just in the US & Canada alone so at LEAST $700 million in Disney's books is nothing to sneeze at – and if you add in international home video plus cable and TV airings plus Disney Store sales, you can pretty much put down $1 billion dollars in CARS 2 revenue in 18-months … again, Disney does not have too many complaints in terms of revenue.
So, who is to blame? Well, one small area is that Disney apparently thought Finn McMissile mania would sweep the nation … he was a nice character and Michael Caine is a fine actor and while the Finn the character has a lot of fun gadgets, they are static on the diecasts for cost reasons and for kids eating them reasons so it's like releasing a James Bond tribute Korean car with a top hat called Oddjob – cute but hardly something that would sweep the nation. It's hard to tell why their expectations were so oversized in the belief we would be in the thralls of Finn mania.
There are at least 5 other reasons where Mattel went awry but another key one was the expectation that any line extension would sell – including all the time, expenses, tooling, design and logistics involved in creating & shipping: Action Agents, Color Changers, Change-Ups, Micro Drifters, Wheelies and oversized RC CARS. It also didn't help matters when the track sets all seem to feature the same play pattern.
So, how to fix this so the line stays evergreen?
That's for another day. 🙂
For the average collector, the tough part is going to be shopping trips where there's nothing new or hard to find … because while stores are overstocked, they will still be ordering some things but just in low quantities so where as stores might've gotten 4-5 cases before, they'll probably just order 1 … so if you show up at the right time, you might find what you want but otherwise, it will be tough. For the time being, it looks like it's eBay, our forums, or perhaps to team up with another collector to buy cases from CTC or Rob's Palace. Good luck – we'll need it.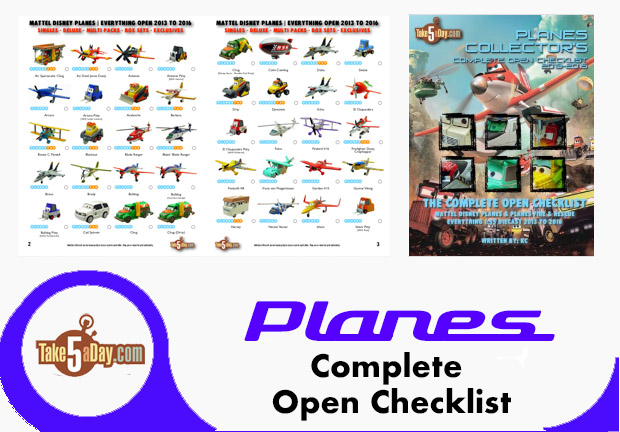 metroxing

30 January 2012

Disney Pixar, Disney Pixar CARS 3, Mattel Disney Pixar Diecast CARS 3


28 Comments