Home
»
Video Games
Star Wars: The Old Republic MMORPG is a Massive Hit
REDWOOD CITY, Calif – December 26, 2011 – Over a million gamers worldwide celebrated the holidays in front of their PCs with lightsabers, Sith lords and Jedi knights as BioWare™, a Label of Electronic Arts Inc. (NASDAQ: EA), continued to see an unprecedented amount of player engagement for Star Wars™: The Old Republic™. Over this past weekend, players continued to flood the servers of the fastest-growing subscription MMO in history, immersing themselves in the game for over 5.5 million hours.
Over 60 million in-game hours – roughly equivalent to watching all six Star Wars movies over 4 million times
Over 850,000 Sith Warriors and over 810,000 Jedi Knights created
Over 260 million quests completed
Over 44 million PvP battles
Over 9 million space combat missions completed
Over 3 billion NPCs killed
Star Wars: The Old Republic is set thousands of years before the classic Star Wars movies, with the Galactic Republic and Sith Empire locked in the middle of an epic, galactic war. Players choose one of eight iconic Star Wars characters, including the Jedi Knight, Jedi Consular, Smuggler, Trooper, Sith Warrior, Sith Inquisitor, Bounty Hunter and Imperial Agent, becoming the hero or villain of their own personal Star Wars saga. Players will team up with friends online, fighting in heroic battles reminiscent of the films, immersing themselves in a galaxy full of vibrant characters and planets, while experiencing visceral Star Wars combat.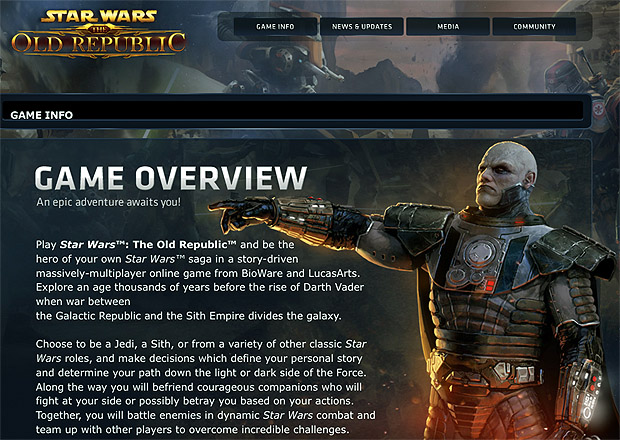 I remember way back when I had time to play a MMORPG (I ruled all in Hello Kitty: Ninja Warrior of the Apple Orchard) but now, not so much … it reminds me of the great Dave Kosak Column on how you want to play but who has the time, why not create an autobot to do all the boring parts?
Join any group that invites you
When in a group, follow behind the leader
Attack any monster you see
Accept all trade requests from other players, then give them a melon
You can read the rest of his "AutoCamp" software adventure here. (1,000% Geek Humor) 🙂
What is the new Star Wars: Old Republic MMO about?
Key Game Features
Define Your Star Wars Saga – Choose from one of eight iconic roles and become the hero of your personal Star Wars saga – an interactive storyline with cinematic dialogue and full voiceover for all in-game characters
Choose the Light or the Dark Side – Meaningful choices throughout your journey will determine your path down the light or dark side of the Force
Adventure with Companions – Build or break meaningful relationships with your companions as they join in your journeys and fight at your side
Engage in Heroic Star Wars Combat – Fight against reactive enemies in dynamic lightsaber duels, cantina shoot-outs, and large-scale multi-player battles
Pilot Your Personal Starship – Earn your own ship which is your base of operations as you explore the galaxy and participate in epic space combat
Discover a Fully Featured MMO – Join your friends and experience player vs. player Warzones, multi-player flashpoints, multi-group operations, guilds, auction houses, crafting, mounts, and much more
You can get the regular edition with 30 days of gameplay or the "Collector's Edition Bonus" version of 30-days of gameplay PLUS …
Exclusive Gentle Giant Darth Malgus statue
Game disks collectible metal case
The Journal of Master Gnost-Dural as annotated by Satele Shan
The Old Republic galaxy map
Music of Star Wars: The Old Republic CD
High-quality Collector's Edition box
Custom Security Authentication Key
Includes 7 additional Digital Items:

Flare Gun: Fire flares into the air
Training Droid: Hovers at your side for combat assistance
HoloDancer: Project your own holographic dancer
HoloCam: Keep visual records of in-game adventures
STAP: Sleek and unique in-game vehicle
Exclusive Mouse Droid: Spunky Droid to join your adventures
Exclusive Collector's Edition Store: Unique in-game vendor with an assortment of items.
Dude, if we don't hear from you for a while, we totally understand. So stock up on melons. I wonder if you can order a pizza inside the game – that would be awesome.

metroxing

29 December 2011

Video Games


3 Comments