Home
»
Disney Pixar CARS 3
,
Mattel Disney Pixar Diecast CARS 3
,
Retail
Amazon Clearance: CARS, Logs and Such … Up to 70% Off
Lots more CARS stuff on sale (Amazon LINKS embedded in each graphic below).
Fan Stand Carry Case … one reviewer hated it because she thought it came with 50 CARS … um, it does not.

Good deal on the playtown …

And to complete the set, the Pop Open Speedway …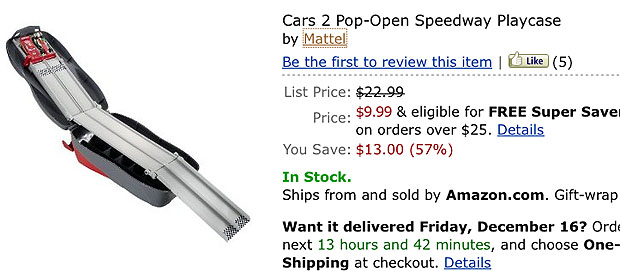 Some good deals on the 3-pack … Holley with Wings is actually hard to find so here, you get 2 other CARS for around the price of her in the oversized lineup …

You can also pick up the Double Decker Bus 3-pack for $7.99 and the Finn Sub 3-pack for $2 bucks more because Finn Sub – hard to find. 🙂
The Spy Jet Escape Playset, Now 70% Off …

If only there was something catchy to write about barrels and blowouts … humm, nothing … prices so cheap, it's like falling off a log?

You can also get the Stunt Ramp Getaway playset for $5.10.
Nice deal on the Miguel & Lewis Hamilton launchers:

And I'll bet you exactly $4.80 that you do not get a chrome Lewis … but it's your money. 🙂  You can also get Lightning McQueen.

This is only the first of all the Action Agents stuff going on clearance … no real shock … Spy Train & Crabby Boat.

Now 70% less crabby …

I think this is the only LEGO CARS 2 item on clearance:

This is very strange … maybe when it gets to another 50% off, I will buy a fake campfire log that lights up like it's on fire …

I still don't really get how this thing actually works but at 67% off, it's easier to understand …

Zero Grav Finn is in price freefall …

A Carerra slot set for 50% off …

And you can pick up some extra GeoTrax CARS 2 …

For the Seinfeld fan, at the right price!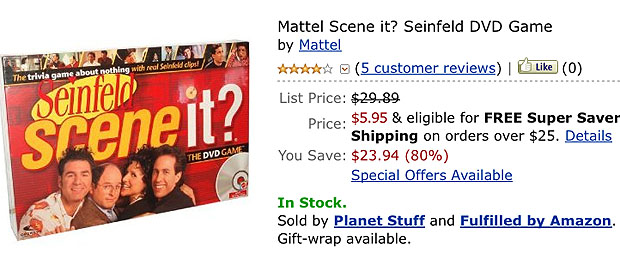 Even Spongebob is on sale … Guess he's not Spongebob worthy …

Giant Star Wars.

Everything's on sale – even Hello Kitty!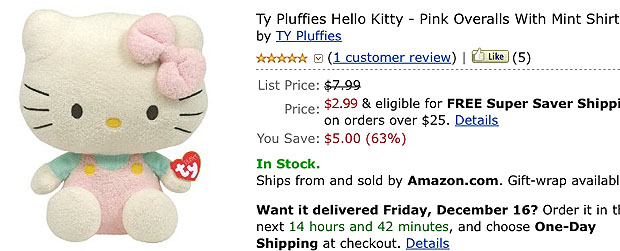 And while not on clearance, you can still get great deals on the last Hauler releases …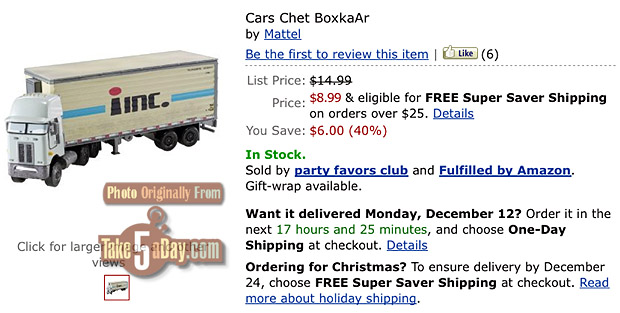 Chet Boxkaar is a super nice hauler. His cab is made of bone-breaking rock solid metal – it is extra heavy.
You can scroll to the bottom of the Chet Boxkaar page to see the other haulers which range from $10.50 and up … most with free shipping.
Happy Shopping!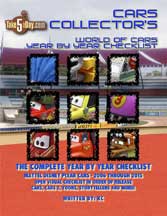 metroxing

15 December 2011

Disney Pixar CARS 3, Mattel Disney Pixar Diecast CARS 3, Retail


8 Comments