Home
»
Food
Coca Cola Freestyle 100+ Flavor Dispenser Coming to BK & Review
As you might know, Coca Cola has a new dispenser that lets you mix and mix 100+ varieties of their sodas and drinks …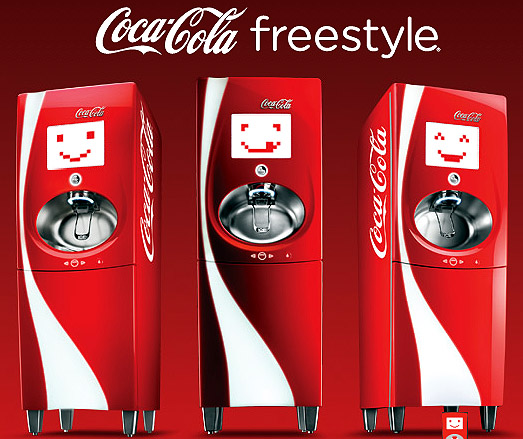 The Five Guys chain, Wingstop, many Jack in the Box and 1,800 restaurants have it in place but now BK might add it to all 7,000 restaurants. I tried it in LA – it's nice to have more than just a dozen choices – ultimately, it's just flavoring but if you love Orange Coke or some other oddball combo, it's not you're going to find that anywhere else …you can go to the Coke website to look for the location near you.
Here's the front screen. Tap to get to submenus …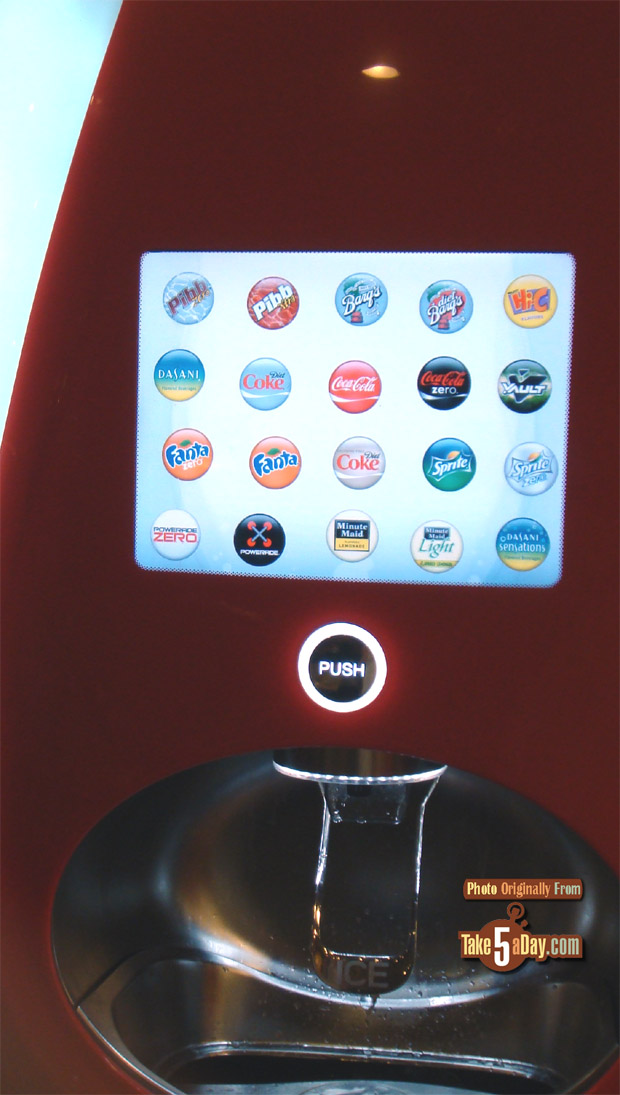 Here's the cartridge system – ummm, toner syrup … 🙂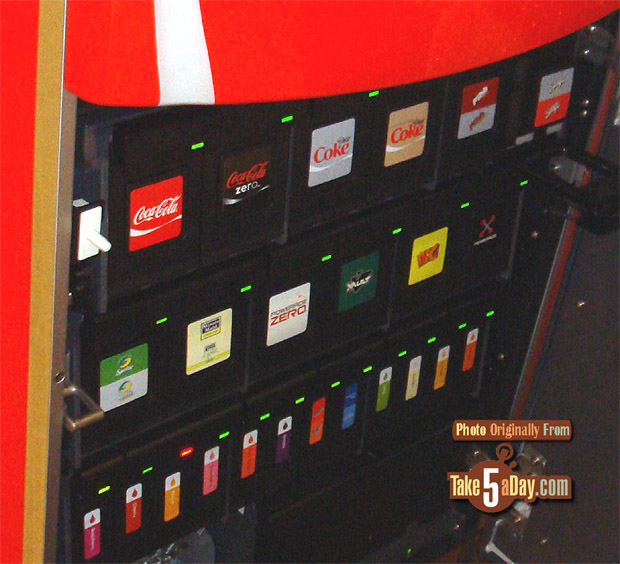 And two reviewers at SERIOUS EATS has done all a favor and tested out 127 combination.
Good luck!
Coca-Cola®
Vanilla Coke
Coke with Lime
Raspberry Coke
Cherry Coke
Orange Coke
Cherry Vanilla Coke
Diet Coke®
Diet Vanilla Coke
Diet Coke with Lime
Raspberry Diet Coke
Diet Cherry Coke
Orange Diet Coke
Diet Cherry Vanilla Coke
Coca-Cola Zero™
Cherry Coke Zero
Vanilla Coke Zero
Cherry Vanilla Coke Zero
Coke Zero with Orange
Coke Zero with Lime
Coke Zero with Raspberry
Coke Zero with Lemon
Caffeine-Free Diet Coke®
Caffeine-Free Diet Vanilla Coke
Caffeine-Free Diet Coke with Lime
Caffeine-Free Diet Coke with Orange
Caffeine-Free Diet Raspberry Coke
Caffeine-Free Diet Cherry Coke
Caffeine-Free Diet Cherry Vanilla Coke
Sprite®
Sprite with Cherry
Sprite with Strawberry
Sprite with Grape
Sprite with Peach
Sprite with Raspberry
Sprite with Orange
Sprite with Vanilla
Sprite Zero™
Sprite Zero with Cherry
Sprite Zero with Strawberry
Sprite Zero with Raspberry
Sprite Zero with Grape
Sprite Zero with Peach
Sprite Zero with Orange
Sprite Zero with Vanilla
Fanta® Orange
Fanta Fruit Punch
Fanta Lime
Fanta Grape
Fanta Strawberry
Fanta Peach
Fanta Raspberry
Fanta Cherry
Fanta Zero™ Orange
Fanta Zero Peach
Fanta Zero Lime
Fanta Zero Grape
Fanta Zero Strawberry
Fanta Zero Fruit Punch
Fanta Zero Raspberry
Fanta Zero Cherry
Minute Maid® Lemonade
Minute Maid Cherry Lemonade
Minute Maid Orange Lemonade
Minute Maid Raspberry Lemonade
Minute Maid Strawberry Lemonade
Minute Maid Fruit Punch Lemonade
Minute Maid® Light Lemonade
Minute Maid Light Cherry Lemonade
Minute Maid Light Orange Lemonade
Minute Maid Light Raspberry Lemonade
Minute Maid Light Strawberry Lemonade
Minute Maid Light Fruit Punch Lemonade
Dasani with Lime
Dasani with Peach
Dasani with Grape
Dasani with Orange
Dasani with Strawberry
Dasani with Raspberry
Dasani with Cherry
Dasani with Lemon
Dasani Sensations – Lime
Dasani Sensations – Peach
Dasani Sensations – Grape
Dasani Sensations – Strawberry
Dasani Sensations – Orange
Dasani Sensations – Raspberry
Dasani Sensations – Cherry
Dasani Sensations – Lemon
Powerade ION4 Fruit Punch
Powerade ION4 Raspberry
Powerade ION4 Cherry
Powerade ION4 Lemon
Powerade ION4 Orange
Powerade ION4 Lime
Powerade ION4 Grape
Powerade ION4 Strawberry
Powerade Zero Fruit Punch
Powerade Zero Raspberry
Powerade Zero Cherry
Powerade Zero Lemon
Powerade Zero Orange
Powerade Zero Lime
Powerade Zero Grape
Powerade Zero Strawberry
Hi-C®
Hi-C Cherry
Hi-C Orange
Hi-C Raspberry
Hi-C Strawberry
Hi-C Fruit Punch
Hi-C Grape
Hi-C Raspberry Lime
Hi-C Orange Vanilla
Vault™
Vault Red Blitz
Orange Vault
Grape Vault
Peach Vault
Pibb Xtra®
Pibb Zero™
Barq's®
Barq's Vanilla
Diet Barq's®
Diet Barq's®
Diet Barq's Vanilla
Seagram's® Lemon Lime Seltzer