Home
»
Food
Bacon Poutine – Belly Up! Time to Add the Autumn Layer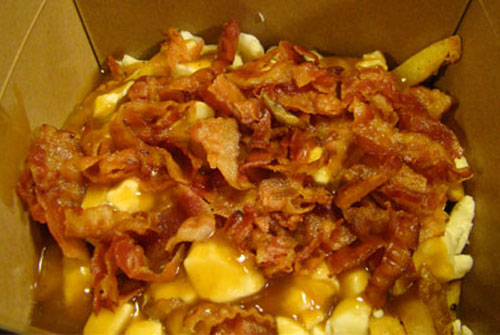 Just use you're regular poutine recipe, add a pack of bacon …
Original Recipe Yield 4 servings
Ingredients
1 quart vegetable oil for frying
1 (10.25 ounce) can beef gravy
5 medium potatoes, cut into fries
2 cups cheese curds
 Directions
Heat oil in a deep fryer or deep heavy skillet to 365 degrees F (185 degrees C). While the oil is heating, you can begin to warm your gravy.
Place the fries into the hot oil, and cook until light brown, about 5 minutes. Make the fries in batches if necessary to allow them room to move a little in the oil. Remove to a paper towel lined plate to drain.
Place the fries on a serving platter, and sprinkle the cheese over them. Ladle gravy over the fries and cheese, and serve immediately.
Add bacon (as shown above) and or chicken strips or hamburger.