Home
»
Apple
,
iPhone
Should You Buy An iPad + 10 Very Cool Apps to Show Off Your New iPad
Should you buy an iPad (for yourself or as a gift) … Sure, you can buy a "smaller" version called an iPhone or for around the same price, a WIN PC laptop or for a tad more, a Mac Air laptop … so here are some reasons you should buy an iPad – if these reasons fit your lifestyle, great – if not, there are other solutions obviously.
First, yes you can spend all day in the midst of a Socratic discussion ranging from price to battery life to no actual keyboard BUT there's no right or wrong for everyone because it is revolutionary and yet, you could easily argue it's not … it all depends on your needs.
(also note, I will not cover business reasons for the iPad even though I use it for presentations and the TSA does not require you to whip it out (though now you need to whip out other things in security 🙂  but I think most people who need it for business can easily justify it as either it's a company expense or it's a writeoff so this discussion will stick to the "average consumer" who might wonder if they need yet another CE device).
First, if you have a laptop, computer or even a smartphone – no, the iPad is not a necessity but I think the closest comparison is it's a pickup truck (again, keep in mind, this is not a business tool discussion). In a way it's a luxury but as most homeowners know, but it's a great tool to have handy – whether you want to haul 35 bags of decorative bark , a 50″ Tv set or lawn furniture – you wonder how you lived without one …
For the vast majority of people now, the main reason they bought a laptop/netbook was they could move around the house untethered – to surf the net, jump on social sites, read emails and type some quick replies, look at photos and videos … and essentially, the iPad has distilled that down to one lightweight machine that's ultraportable. Unlike the laptop, there's no physical keyboard – which is pretty much un-necessary and really just gets in the way of you trying to putting on your lap and of course, you can't turn a laptop sideways or upside down … and even resting it on your chest or stomach pretty much blocks the air holes and it starts to get HOT … and of course the battery life of a laptop (or netbook) is not that great – while the iPad can get up 11 hours on one charge and re-charges very fast.
The keyboard will pop up (as software) when you tap in places that requires input. It's a smart keyboard that learns your words (for instance, it knows that if I type MATER, it now knows I do not mean MATTER and it stops offering to spell check). Personally, I type fine on it. I would not recommend you write a novel and no, I do not write full posts on my iPad but for short notes and emails, I will use my iPad.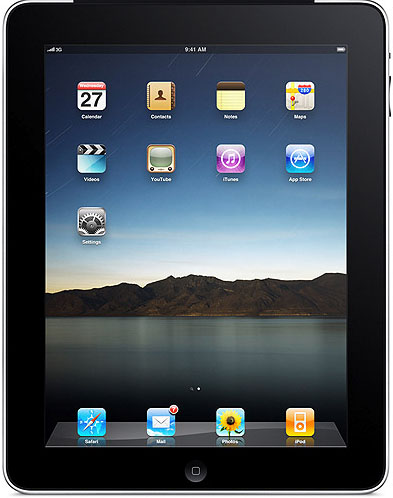 And the biggest reason to get one is the learning curve is pretty much nil. You tap with your index finger to launch an app. To quit, tap the HOME button. You want to zoom in on photos or MAP, just expand on the screen with your thumb and index finger. Scroll? slide your index finger up or down or right-left.
There is a volume control and an off-on switch. That is it.
If you turn it to landscape – smart apps like the photo viewer or web browser will change directions with you (there are some apps, mostly games that do not reorient themselves).
Since Apple approves all apps you can add, there is no chance of getting a virus, malware or other unwanted intrusions.
Like your iPhone, everything is backed up on your computer and upgrades are as easily as clicking YES through iTunes. It will let you know if apps are upgraded – upgrades are virtually free (I have over 500 apps, I have yet to run across one that charged for an upgrade).
Basically you will find it useful if these criterias sound like something you want or have been waiting for:
WEB SURFING
You want an instant on browser with all your desktop bookmarks transferred over.
You want to read the web in landscape or vertical view.
You want to save photos or graphics into one storage area.
You want to click to email links to yourself or others.
EMAIL
You want to be able to access all your email accounts and of course, reply and forward any emails.
MOVIES/TV/VIDEO
You want a nice large 9.7″ screen to view movies, TV shows & other video (YouTube, etc …).
You want to be able to view, rent or buy HD & SD movies with one click.
You want to be able to view, rent & buy TV Shows with one click.
You want to be able to load your own personal videos to have instant access to.
PHOTOS
You want to store and view your personal photo albums.
You want something you can plug your digital camera into (with external connector) to use as a viewer and backup storage when you are away from home.
BOOKS
You want to read books electronically.
You want color, you want to be able to read books in two page or vertical view.
You want the ability to add notes, look up words in a dictionary, and the ability to enlarge or even change the font of a book.
You want to be able to buy books electronically and start reading in under 30 seconds.
You want to have access to eBookstores like Amazon's Kindle, B&N Nook and Border's Nook + other pubic domain sites.
You want to be able to read PDF's and "eBooks."
MUSIC
You want it to work just like your iPod.
You want to have easy access to buying and previewing music.
You want access to thousands of radio stations.
APPS
You want easy access through an APP STORE where there are thousands of free and paid apps.
USER INTERFACE
You do not want to really have to learn another operating system.
You want to use your index finger for virtually all controls including on-off, scrolling, volume control and zoom features.
You don't have to look to look for files – all associated files with a particular app are all stored in one location (hidden from you). Example – all iPad added photos are copied to the PHOTOS>PHOTO ALBUM.
Anything you delete is still backed up on your computer.
You have free tech support for life at the Apple Stores.
PORTABILITY
As a tablet with no portion devoted to a keyboard, you can take and view from any angle including flat on a lap, propped on a treadmill, held up on your chest or even on its side propped up while you lay down covered under a massive and snug blanket – all you need is an index finger to flip through pages, scroll or just your eyes uncovered if watching a movie.
These are just the main reasons – with specific apps, this is really only the beginning but it is the main selling points.
It is really a complementary device. If you need to do a lot of typing, you can add an external keyboard or still use your laptop/desktop. If you need to do a lot of graphics or numbers manipulation – then, of course, that's still best done on a laptop/desktop … and while the games are getting better, on screen controls still cannot match the best of the consoles … but again, complementary.
It's a great portable device where you get a full size screen to show off the family photos, jump on the web to look up something in regular size, run specialized apps of every kind and be able to use it as a video player and download and read books, magazines and newspapers.
And some of the 10 BEST APPS that make the iPad great … and a dazzling showoff showcase demo …
#10 WEB BROWSING
As you can see, it's the web as you know it and just turn it horizontal … it changes. It comes with SAFARI but there are dozens to pick from. I like ATOMIC BROWSER for its tabs. PERFECT BROWSER is nice also.
Or all the things you normally do on the web generally has its own app so instead of having to navigate through web like controls, you get the "simplified controls" and a lot LESS ADS.
The YouTube APP (included) …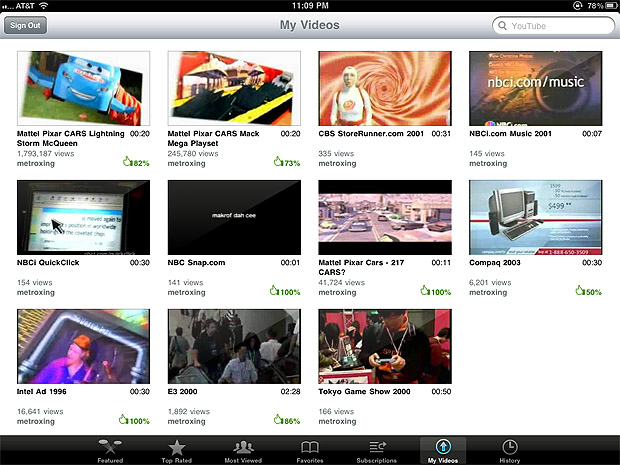 Or like Google Maps APP (included), nice on the computer but that sliding controller is not exactly user friendly …
Here, just tap or expand on the screen to expand your map …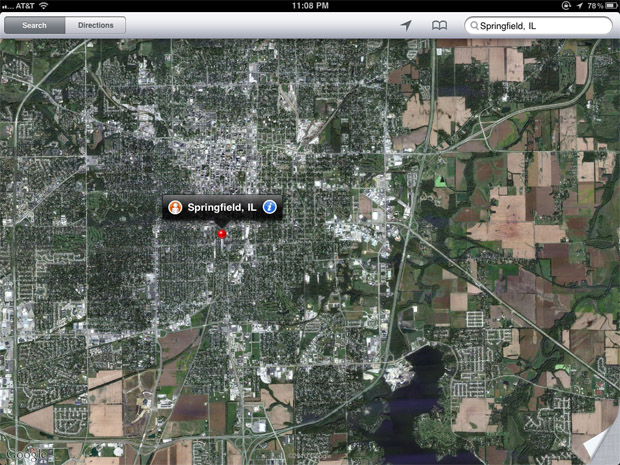 This of course is sat view – always FULL SCREEN.
Or how often are you watching something and you want to look up IMDB to check out their other credits … you hope the laptop is charged up and in sleep mode … and then you hoped you bookmarked IMDB.com … now, instant on and TAP once from your table or lap …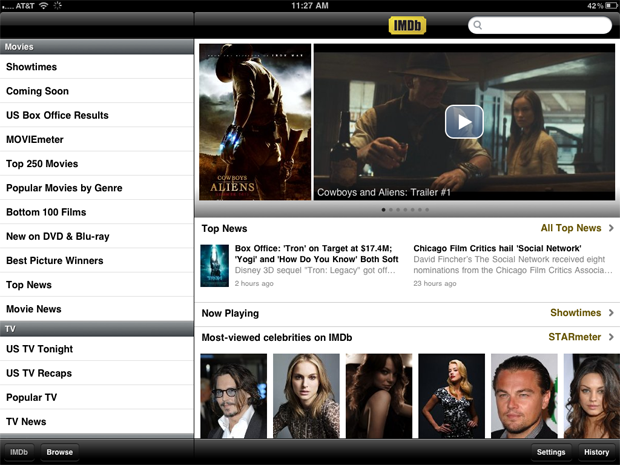 You have full access to IMDB …
Or of course, reading the newspaper is more like reading the newspaper …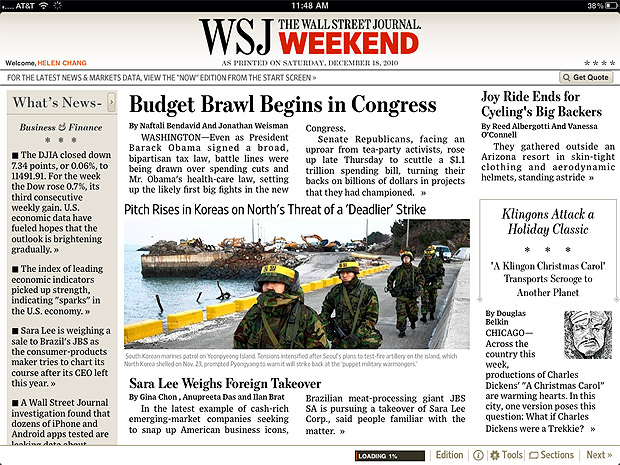 Or plowing straight to the heart of the matter via Bloomberg or CNBC apps.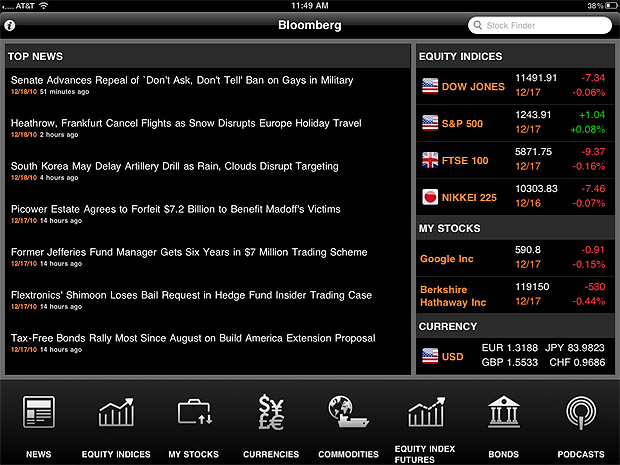 #9 EMAIL
Email actually looks enticing …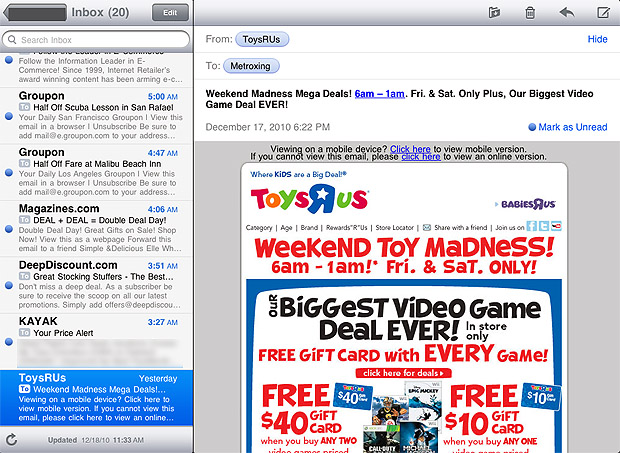 Even tapping on the trash can to 'trash' email gets an animation.
#8 PHOTOS
Most picture frames are a nice attempt but still require a lot of wonky controls. Nothing could be simpler than auto sync with your iPhoto or WIN PC photo folder and albums … click for full view in high res or tap on SLIDESHOW with an option to play a music track to PLAY ALL … there is even a slideshow choice when the screen is locked so you can prop it up work to play through your photo albums. If you enjoy viewing FLIKR photos and saving random bits of web graphics, illustrations or photos … no more wondering where the saved image went to … it all goes to one folder in the PHOTOS APP.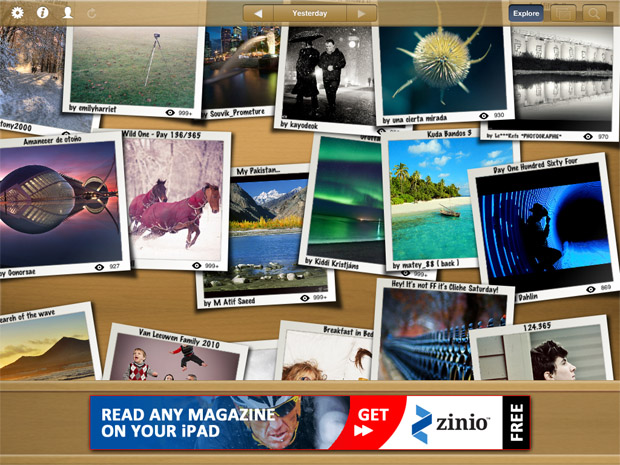 This is from FLIKRPAD, a FLIKR viewer APP that puts the best of FLIKR photos on one page and yes, the 'polaroids' can be moved and pulled off – so other photos replace it. Of course, if you put your FLIKR photos & albums online, you can view  them this way also.
#7 THE WEATHER & TIME
Again, you have access to a lot of weather & weather mapping but nothing beats looking at live radar animation in fullscale in your own lap …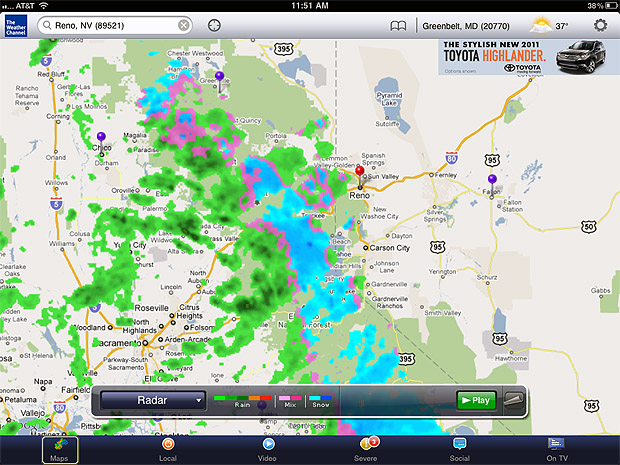 While there is a free WEATHER CHANNEL app, you want the full WEATHER CHANNEL MAX APP. I also like the ACCUWEATHER APP for its easy access hour by hour feature. WEATHERSTATION APP is a nice replacement for the actual standalone weatherstations.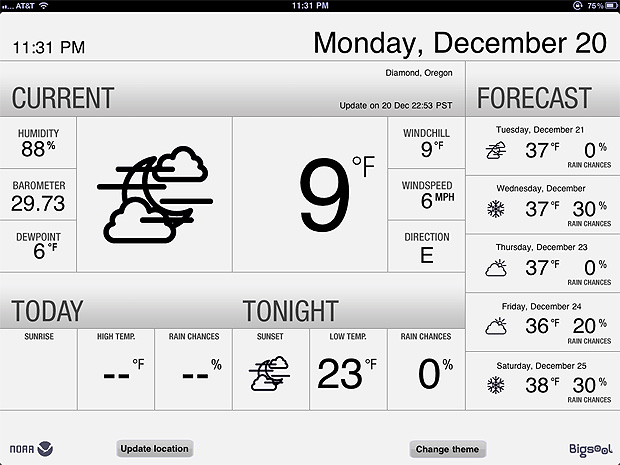 And even a clock is fun as you customize it EXACTLY as you like … TOUCHLCD & NIGHTSTAND are both nice …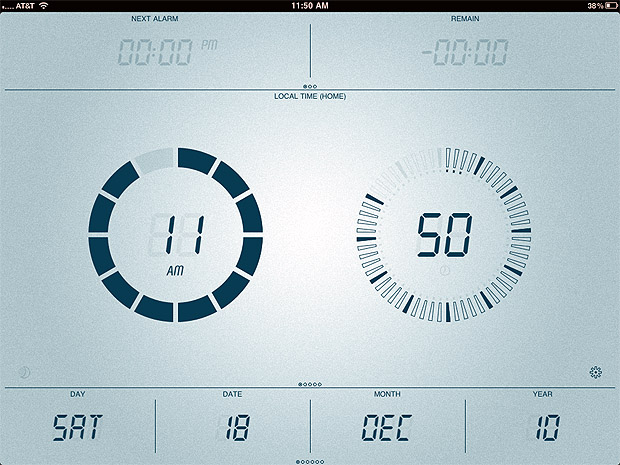 But the most dazzling clock is MAGIC WINDOW … there are a few dozen moving images to pick from .. my favorite is the spewing Iceland volcano (this of course is a still shot) – they are all in glorious High Resolution.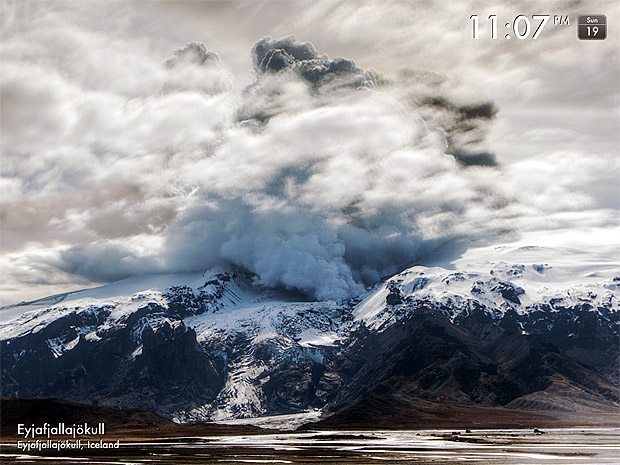 #6 GAMES
There are too many to choose from and while it's still only in demo walkabout mode, it's free and a dazzling showcase of the graphics in games to come …

But the cool thing is very simple games like this that are not that interesting in real life like a metal ball in a wood labyrinth are actually very cool eclectronically as they replicate the sounds and feel of it EXACTLY …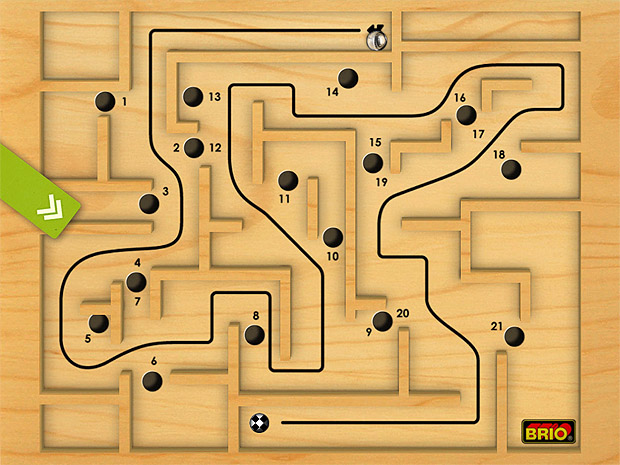 And of course in "real life," you get one board or maybe 2 if you flip it over but as an iPad board, you literally get dozens plus with different options, you get literally hundreds of variations …
Or more realistic replication – BRONCO PINBALL … or PINBALL HD.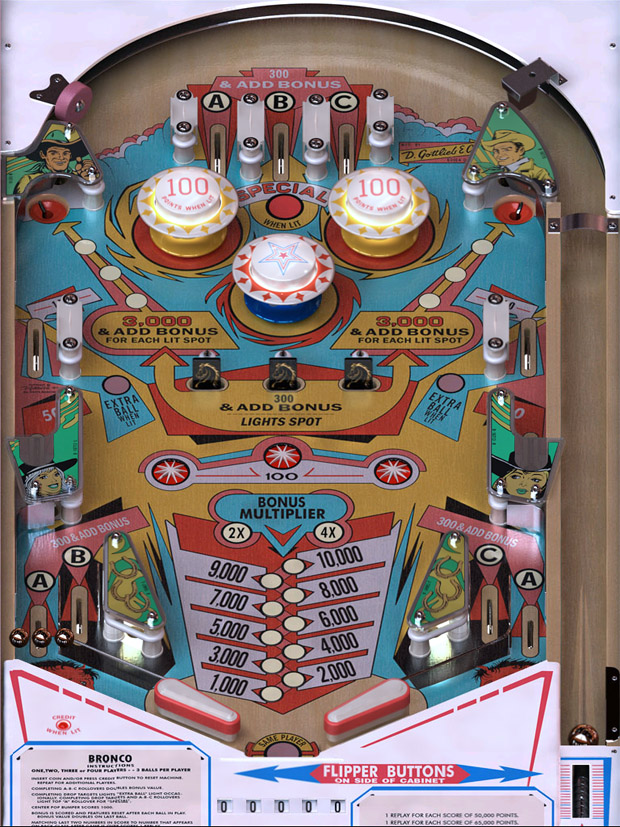 Another one if you also have an iPhone is CHOPPER 2. I did not bother to take a screenshot as the graphics are pretty old school and you know the game is old school, you pilot a helicopter and rescue people or fly to a specific spot but the ultra cool thing – you can use your iPhone to control the game on the iPad! Once you buy the iPad version, the iPhone version is free.
There are of course, hundreds of games with fun gameplay depending on your interest but these are fun demos of the iPad.
Don't forget there a massive EA Games iPod Touch-iPhone-iPad games sale.
#5 STARWALK and other MAKE BRAIN SMART apps.
Ever wonder what's the astronomical sky above you – just point up …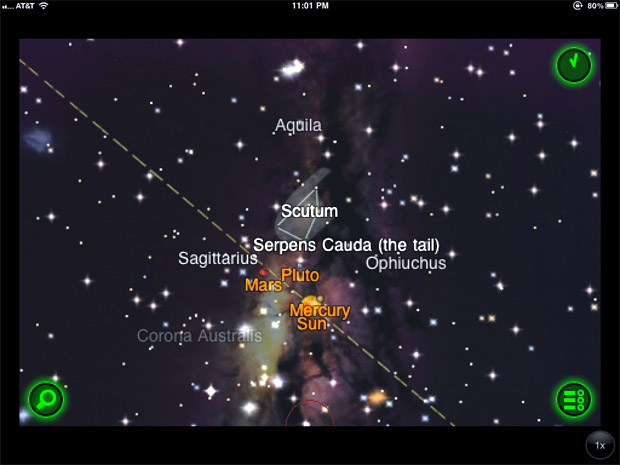 And it changes as you move around in REAL TIME!
Or musical instruments …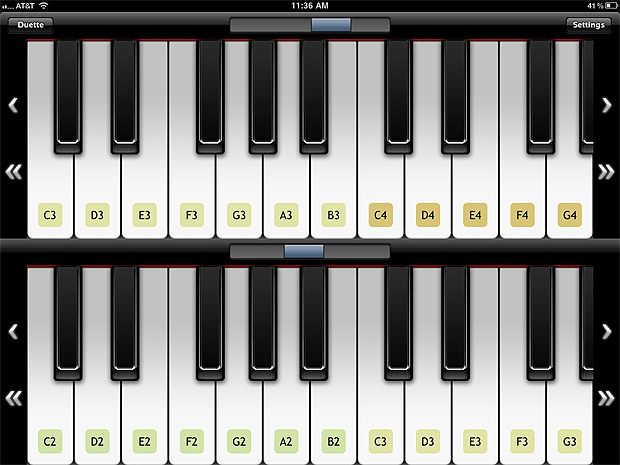 And if you press the DUETTE button on the left, it flips over the other keyboard so if you set it on a table, two can play the piano at the same time. Pretty freakin' amazing and yea, sounds EXACTLY like a real piano. The app is called VIRTUOSO.
Again, the list of interesting and useful apps runs in the hundreds-thousands but these are just two of the brainy apps that are a dazzling showcase of the iPad.
(um, yea, try this on your laptop-netbook).
#4 VEVO & LOVE, LOVE MUSIC Apps …
Of course, the iPad is really just a giant ipod so you have all the music features from your iPod included but it's really an AMAZING and dazzling showcase for music.
Vevo is a new venture of most of the record labels (except WB) as a place to showcase all their artists and music videos …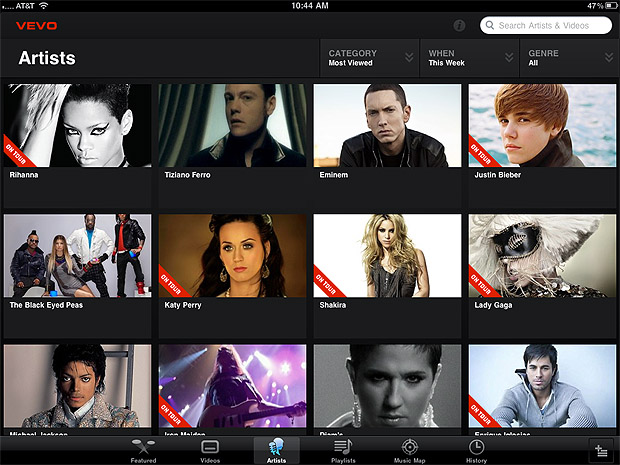 Just tap to access and play music videos and live concerts snippets FREE …most are in HD and FULL SCREEN once you hit PLAY.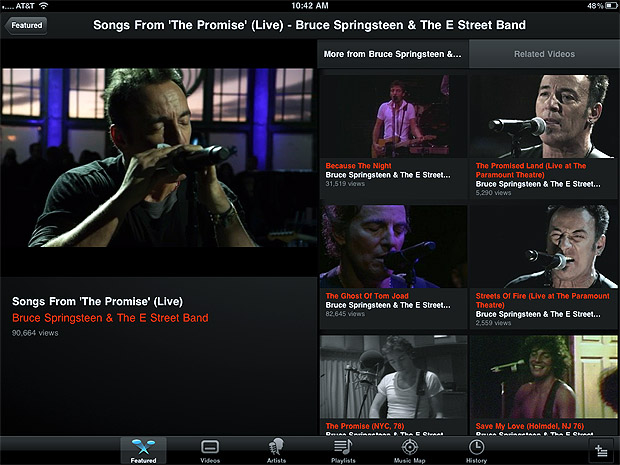 While they have indie artists, if you prefer just to play just indie artists … there's AWEDITORIUM – again, FREE. Tap once and the title overlay goes away – then just tap on the thousands of flipping music videos that look interesting to you,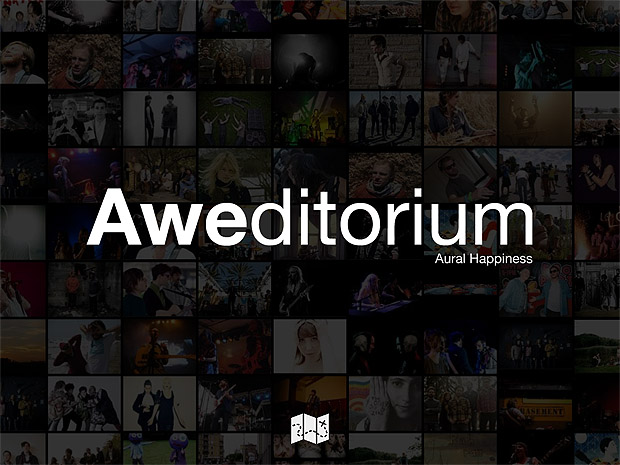 There's also an oddity one where MySpace has gathered up all their artists & their music videos into a player called MYSPACE MUSIC ROMEO which lets you set your mood on a sliding scale and what music you want to hear and it cycles through the artists who have MySpace pages … weird navigation but an interesting option and also free. (not shown here)
Or if you hear a track and you want to ID it – just fire up SOUNDHOUND …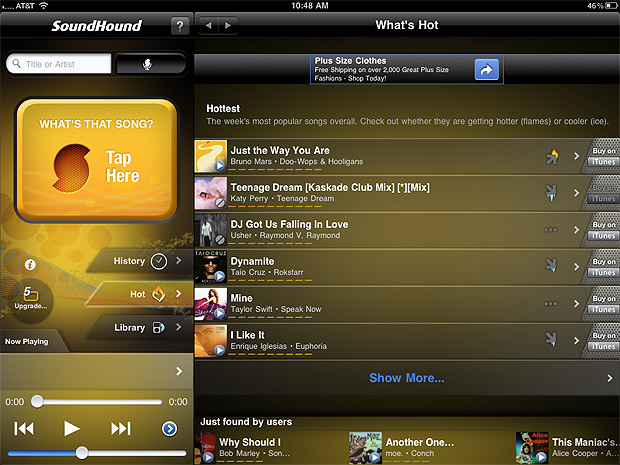 There is also SHAZAM.
Or how about access to thousands of radio stations?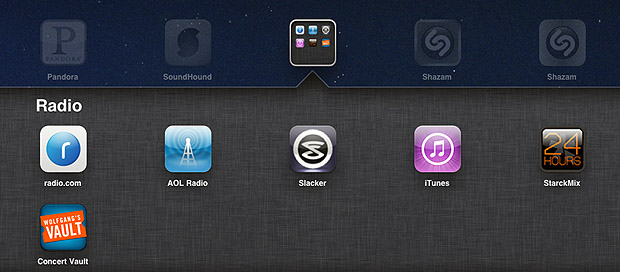 Radio.com, AOLRadio, Yahoo Music, Slacker, Concert Vault (concert recordings) and StarckMix (boutique hotel live stream) and of course, the great Pandora app. Some of these radio apps are iPhone "sized" so they do not fill up the entire screen at full res but it's "radio," so you don't really need full res to access and use these apps. They all will run in the background now.
If you want music, may you live to be 10,001 to hear it all.
#3 READING is fun … damental
There is more reading than 10,001 of you can shake sticks at …
The iBooks is the most obvious one – it's Apple's. We'll start with this one. While there are more Kindle books (see next paragraph), Apple iBooks have some advantages in that you can read a book in a two-page horizontal view or a vertical one-page view that the Kindle cannot.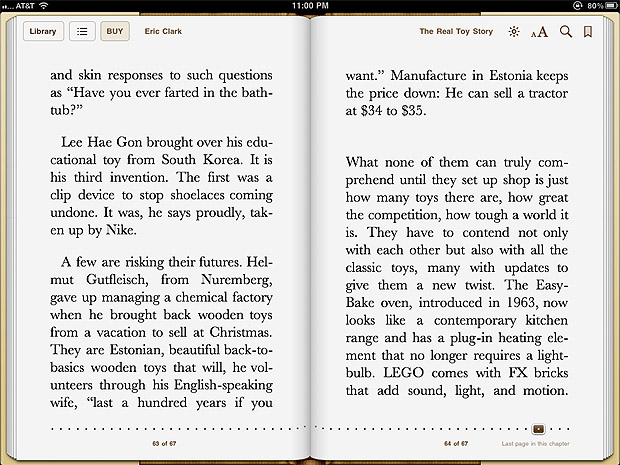 You can see the controls on the right. Enlarge font, bookmark, search – or tap on a word to access the dictionary.
Another advantage to iBooks is color is an option and color books are coming … first up, children's books …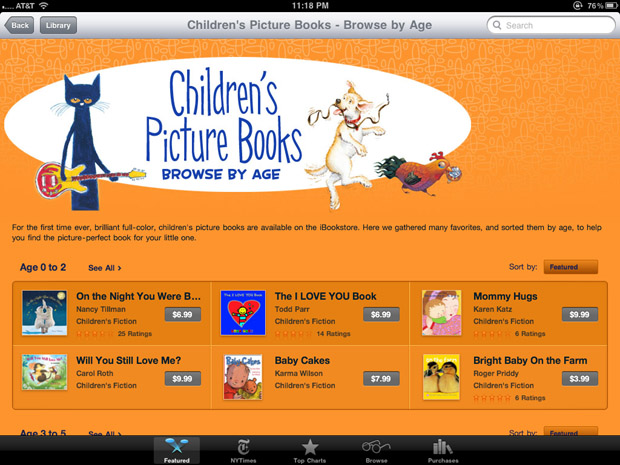 And look what's available as a digital book!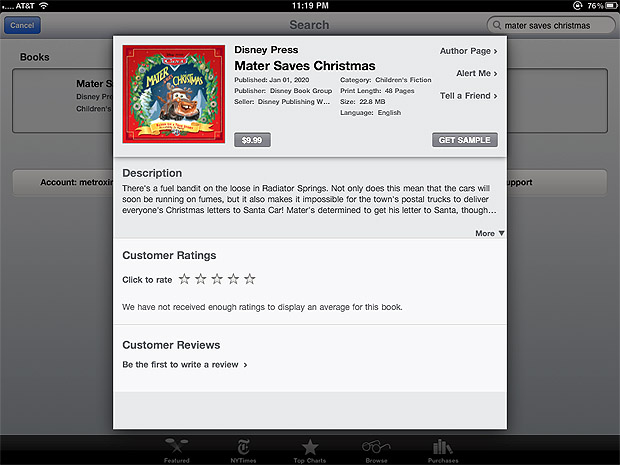 And there's Amazon's Kindle bookstore which has one extra step in buying books but works very well and the Kindle bookstore often has better pricing and more selection – though only in monochrome for now. Kindle also offers more sync and platforms so if you buy it once, you can load and read it on a variety of devices including Mac & PC's while iBooks can only be read on iDevices and not Macs or PC's.
Yes, Barnes & Nobles and Borders now also offer readers for their eBookstores.
But you also have access to THOUSANDS of public domain classics so now you have no excuses! 🙂  This app is (literally) called FREE BOOKS and claims to offer @24,000 choices – ALL FREE.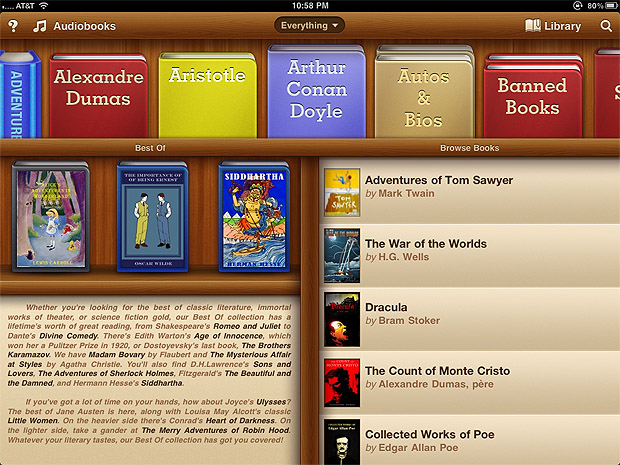 Yes, just click to download. There are literally dozens and dozens of free eReaders and eReader Free stores so you can pick and choose your favorite. There is a free Children's Books one, and I think there's another one with access to audio books read by non-pros.
Or magazines – dozens if not hundreds of magazines have their own app but Zinio has hundreds of the most popular ones including international ones … the only problem with Zinio is it's really just a PDF-like reader but it works well enough.
(you can read it vertically also).
And of course, all the major comic book publishers have their own readers – though they are all from one company so they look and operate the same but run under their app flag …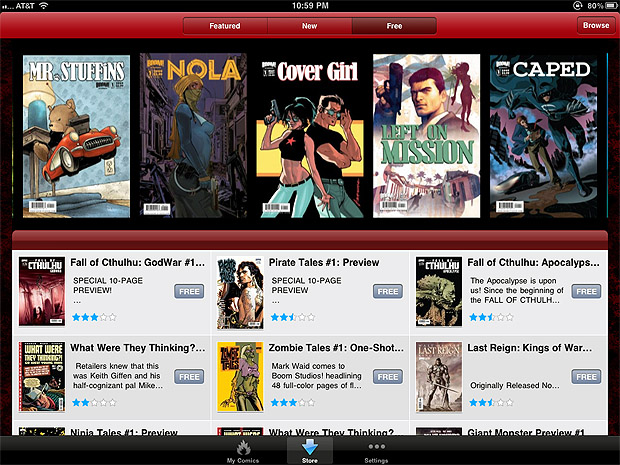 Marvel, DC, Image and Boom all offer dozens of free previews and issues …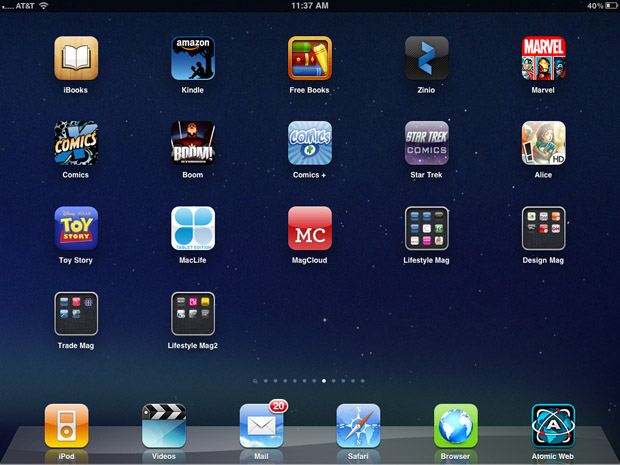 For now, most books are static but things will change rapidly … and get a lot more interesting like THE QUICK & EASY FOOD PHOTO COOKBOOK
…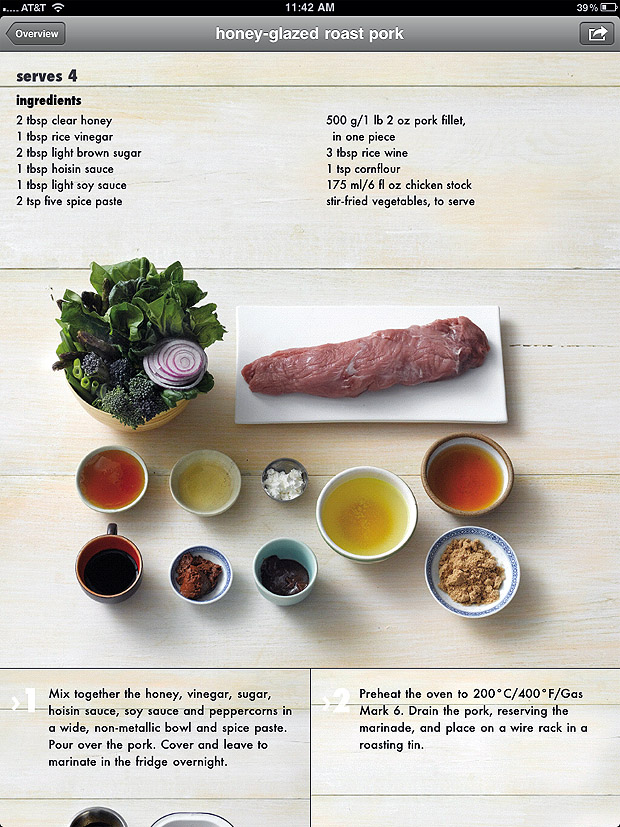 And if you tap on an ingredient …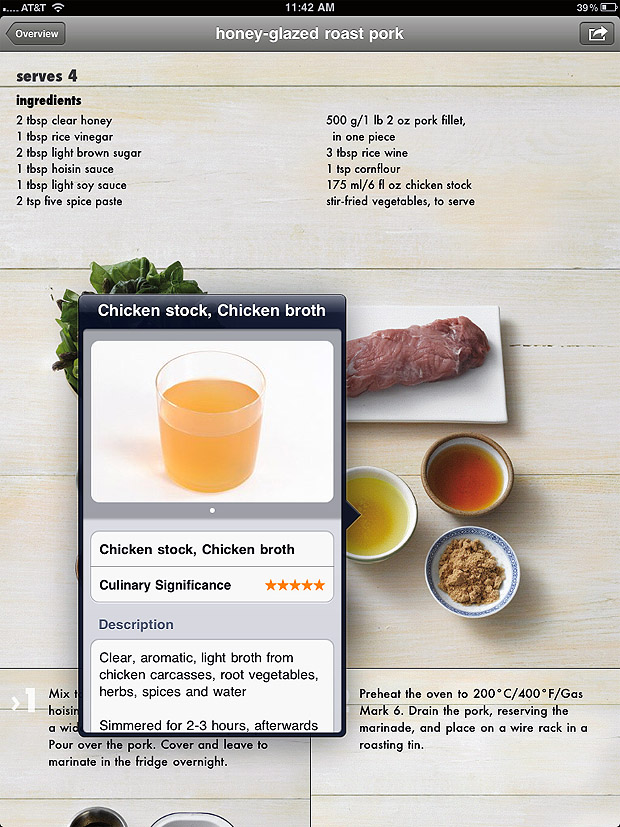 Or this Alice in Wonderland graphic novel with panels that can be "activated" … as you tap on the panel to create the effect of movement …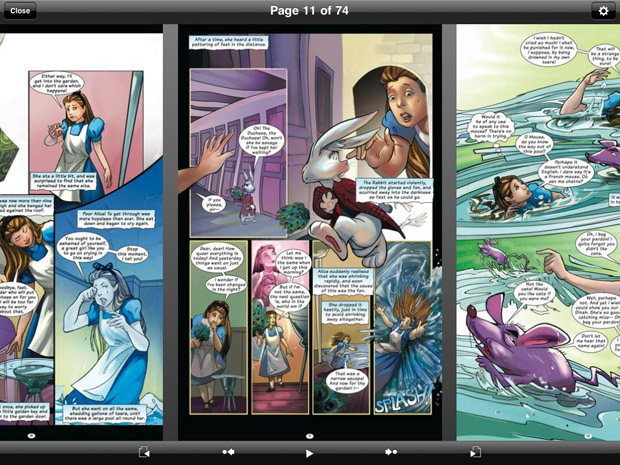 The display and appearance of that panel adds to the story … whether full size or cascading or dissolving in …
It's going to get very interesting … it's not out yet in all formats but for instance, Jay Z's autobiography will be available in 4 different electronic versions … (WSJ.com)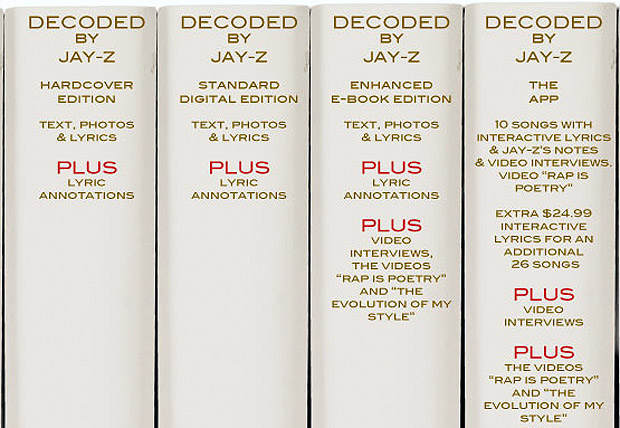 #2 NETFLIX & XFINITY and da movies & TV shows
Of course, viewing movies on the iPad is great. It's ultra portable and high res …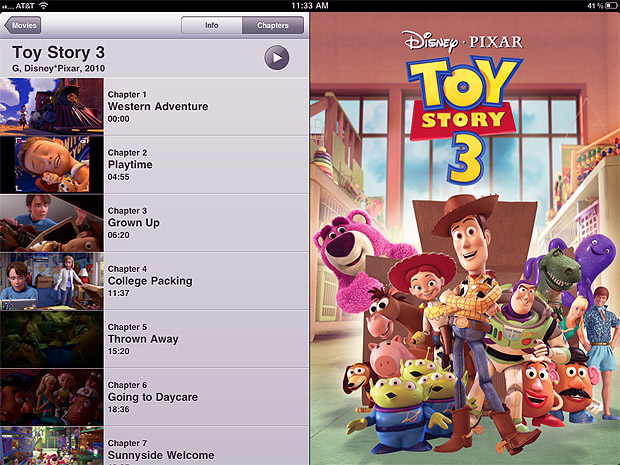 It's a giant video iPod, what's not to like … but Netflix is pretty freakin' magical. After you sign in for the first time, your Netflix page pulls up just like it should. Tap PLAY on a streaming movie choice and in generally 10-seconds, the freakin' movie starts playing – you see the studio credits start to roll and holey, moley, the movie is playing!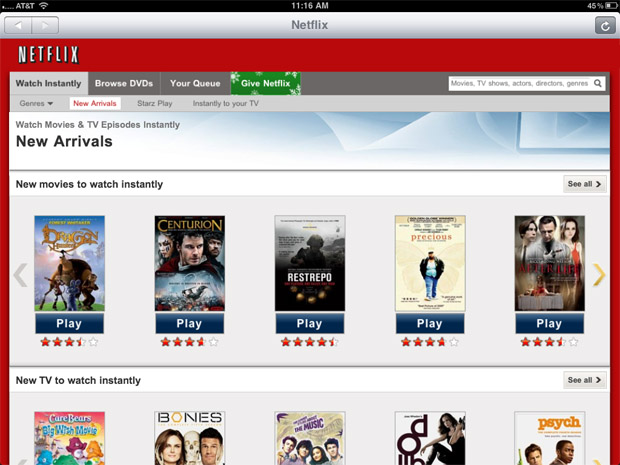 And if you stop it on your iPad, sign in your iPhone to pick up where you left off, on your PS3, your Wii or your computer – it's MAGIC.
And now from a company that you might've thought was unlikely to magically surprise you – XFINITY APP from Comcast. It's the best TV remote ever. You get your TV grid – scroll with your fingers – tap on any block to get programming info an then tap WATCH ON TV and it freakin' changes the channel!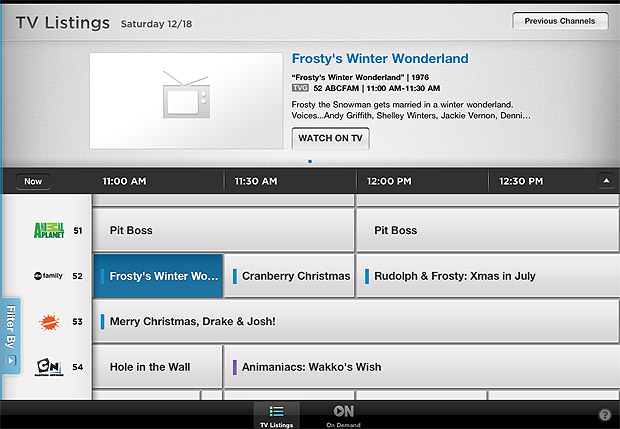 And it keeps the last 5 channels in the BUTTON PULL DOWN MENU on the right so now you can jump around to the last 5 channels! You can even look through all the ON DEMAND choices with a DVD art just like Netflix and jump straight to that choice instead of navigating through their 10-years old text based ON DEMAND menu and coming next – the reason the iPad says WATCH ON TV is that in the future, you can watch as it streams to your iPad!
And also the ABC Player … nice that Steve Jobs is Disney-ABC's biggest shareholder … the ABC app is EXACTLY what the other network apps should look like but then there'd be very little reason for cable or satellite companies …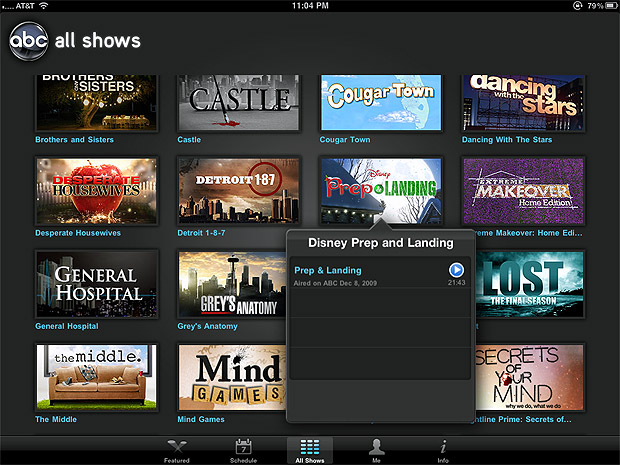 Just hit play – the app and every episode is FREE – there are a couple ads in each episode but no biggie …
#1 FLIPBOARD
Picked by Apple as the iPad App of the Year and it's easy to see why … it basically reinvents the wheel or more precisely, reinvents web information.
For instance, TWITTER is cool and most apps have replicated what you get when you visit TWITTER.com – a stacked view of tweets … nice but not exactly enticing … enter FLIPBOARD. It takes tweets and auto creates a magazine-like view with varying and visually enticing layout that varies from page to page …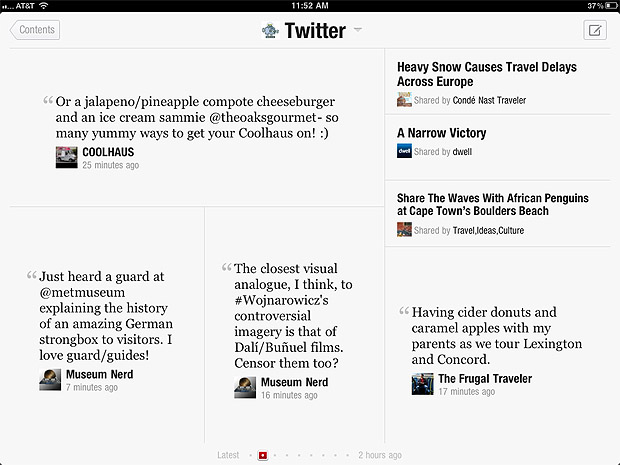 (okay I probably should have grabbed a page of tweets with photos and videos but you get the idea below – below is the FLIPBOARD TECH section).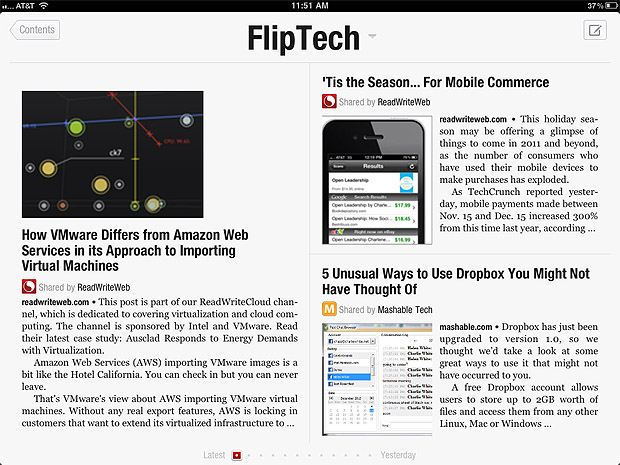 And now the latest additional feature are that mainstream magazines have jumped on board – such as Fortune … so if you click on the above summary, you get a full page to read.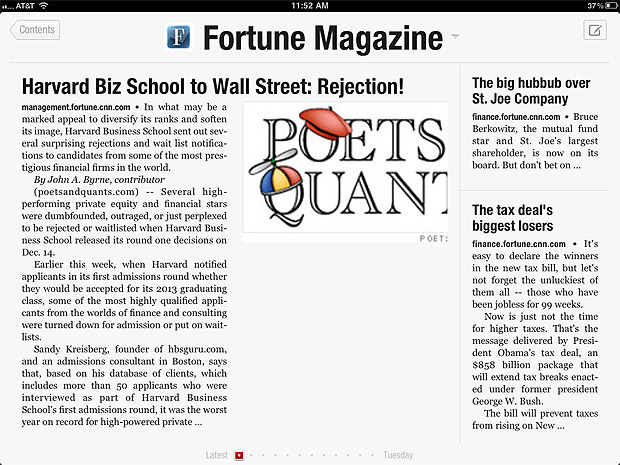 So, if you spend time on the internet and don't want to be tethered. if you want to watch movies or Tv shows at a nice resolution on a big screen (when it's right in front of you) and have access to everything from the Louvre to shooting aliens to drawing a masterpiece in a tablet weighing about 1.5 lbs – what more do you want? 🙂
Sure, people complain there's no camera but you really want a camera the size of a magazine? Besides, your PC doesn't really take photos either … yes, at some point, a camera might be nice for video calls but again, you have a webcam with your PC or you have an iPhone … other than that, it's not missing anything (and no, Flash the web software add on is a battery drainer and Flash is being rapidly being replaced anyway so don't even wonder if it's a consideration).
The difference with WiFi and & WiFi & 3G is mostly the GPS chip. If you don't plan on using your iPad as a GPS like device (for Google maps or other navigation), WiFi only is about $120 cheaper. You need WiFi to buy most media anyway (except for books or very small apps) and presuming you have WiFi at home, work and at many places, it's up to you to decide how much out of hoe usage you need … 3G requires an account – you can buy bandwidth from AT&T in the US directly or buy a MiFi device at Sprint or Verizon. (covered in this post).
Storage – there are three versions, 16 GB, 32 GB or 64 GB. It really depends on how many movies you like to load – that is the big space eater. Most other media, photos and even apps will not take up that much space – but game apps do tend to take up more so if think game apps are what you want most, you should consider either the 32 GB or 64 GB versions.
Walmart has free ship to store (if your WM does not have it in stock).
16 GB WiFi Only, 32 GB WiFi Only, & 64 GB WiFi Only.
16 GB WiFi + 3G, 32 GB WiFi + 3G, & 64 GB WiFi + 3G.