Home
»
Mattel Disney Pixar CARS
Disney Pixar CARS: Carrera RC Lightning McQueen & Chick Hicks
Looks like the nicer quality "Carrera" brand RC CARS have arrived also …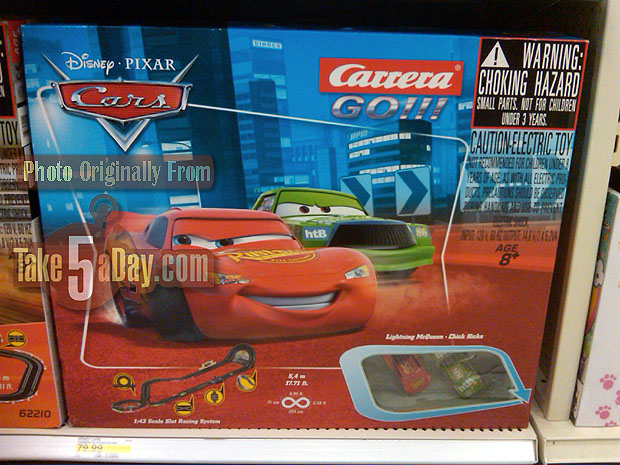 As Stig McQueen notes, "The Carrera set is 1:43 scale, and The Mattel/Tyco sets are 1:64 (that's "HO scale" in the slot car world, even though actual HO scale is 1:87). That means that the Carrera cars are about the same size as the Disney Store diecasts, while the Mattel/Tyco cars are smaller than the Mattel diecasts (or about the size of a Hot Wheels car). The track won't connect, and the Carrera cars won't run on the Mattel/Tyco track. The Mattel/Tyco cars may or may not run on the Carrera track; some large-scale track will run slot cars of any scale from HO through 1:24, it just depends on how far apart the rails are (and whether the track itself is wide enough)."
Carrera set photo courtesy of "Lucky Jezter" who found it at Target.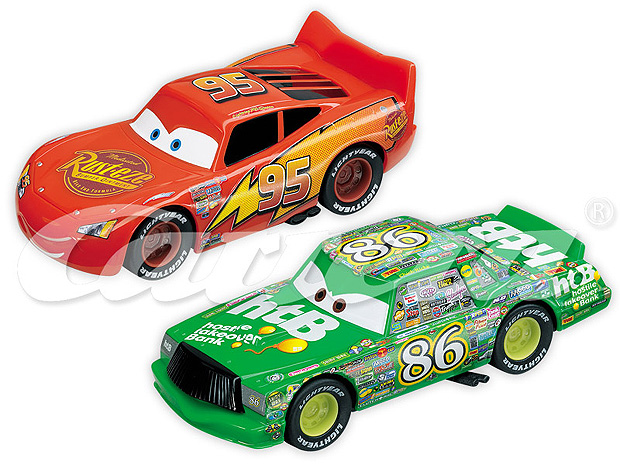 Compare & contrast to the TYCO set.
This was the original post when it was first available in Germany – plus some cool accessories available for their other sets.
Also available on Amazon – along with a dozen other really cool sets + single CARS like Sally, Mater , Mario and Wario … (yea, those guys 🙂  Race 'em All!
Or you can have King Richard Petty take on King Strip Weathers 🙂

metroxing

8 September 2010

Mattel Disney Pixar CARS


9 Comments