Home
»
Mattel Disney Pixar CARS
,
Retail
Disney Pixar CARS: Black Friday Is Coming
First, Happy Thanksgiving and Happy Black Friday!
For those unaware, the day after Thanksgiving is designated "Black Friday." In the olden days (pre-1980's), it was believed that many retailers were operating mostly in the red until the last 6 weeks of the year where some retailers would do up to 40% of their business. This was probably true for boutique retailers but not necessarily true for the behemoth retailers unless you were a seasonal retailer but it's a short and catchy name so it stuck.
Retailers have tried to change it – WM tried calling it 'the blitz' though after last year's tragedy (clerk trampled to death), I'm guessing they are abandoning that weighted phrase. TRU has been calling it "Green Friday" internally but that also is a loaded phrase – either appearing ironic as eco in a sea of disposed cardboard and plastic or green as in cash – thus appearing to "cash in."
So, it's back to BLACK FRIDAY.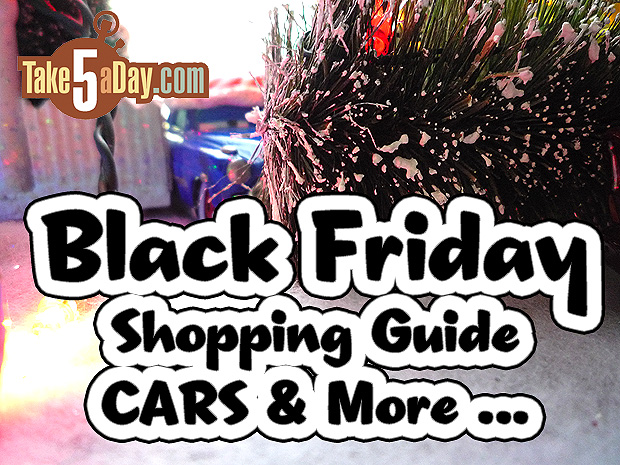 For CARS shopping, there are no obvious items that are "door busters," so it does not look like you will need to get up at 4 AM but it's your day after Thanksgiving. Get out there as early and as often as you like. Eat a good breakfast. No trampling and cart contents are sacrosanct. Other than that, help us help you helping us … no wait, I got that backwards.
CARS Black Friday items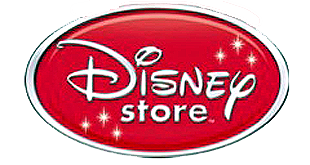 The Disney Stores seems to have the best CARS Black Friday items so far … EVERYTHING IN STORE ON SALE 20% including all everything already on sale – including of course, the latest CARS items including giant FRANK, LIGHT UP TUNERS, MATER TALL TALES and a nice $20 off the giant 20-CAR box set.
Early Shoppers Receive 20% Off All Items Before 10 a.m. On Black Friday. Night owls and early morning bargain hunters can get a head start on holiday gift buying this year as Disney Store prepares to open more than 125 stores nationwide at midnight on Nov. 27 (Black Friday). From opening hours until 10 a.m., shoppers will benefit from 20% off all items, including already discounted merchandise.
The alphabetized and sorted list is available HERE. Some stores are opening at 4 AM or later instead of midnight so check the list – it's grouped by OPENING TIME and then by mall name.
There are 4 stores at the bottom of the list that are probably typos and if those are the stores you are planning to visit, call to verify.
They even have a YouTube Video to watch …

Target will open at 5 AM.
The only CARS items appears to be the 4-packs at $7.49 – this is 50% off and includes ALL the Piston Cup Racer 4-packs as they all have the same DPCI numbers.
They have different names but they are all the same DPCI number: Speedway 4-Pack, Race 'N Chase (see below) and Racing 4-Pack (see below).
But two things to note – ONE … SlicePie sends along this photo – his stores seems to have gotten in 100 Race 'N Chase ones …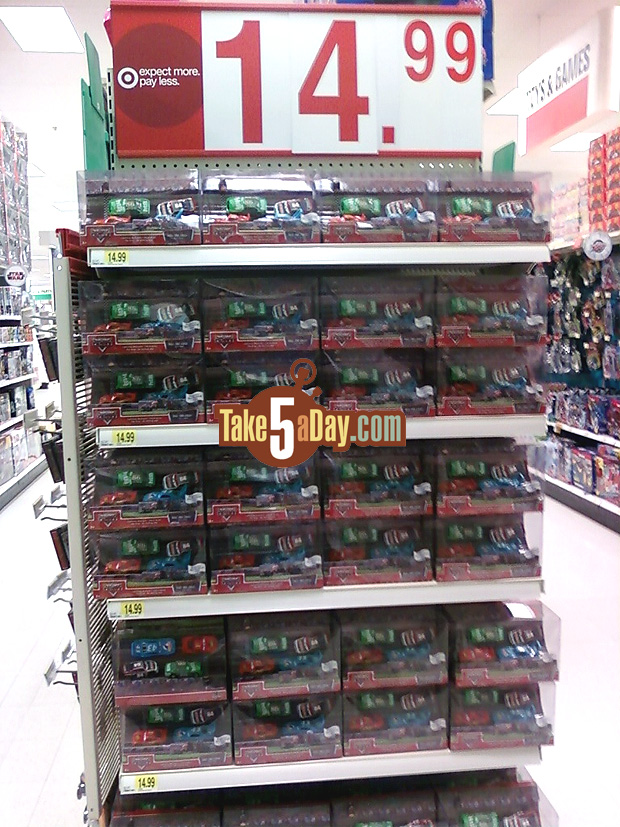 But others have reported a giant endcap of the "Racing 4-Pack" with lenticular View Zeen. (SAME DPCI NUMBER!)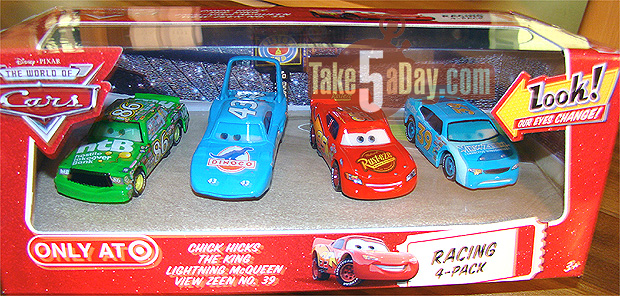 So, it might mean that different Target's are getting different full endcaps of just one choice so you might have to drive to another Target to get the one you want at $7.49.
Also note, since we are in the 14-day of the price guarantee, you can actually buy them today – just be sure and get back to Target on Black Friday to get your price adjustment (just bring the receipt and not the merchandise). There is NO price match since no one else carries these.

Toys R Us is also opening at 5 AM.
It looks like there will only be one CARS discounted item … the Mack CARRYING CASE for $19.99 (a $10 discount or 33% off).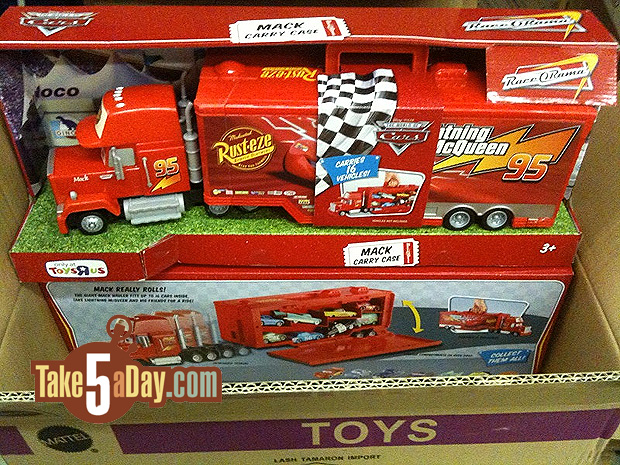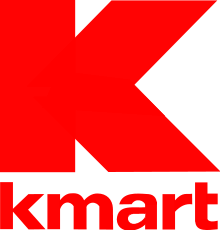 Kmart will be open at 6 AM.
They are only offering one CARS item – the old standby – the Mack "Bachelor Pad" playset for $9.99 – a good deal – about 33% off.

Of course, the packaging has been updated but the truck and its interior is the same. I don't think it's the one with the rolling CAR above but I'll update the photo if it is.
Kmart is actually open on Thanksgiving but no CARS offering on Thursday only.

Unless you count this kid's table & chair for $18.88 (about 55% off regular price) …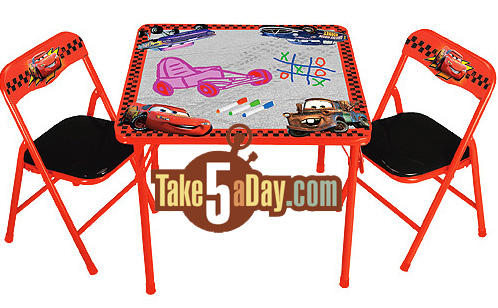 There is no specific CARS diecast item … though we are still awaiting the CARS pallet-endcap and last year, they pulled out the Mack trailer with Bumper Save from of the last minute hat so this year? We know this will be on the shelf as a quasi black Friday item … not the best of deals but $10 for a nice starter set …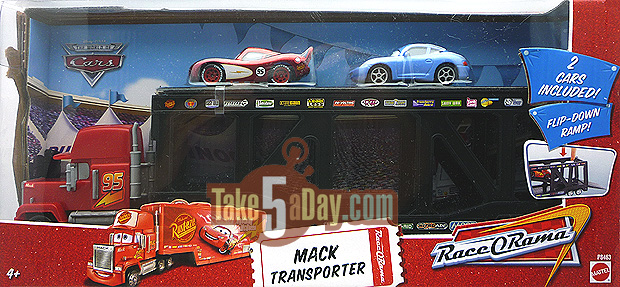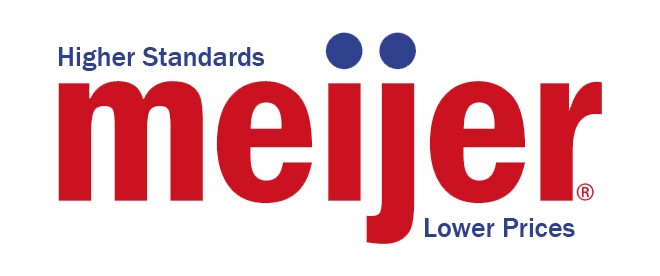 Meijer (NOT FRED MEYER) will be open at 5:00 AM.
Not a huge TOYS offering (as they are mostly a supermarket) but BUY ONE, GET ONE FREE for all CARS, Hot Wheels & Matchbox. Nice. Plus "One General Merchandise Item 15% OFF with Coupon, Excludes Doorbusters, Good only on 11/27 5AM to Noon."
I think Kohl's might be having an EVERYTHING 10-20% OFF sale either prior to Friday-saturday or starting already? there are hints but can't find it on their site so give them a call. Some Kohl's have a nice selection of CARS – others, not much – so it will vary.
FRED MEYER's Black Friday ad/items do not appear to be online – if you have a link, send it to me … or any retailer that might have CARS items …
Amazon is STARTING A WEEK OF BLACK FRIDAY-LIKE DEALS so check here …
Will do more updates as the week progresses.
Happy shopping and stimulating the economy!



metroxing

23 November 2009

Mattel Disney Pixar CARS, Retail


56 Comments