Home
»
Mattel Disney Pixar CARS
Pay It Forward IV: Santa's Helpers
Hello all in the Take5 community!
Ethan, Kieren and I thought that it would be appropriate to do a Pay It Forward in the spirit of Christmas and helping others out. We have been able to put together some of the newer Cars into our extras bin just for this occasion. As always, Traver at Children's Toy Closet and Samuel have been a great help into putting this together. The criteria for this contest: If you have had a tough year because of the recession ie. job loss, etc., email us and let us know your situation and perhaps something about the love your kids have for Cars! If you know someone that might need some help filling a stocking this Christmas, that is fine too. Let us know your friend's situation. As always, Ethan and I will go through the emails and pick a winner. If you happen to have some of these Cars already, we can replace the ones you have with others from the extras bin. Our email address is: dkyoshida@yahoo.com
Feel free to email us up until 9:00pm EST on November 22nd. We will only email the entry that we feel most deserves the Cars! We only ask that when things get better for you, that you do something for someone that might need a hand. Thanks all!
Samurai60 – David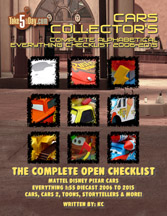 metroxing

14 November 2009

Mattel Disney Pixar CARS


21 Comments