Home
»
diecast
,
Mattel Disney Pixar CARS
Mattel Disney Pixar Diecast CARS: Kmart Piston Cup Racers 9 – Here & Open
9 Simple CARS …
1,700 comments on TakeFiveADay.com (including taking down one webhost 🙂  ).
4,000 text messages
39,000,000 visits to Kmart.com
38,156,000 visits to a error page at Kmart.com
11,523 emails from or to Kevin NascarBroncosFans.
13 Heart Attacks.
563 Full Fledged Panic attacks.
0 Emails from Kmart.com notifying us the cases were on sale 🙂
67,452 Phone Calls.
54 Productive Phone Calls.
1 Attempt to Order 1,200 cases from overseas.
24,567 Extra Miles Driven.
11,145 Trees Chopped Down on the Amazon.
278 Calls to relatives you haven't spoken to since the wedding in 1997.
1 Divorce (Kate & Jon but who didn't see that coming).
But hey, they are nice CARS.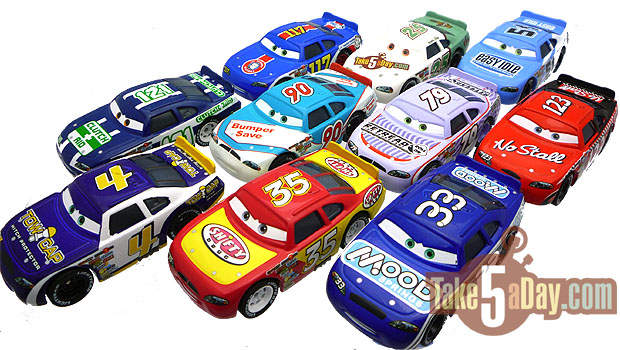 Okay, there is one special CAR only available one to every 18,000 cases 🙂 … or by emailing a certain artist-creator.
It was a nice box … but I think there was less man-hours spent building the Panama Canal than the burning of an oil tanker of gasoline, underseas cables, satcom time & interwebs in the past weeks in figuring out how to deliver 800 boxes via UPS and another 19,000 to the stores …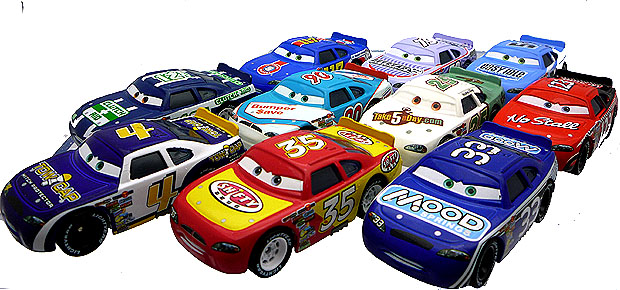 Too crazy 🙂
Yep, I have cracked them all open and the rubber tires are nice …they feel nice and they roll nice.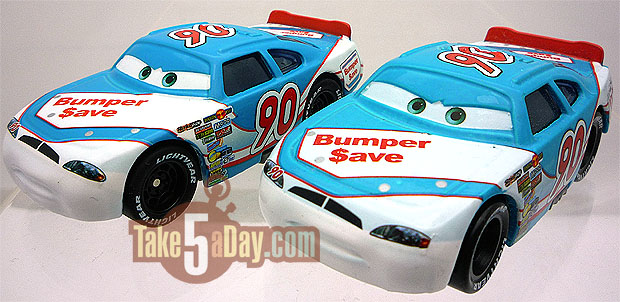 In comparing the CARS to the "regular" re-releases, there seems to be no real difference in the quality nor are there any obvious variations to the normal design. In other words, no eye color changes. There are some slight differences in the weight but strangely, some of the 'rubber tire' versions weigh less and others weigh more than the plastic tire versions.
For those playing at home, Bumper Save goes from plastic to rubber (1.543 oz to 1.443 oz) but Mood Springs gains (from 1.512  to 1.538 oz) … Tow Cap loses from 1.522 to 1.511. Re-Tread gains the most from 1.453 plastic to 1.539 rubber. No Stall drops from 1.447 to 1.430 and Shifty Drug from 1.463 to 1.435 but hey, you knew that just by looking at them, right? 🙂
Of course, my scale cost almost $5.00 ($4.99 to be exact) so you know you can take that to the bank, well as long as your bank is the New Frontier Bank, of Greeley, CO.
The main difference besides the tires is the production stamp on the bottom is now some oddball new tiny size …(right side – plastic tires).

So, if someone tries to take the WM Car Carrier Bumper Save & slap some rubber tires on it to try and sell it to you as a Kmart 9 CAR … now you know …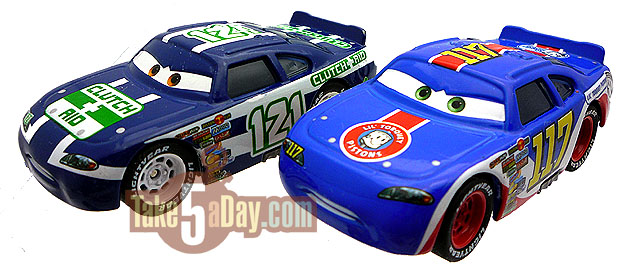 The two Piston Cup racers with the FIRST ever non-MSOS release are Clutch Aid & Lil Torquey Piston – both coming as launchers also later in the year. The Clutch Aid design is very GT Racing Series-ish – nice.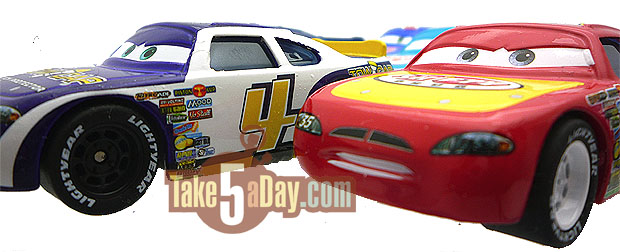 Nice … 7 more with rubber tires coming for Kmart CARS Day III … we might need to mobilize the National Guard for that … so after CARS Day III, we should have 16 of the 36 racers with rubber tires … don't forget to come back for the CARS riots in 2010 🙂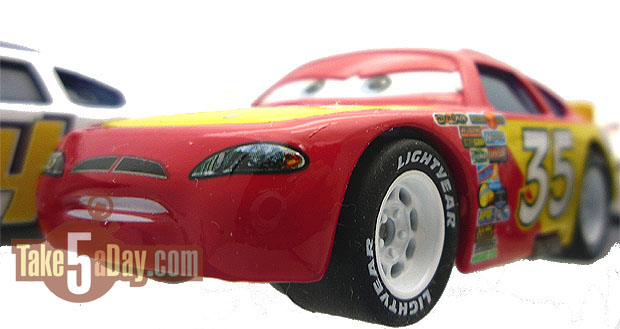 The glamour shot.
Additional small notations. There are NO codes on the back of the name plates (an of course, the CARS are not part of the numbering sequence) and the included mini poster is poster #3.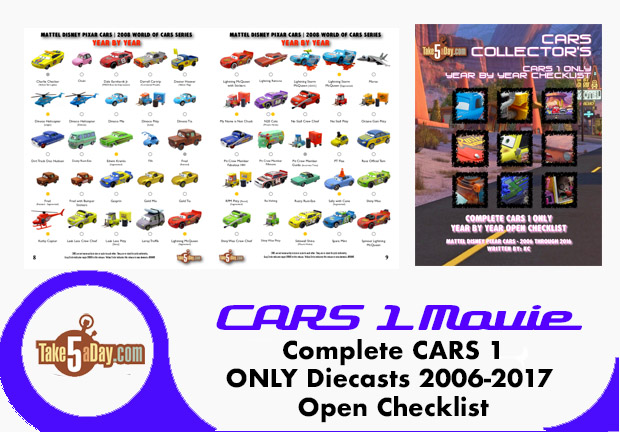 metroxing

24 June 2009

diecast, Mattel Disney Pixar CARS


81 Comments