Home
»
Advertising
,
collecting
,
diecast
,
Film
,
Internet
,
Marketing
,
Mattel Disney Pixar CARS
,
Retail
,
Toys
,
TV
Mattel Disney Pixar Diecast CARS: Bye Launchers, Say Hello to Wheelers (CASE Update)
The launchers are on the schedule are all still coming … namely the WM 2 (coming next week? Next few weeks? Your guess is as good as anyone working at WM  🙄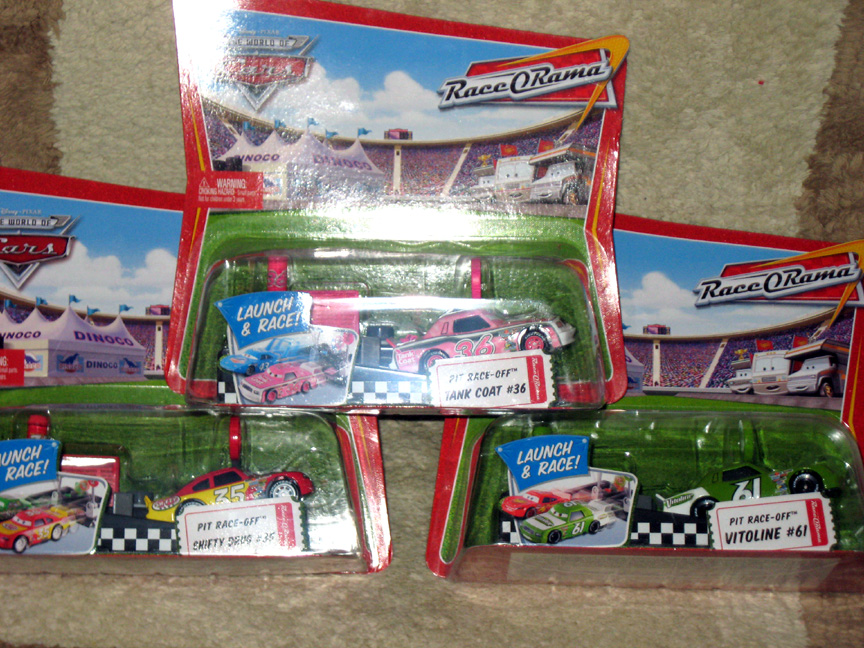 Easy Idle 0-27084-71731-0
Shifty Drug 0-27084-71733-4
Tank Coat 0-27084-71730-3
Vitoline 0-27084-71732-7
CASE B is available from your Mattel resellers and contains:
Chick Hicks (1)
Shifty Drug (2)
Tank Coat (1)
Vitoline (2)
When will retailers get them? You tell me 🙂 If they order some from Mattel's warehouse, they could on the shelves by next week but do they even know it's out there?
And coming in CASE C – early January?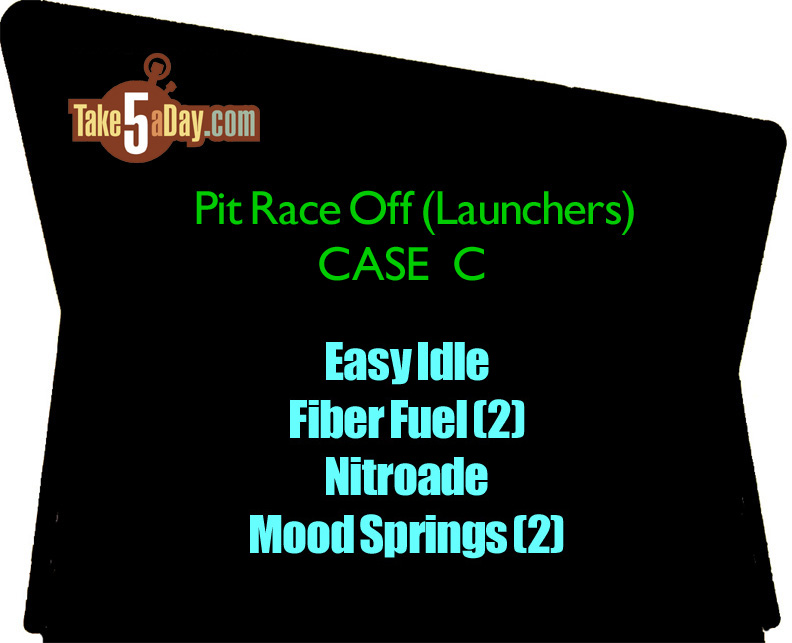 Easy Idle 0-27084-71731-0
Fiber Fuel 0-27084-71734-1
Mood Springs 0-27084-71735-8
Leaving these as the 'new' for CASE D?
Retread 0-27084-71736-5
Shiny Wax 0-27084-71737-2
And then endth of the Pit Row Race Off/Pit Race Off "launchers" as they look now.
In 2009 … WHEELERS …
The launchers were always awkwardly named – "Pit Row Race Off" and then "Pit Race Off," but now they are neither … they are being discontinued for a new launcher-like item now called "Wheelers."
No pictures yet but apparently instead of a rectangular launcher doohickey, it's some sort of tire like motif setup that launches CARS … my guess is it's something more for kids … however, the CARS are definitely the 1:55 Piston Cup Racers – so just to be clear:
… same CARS
… same scale
… different launching device.
No, I don't have CASE configurations yet … they might be available in late spring 2009.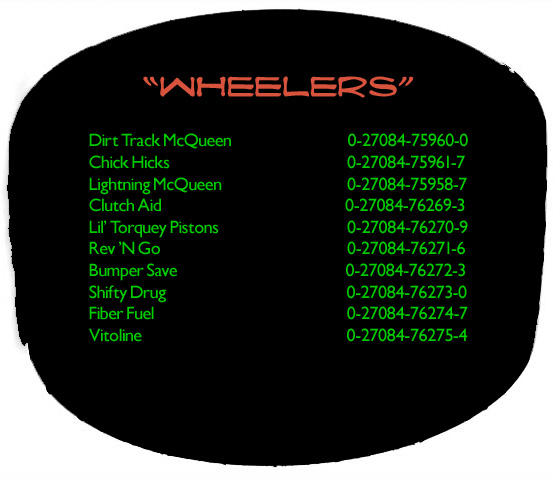 Er, COLLECT THEM ALL!



metroxing

1 December 2008

Advertising, collecting, diecast, Film, Internet, Marketing, Mattel Disney Pixar CARS, Retail, Toys, TV


55 Comments