Home
»
Advertising
,
collecting
,
diecast
,
Film
,
Marketing
,
Mattel Disney Pixar CARS
,
Retail
,
Toys
,
TV
Mattel Disney Pixar Diecast CARS: Mack the Hauler – Mackie is back in Town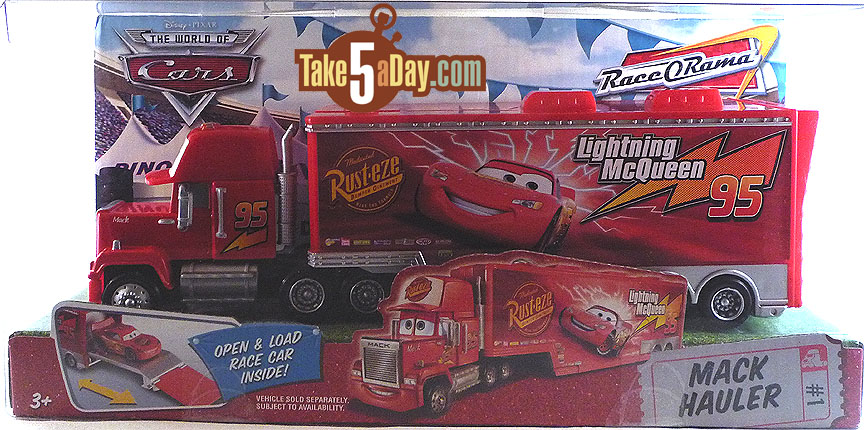 First, appreciate that it's even made and that this is the first of 36 🙂
Next, appreciate that it was not slapped together. The easy way out would've been to just slap some stickers on a generic truck trailer they have laying around and call it a CARS hauler.
Instead, there are a variety of trailer bodies with detailed or original artwork – plus, the truck portion is mostly metal diecast – each with different expressions and of course, the proper matching color (Chick Hicks hauler gets the extra mustache 🙂 ).
But it's even better as the packaging is one of the nicest you'll ever see on many levels including looking great displayed as is for non-openers but also designed as an opened display case even though it's made of cardboard … 100% collector friendly.
So, as shown above is the way you'll see it in the store (the clear plastic cover is not readily apparent above) and of course, you can display it as is. It's gorgeous, and classy.
Cutting the tape along the sides and back – lets you lift off the plastic cover.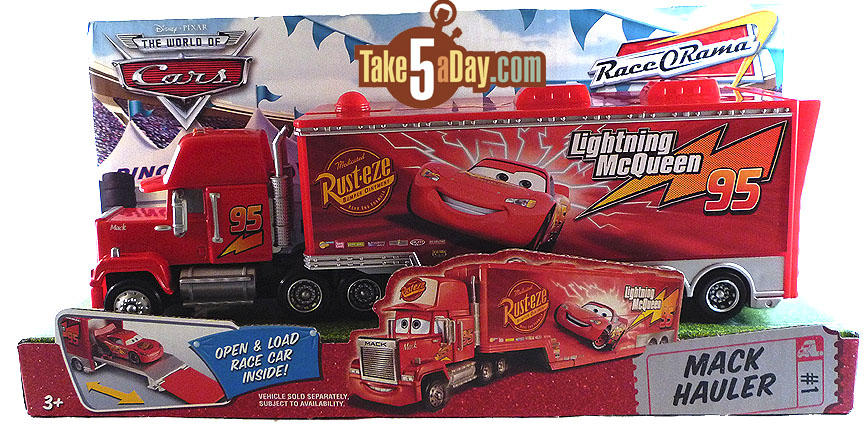 So, again, you can display it without the cover if you'd like … that in itself is already nice but in this case, Mattel definitely went an extra 10 miles …
The front flap pulls down and if you turn it over …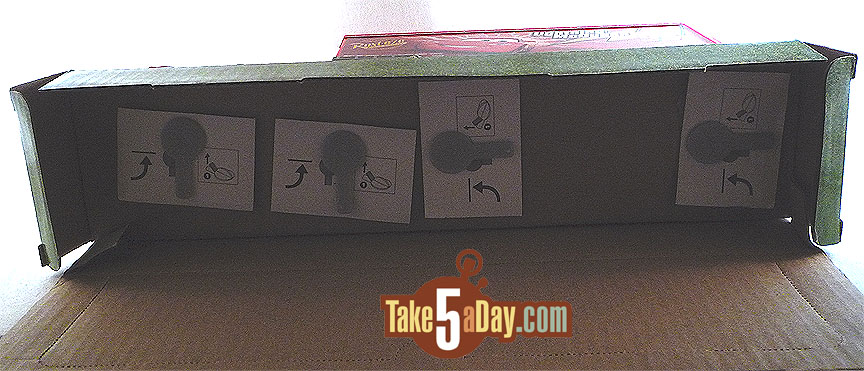 You'll find 4 latches. They take a little effort but if you lift and twist towards the arrows indicated, you actually "unlock" the truck from its base …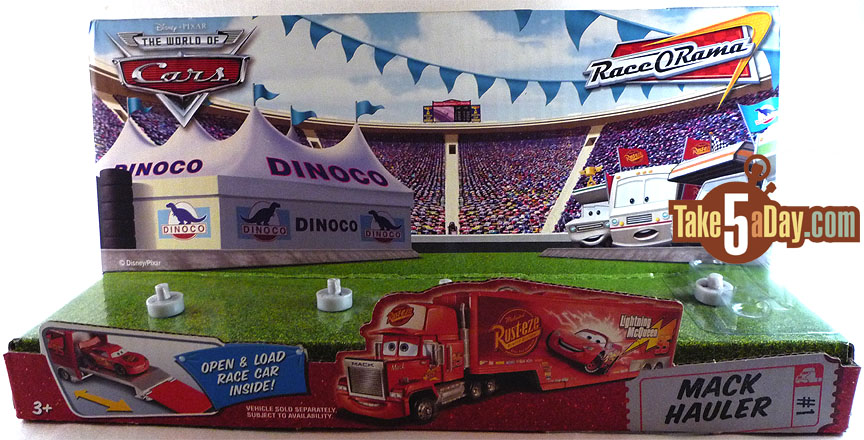 So, if you ever decide, you want to latch them the truck back on its base and or even put the cover back on, Mattel has thoughtfully given you several options depending on what you want to do so you can essentially re-assemble it "like new" if you want.
Great design and making it nice for every kind of collector. Nice.
Well, that's it – nothing more to see – one of the best designed bases ever … what else do you need?
….
… Oh yea, there's the Mack & hauler .. 🙂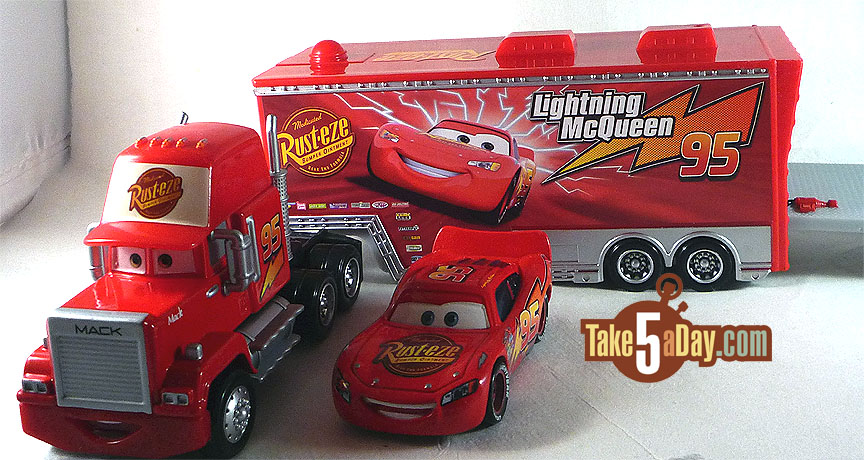 (McQueen is not included)
What is there to say except that it's the nicest $24.99 hauler selling for much less.
It's in scale, Mack is mostly metal, there are lots of fun details and functionality and it looks great.
Anything else you need in a toy? 🙂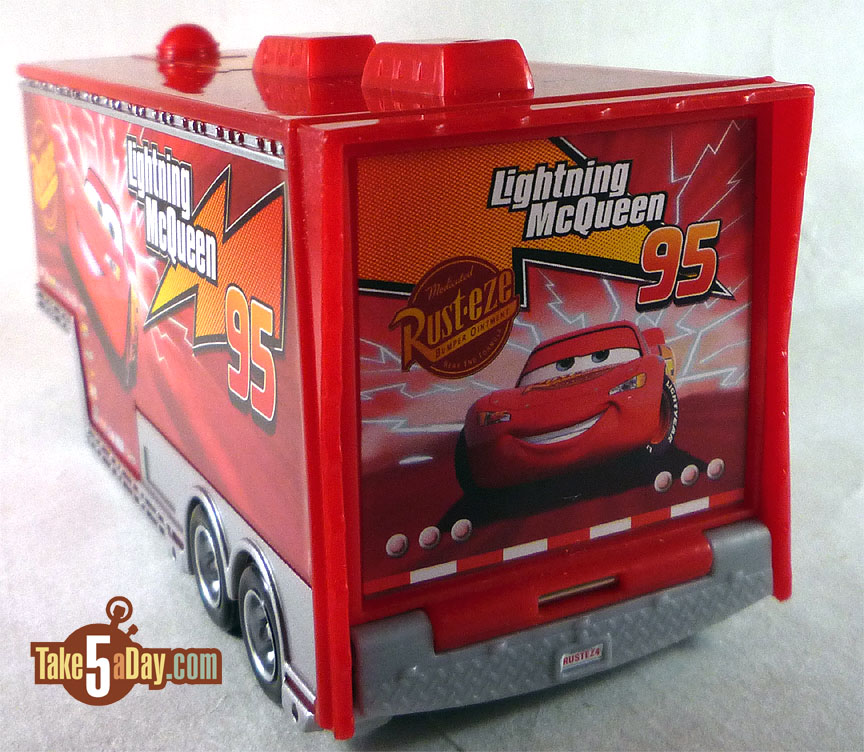 Pull the bottom on the Mack trailer to extend out the ramp …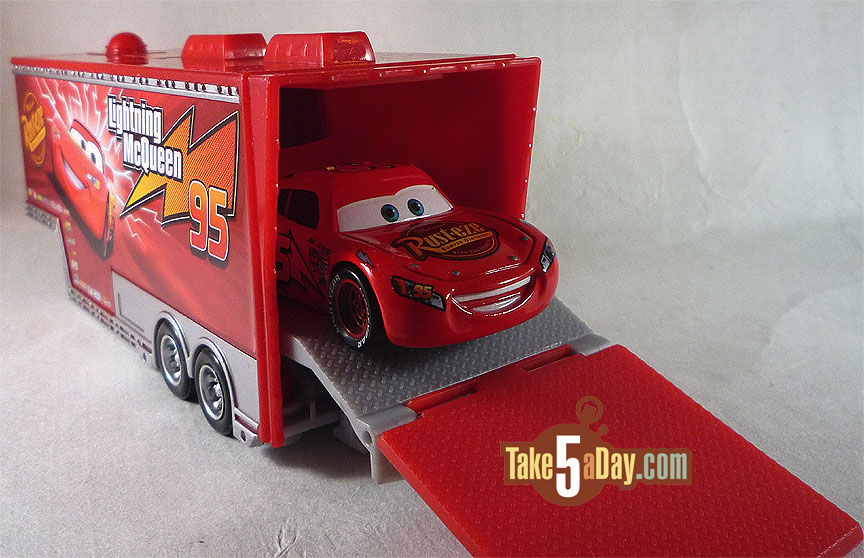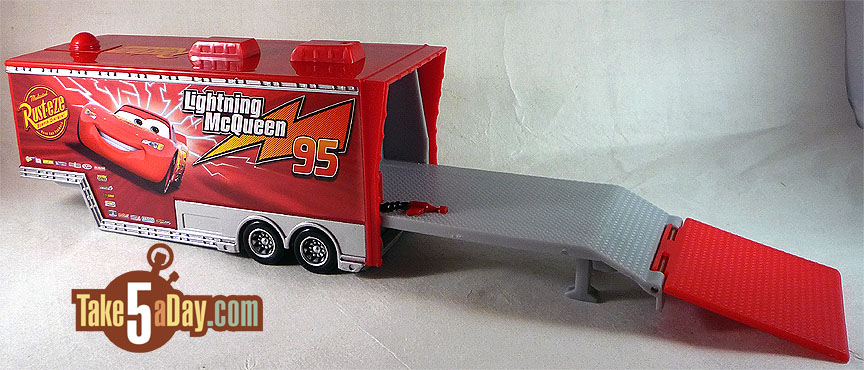 There are even tiny support legs that hold up the ramp.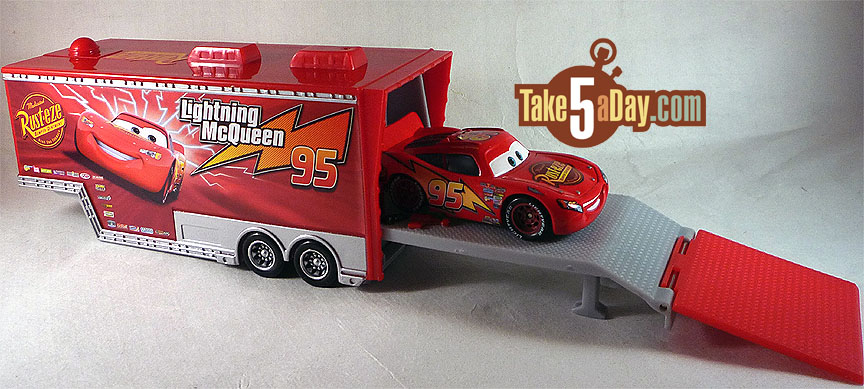 Hey, only one field reporter? Where's that Race O Rama release sked?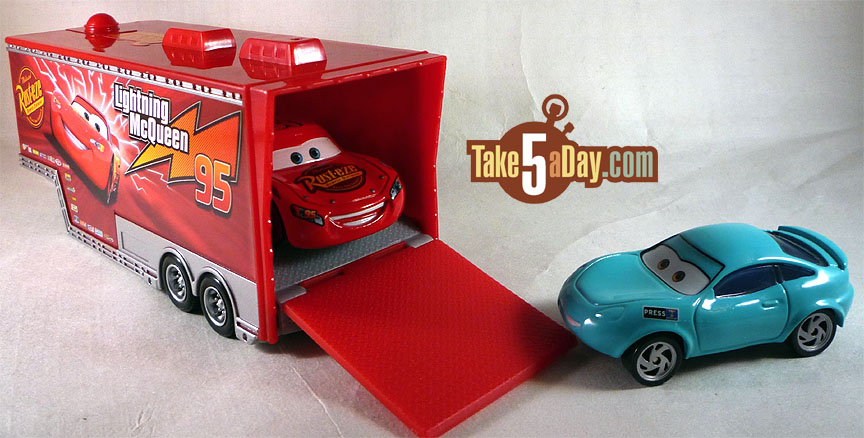 A look underneath Mack's trailer … the one thing to note is that the hitch that drops into Mack locks pretty tightly so once it's on, it is not easily removed so you might want to do it for your kids or they will twist and it might just snap off …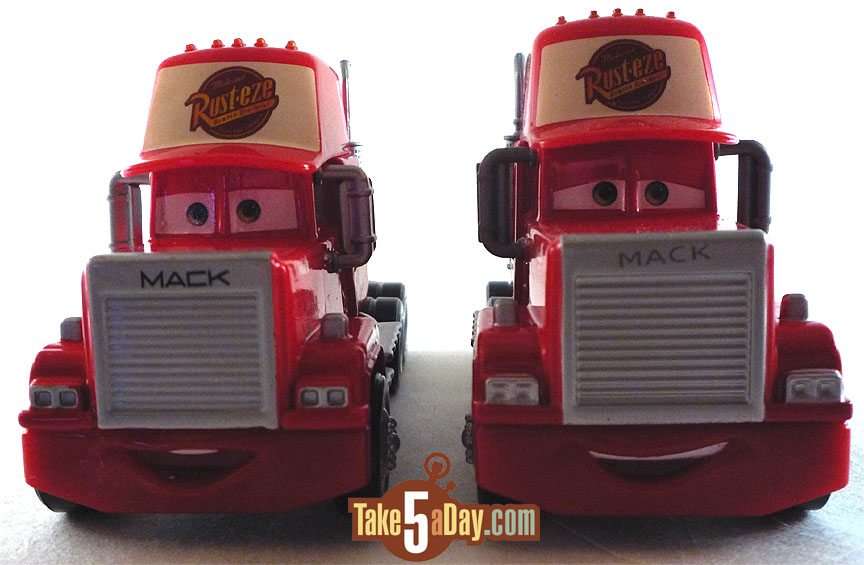 Interestingly enough, a DIFFERENT factory is making the "mega-sized" Mack (cab only) (More pics in this post). Here is a comparison of the two – Mack with hauler on left. Slightly different expression and slightly different front headlamps.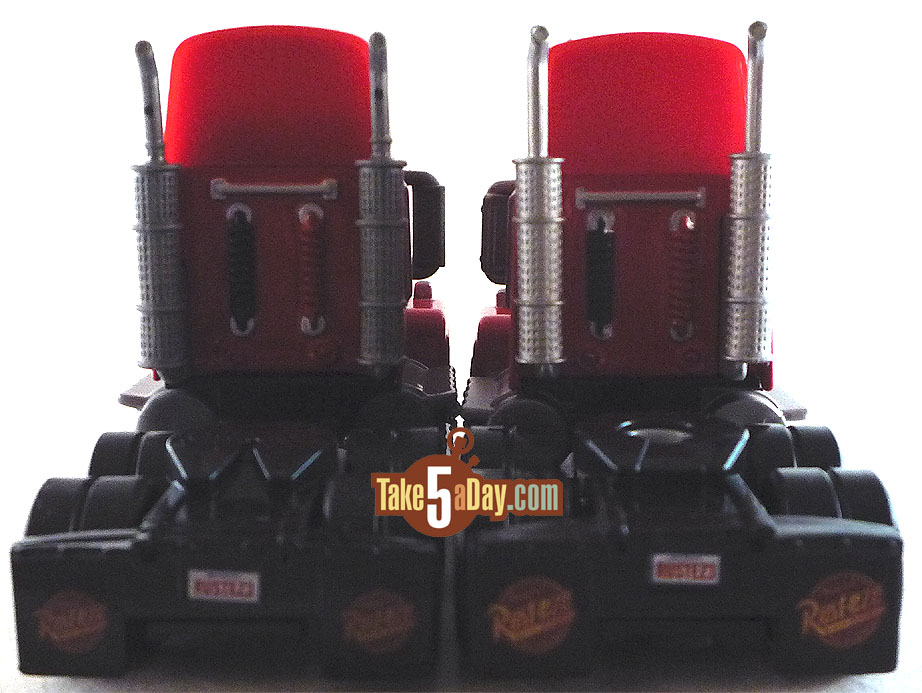 The main difference is that Mack with hauler has more silver looking exhaust pipes, gas tank and rims … along with the fifth wheel coupling hole (the hitch hole).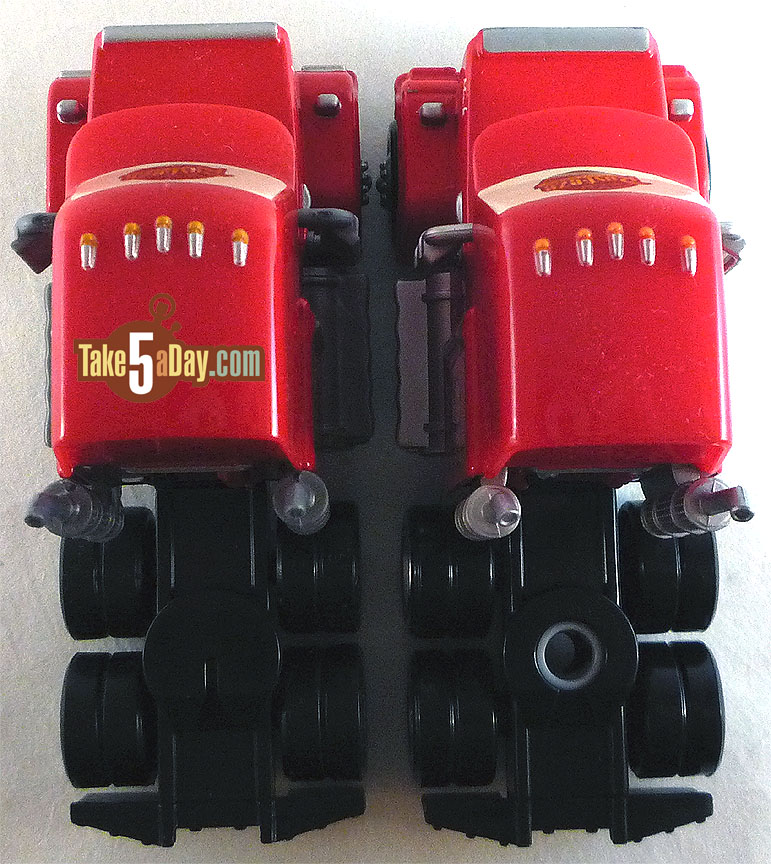 As you notice from the top view, the Mack with hauler is a couple mm's longer. The other slight different is the front grill is painted slightly differently from the top view – and that the Mack with hauler version overall is a few mm's longer.

Whoops forgot Luigi and and waiting for Pit Crew Member Sarge … plus we need the block thing for Doc to roll on top of …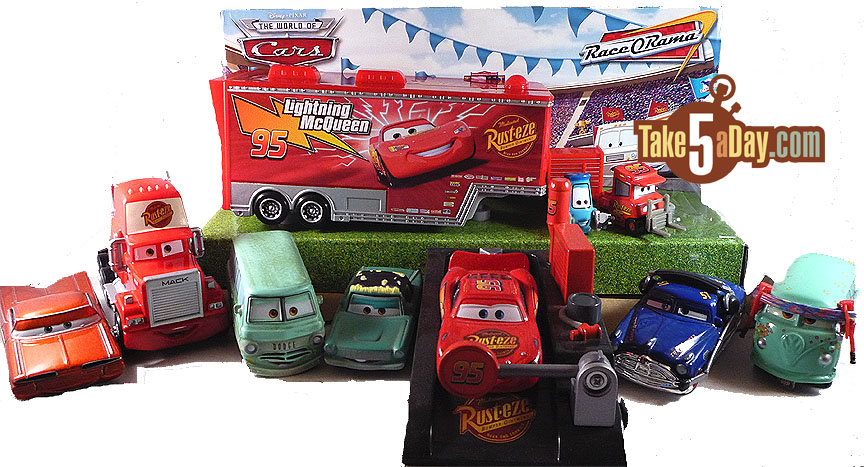 Or of course, bringing back the display to make your own diorama …
Next up, the Dinoco Hauler & Chick Hicks & hauler …


metroxing

26 November 2008

Advertising, collecting, diecast, Film, Marketing, Mattel Disney Pixar CARS, Retail, Toys, TV


14 Comments