Home
»
Advertising
,
collecting
,
diecast
,
Film
,
Magazine
,
Marketing
,
Mattel Disney Pixar CARS
,
Retail
,
Toys
,
TV
Mattel Pixar Diecast CARS: The Italian CARS Magazine – Molto Grande!
Sure, a single car might cost $8 USD after conversion or a launcher for $22 after conversion but this magazine will make you pine for Italy – never mind the history, the food, the weather and the people …
"Welcome to Italy? Your reason for a visit to our beautiful country?"
"Your CARS magazine!"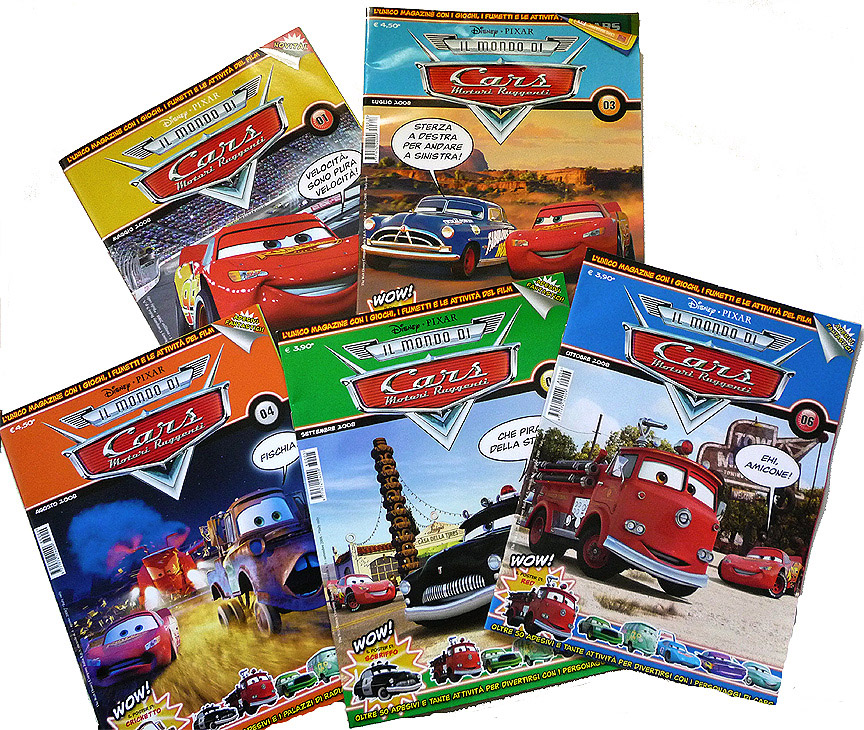 Of course – for kids but nothing juvenile about these – all top notch content and design.
Each issue has a "cover" CAR (important below 🙂 ).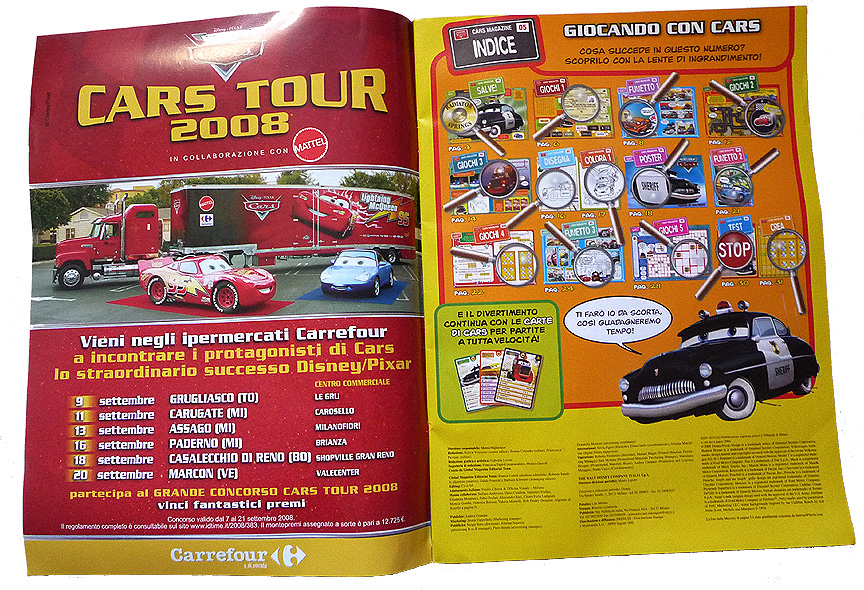 Inside – you can see the Italy CARS Tour was at the different Carrefours Hypermarts/Supermarkets.
A typical page below – mini games, activities, etc … is that a Chick Hicks mustache guess-'em game? LOL.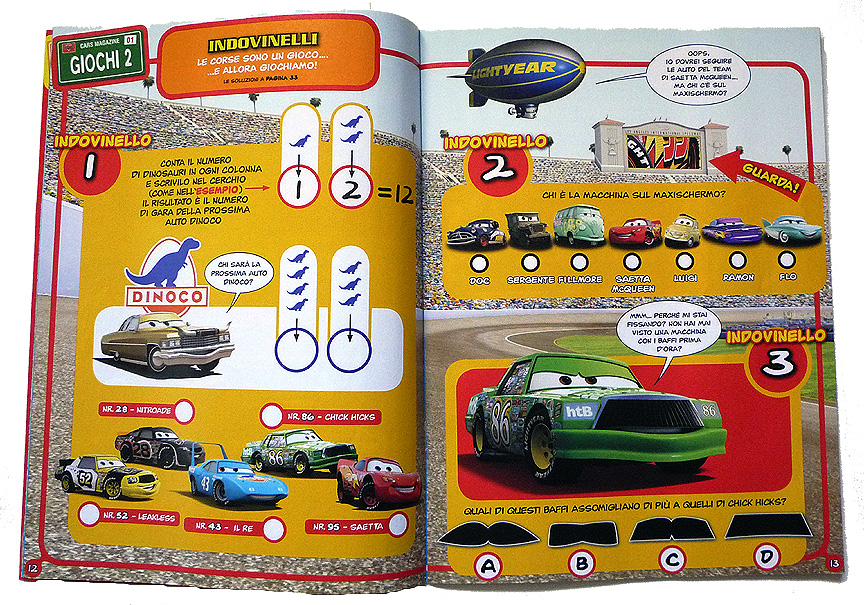 There are trading cards to cut out in every issue …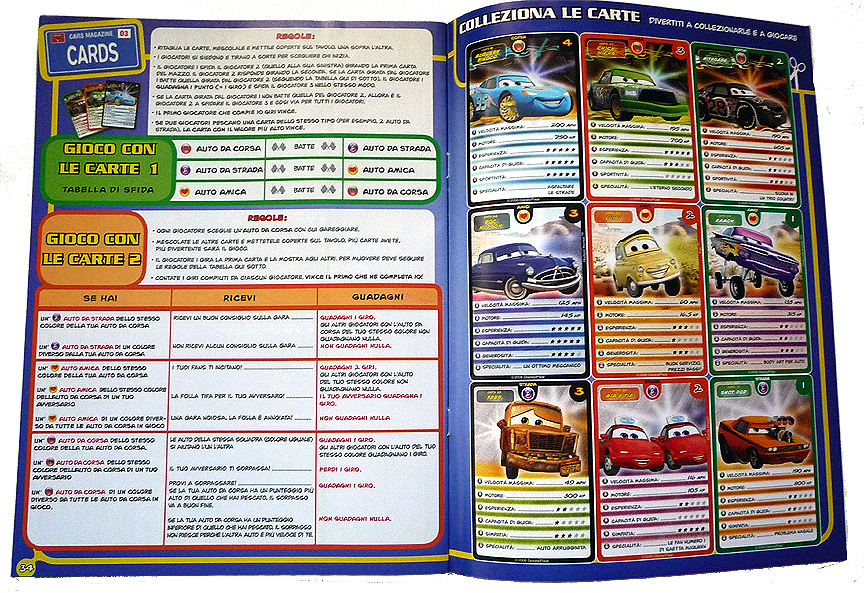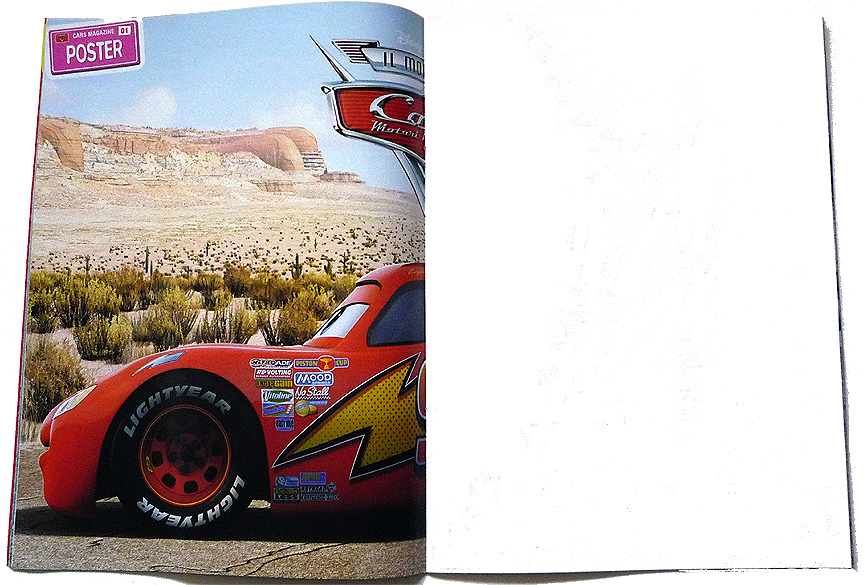 Each issues also features a pullout poster … but what's bound into the center of every issue?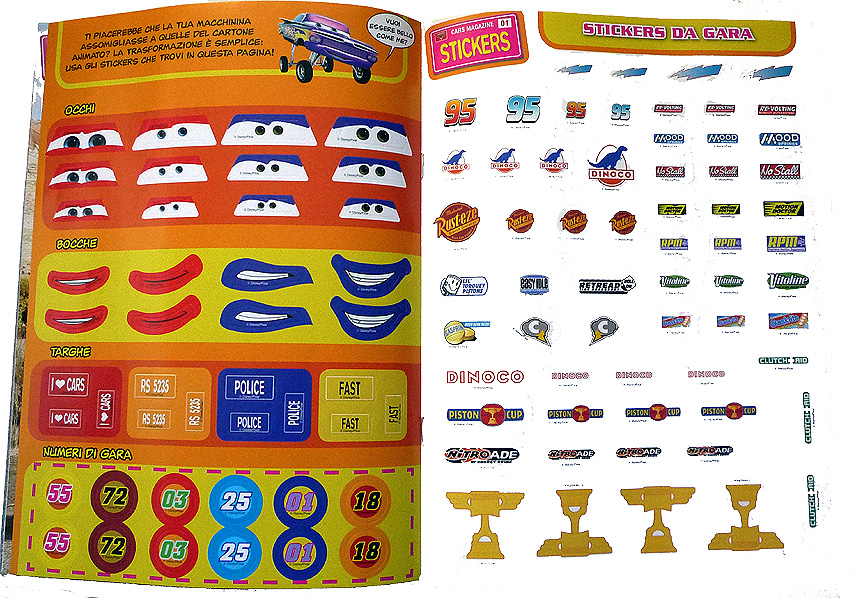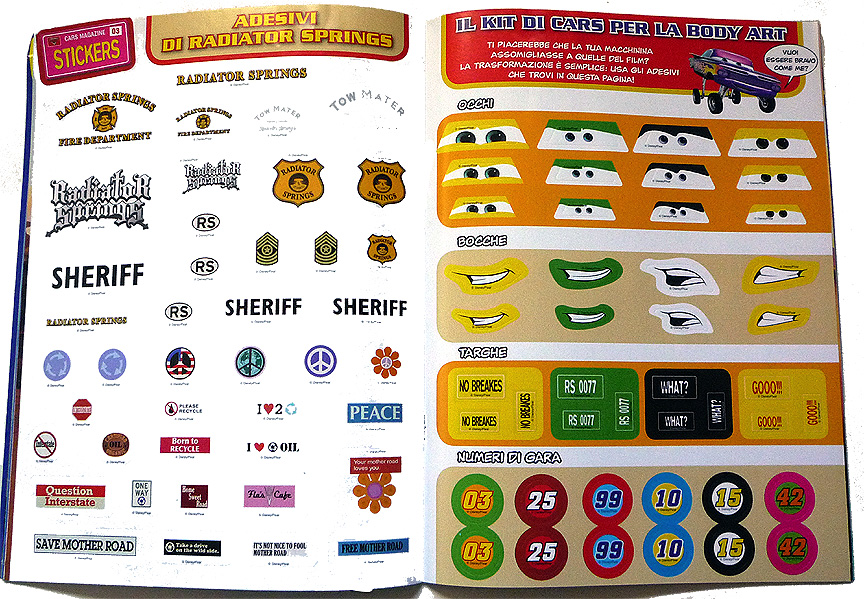 That's right – really, really cool stickers – these are from two separate issues.
And comics and reading, of course – this is the first issue containing the Italian Blu Ray offer – never fulfilled – details in this post.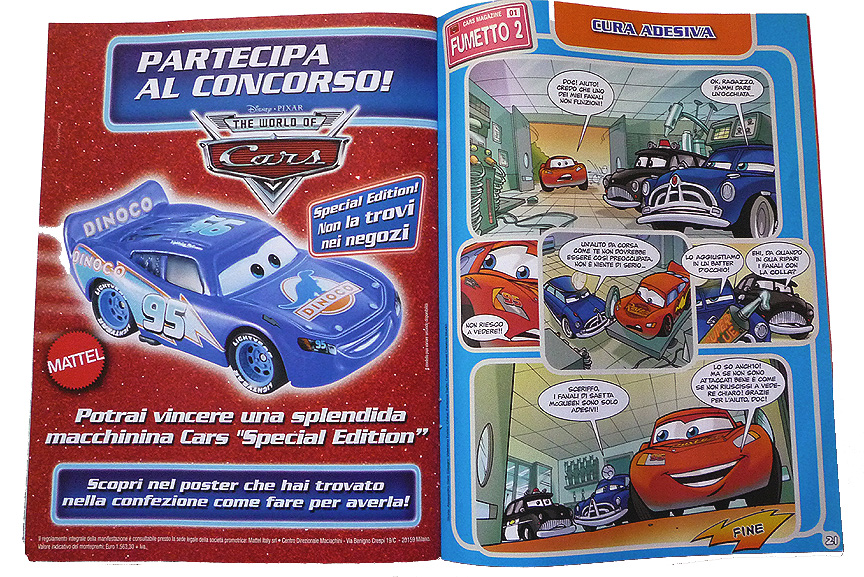 That offer even even came with its own mini poster, I don't know much Italian but I suspect that snipe reads COLLECT THEM ALL! 🙂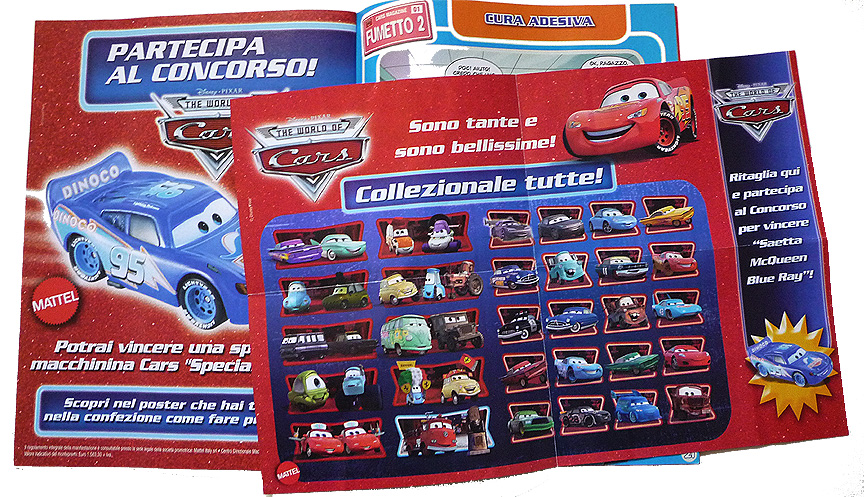 Pretty great magazine – already huh? Nice quality, sharp graphics, fun games & activities, comics, a poster, trading cards and stickers = what more could you want …
Um, how about a perforated cardboard of Radiator Springs?
This is actually taller than the magazine and folds out to about 19″ across and 13″ tall (mag is about 8.5″ by 11″) on cardboard stock. Yep, ONE or MORE town playset building with every issue …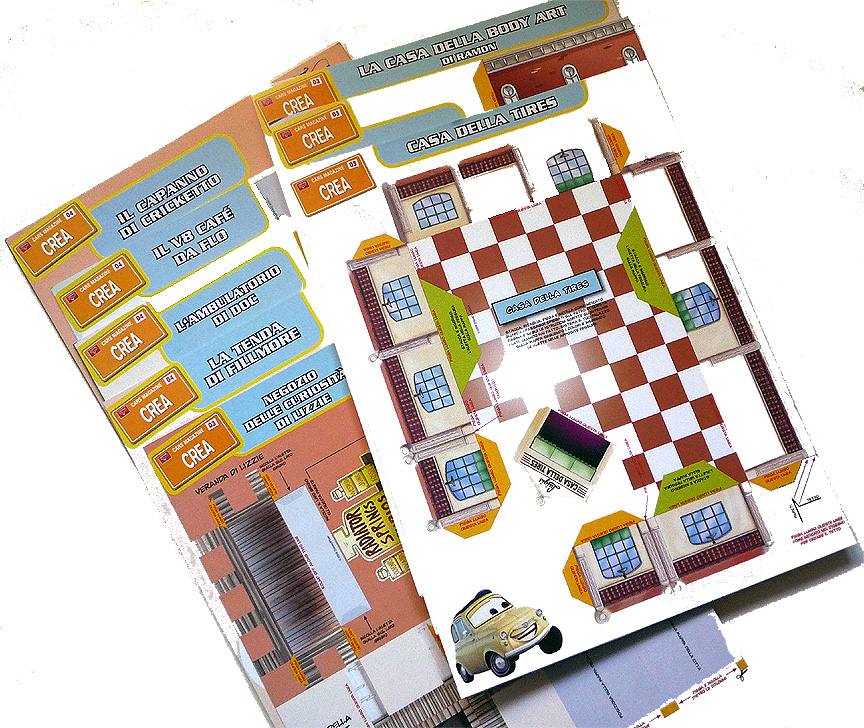 Still not willing to buy this magazine? Okay, how about we include a CAR … that's right, you heard me … while not a metal Mattel diecast, it's all plastic but still pretty nice, solid detailing and they all seem to be in scale to each other …
YEP, since each issue is headlined by one character (along with the poster), you get a CARS car in that issue – in case you can't remember who or what you are reading …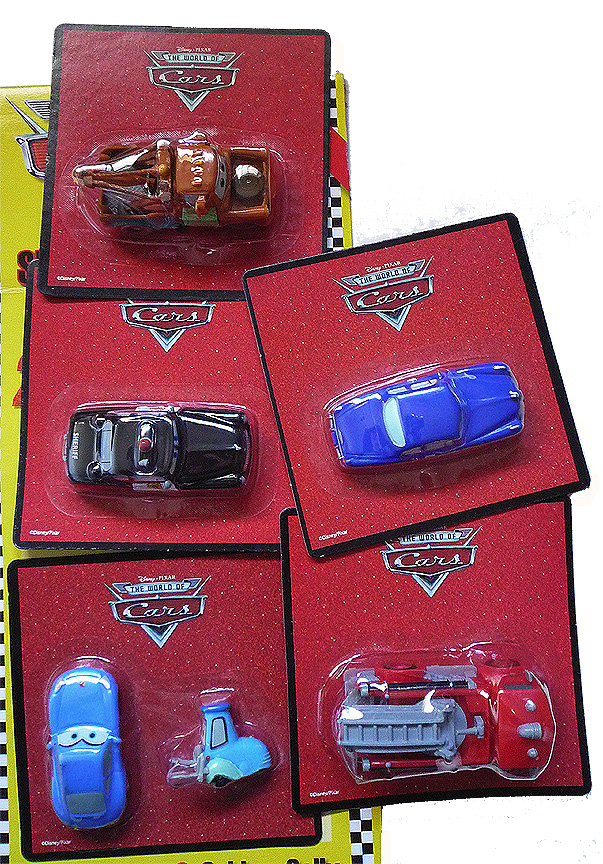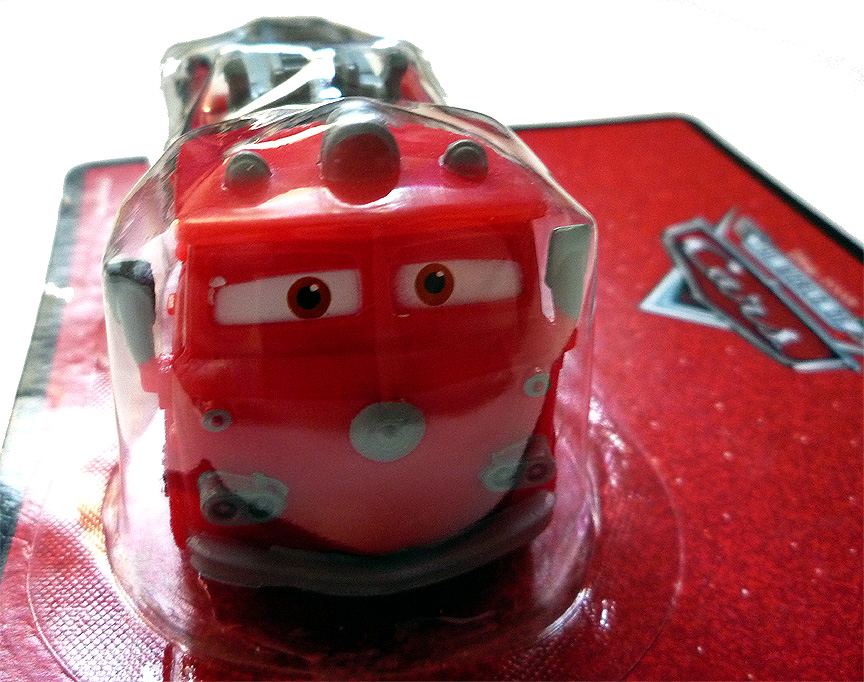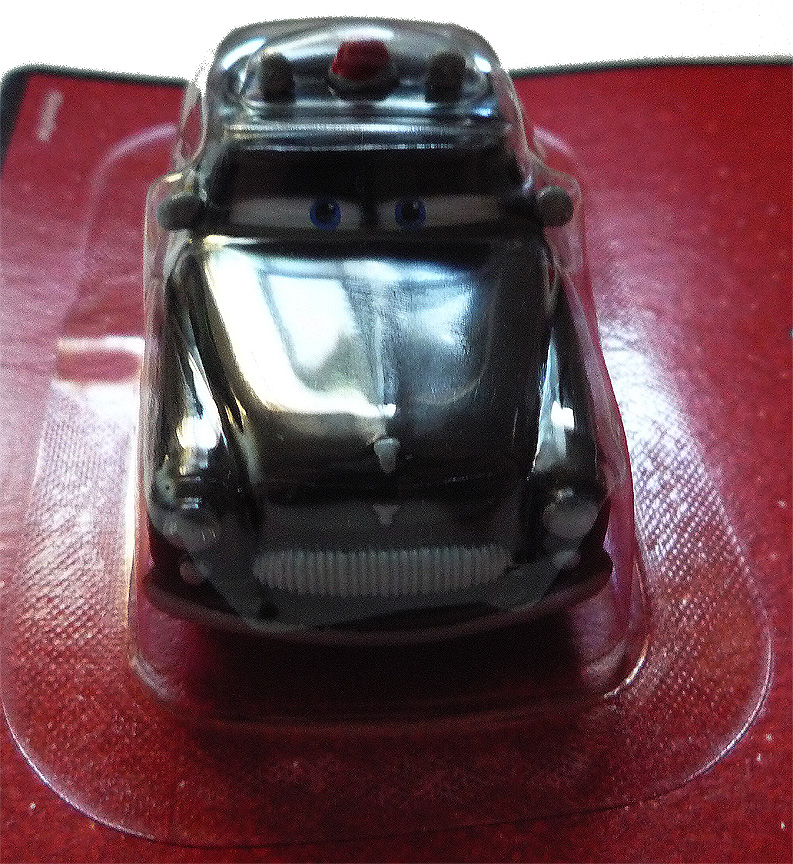 Depending on how much stuff they pack into each "issue," some require a hard cardboard backing so things didn't get lost or damaged …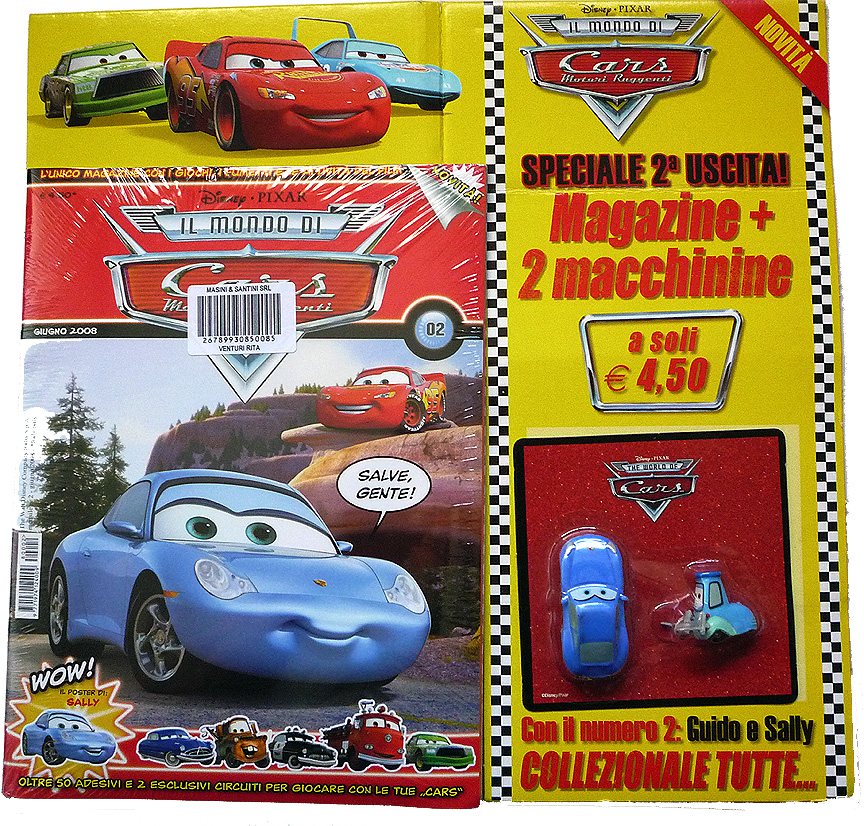 Here is the Sally issue, shrink wrapped – glued to this giant cardboard backing with Sally (plus bonus Guido) on the right.
Not bad for 5 Euros or about $6.50 …
So, why don't they offer something like this in the US?
There are a multitude of reasons – none of it by itself is 100% logical but when you add them all together …
1) In Europe, there are large population centers, people are used to gathering together in a central plaza or in neighborhoods so a lot more newsstands where people pick up magazines/newspapers. In the US, outside of a few cities on the East Coast, most people split for suburbans homes – not much neighborhood walking around.
2) US magazines require ad revenues to be profitable versus just newsstand sales.
3) Because the US population is so spread out and massive, you'd have to print, pack with CARS and poster a couple million issues in every corner of the US to sell maybe 500,000 to 1-million and if you want the register area of supermarkets or WM/Target – start by writing a check for $1 million dollars. Those magazines you see at Costco? They pay around $400,000 for the privileged of being sold there 🙂
4) US magazines are not allowed to give away anything with a magazine or it won't count in their circulation (considered a 'bribe,' but their bigger concern is that they'll get into a giveaway arms race like some Europe publications … one women's magazine actually gave away a sweater with an issue, how do you top that?)
5) So, as a result, since people don't really expect anything "extra" bundled with their magazine, people don't expect it.
6) And of course, mailing this would be expensive since it's large and lumpy … and sight unseen, not many people would subscribe even with the promise of a poster, a car and other stuff.
7) Kids magazines in the US don't carry too many ads because people are squeamish about having their kids read something with too many ads so the revenue would have to be mostly magazine sales and we circle back to not enough newsstands and costs too high to get into most retail stores …
8) Not properly displayed (how often do you walk by the magazine section in Target or WM (not the registers) so high returns even though many CARS Collectors would buy it…
With that said, now that Disney is taking back the Disney Stores, this would be perfect for them. Instead of shrink wrap, put it in a box & call it a travel kit – the content is already done, just change it to English, with the foldouts, the poster & a mini CAR, people would pay $9.99, right? Since there's no date on the mag and since it's the Disney Store, there's no 30-day limit, people could pick up whatever issues they wanted … with only 500 Disney Stores plus the theme parks, you don't have to print that many and people would go back every month, right?
Okay, who can get a meeting set up so I can sell this million-dollar idea back to them for a million dollars (hey, remember, I thought of the box).
(This magazine also seems to already be available in English in the UK and in Swedish in Sweden? EU readers – do you get the same goodies as the Italians did?)
Thanks for the trade Luca – who gets to live in Tuscany AND have a CARS magazine … or maybe it's the other way around 😉  – thanks!



metroxing

30 October 2008

Advertising, collecting, diecast, Film, Magazine, Marketing, Mattel Disney Pixar CARS, Retail, Toys, TV


No Comment