Home
»
Advertising
,
collecting
,
diecast
,
Film
,
Marketing
,
Mattel Disney Pixar CARS
,
Retail
,
Toys
,
TV
Mattel Pixar Diecast CARS: Dexter, Tow Piston Cup – Officially Nice!
Someone mentioned that Dexter Hoover (the race flag man – not the heli – that's Ron Hover) was maybe an average effort in design & production execution …
I must say, I disagree. I think the design, and production of Tow & Dexter Hoover proves that while we might quibble about distribution and merchandising execution, the design and quality of production of CARS is without peer and just a nice breath of fresh air … in a world of shortcuts and corner cutting (aka: production & design quality), Mattel has done itself proud in this case.
Here's Tow & Dexter together …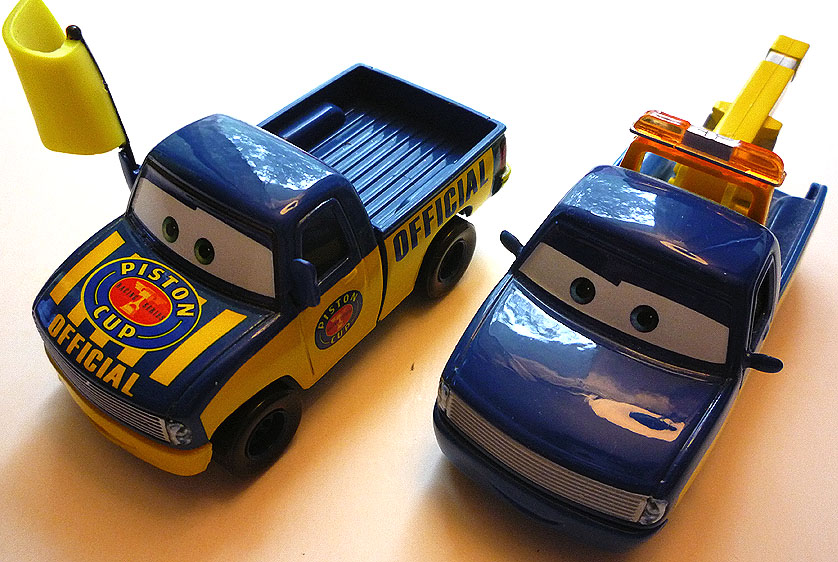 Again, who bothers with this much detailing for a character that is on screen for less than a few minutes? Only the CARS diecast sculptors and Mattel's production team.
He looks right, feels great and is a classy example of CARS … but if anything, Dexter Hoover is even cooler.
A lot of other manufacturers would've taken the shorthand way – removing the tow light package and the lift arm, adding a flag, calling it a day and calling it Dexter Hoover but not Mattel in this case.
First of all, they even changed his eyes from blue to green – would most people even have accepted a wrong color? Sure – but in this case, Mattel wanted all the details right.
On Dexter, the bed is a correct pickup bed with grooves but you'd expect all the big things to be correct but all the little differences also …
They could've easily cheated and given the same front piece & same expression but Dexter has a new "expression" plate …
Mirrors, DIFFERENT.
Again, could've cheated and repeated the tiny mirrors on Tow but Dexter has wider mirrors to reflect that he holds a flag in his left one … so at first glance, you think Mattel just "repainted" Tow but other than sharing roof paint, door decals and base & tires, practically everything about Tow & Dexter Hoover are different down to the tinest details.
But this is why the CARS diecast line is a great success. People from all sides caring that we would care and would notice if Dexter's mirrors are correctly the wide vertical versions while Tow are the horizontal versions.
Nice.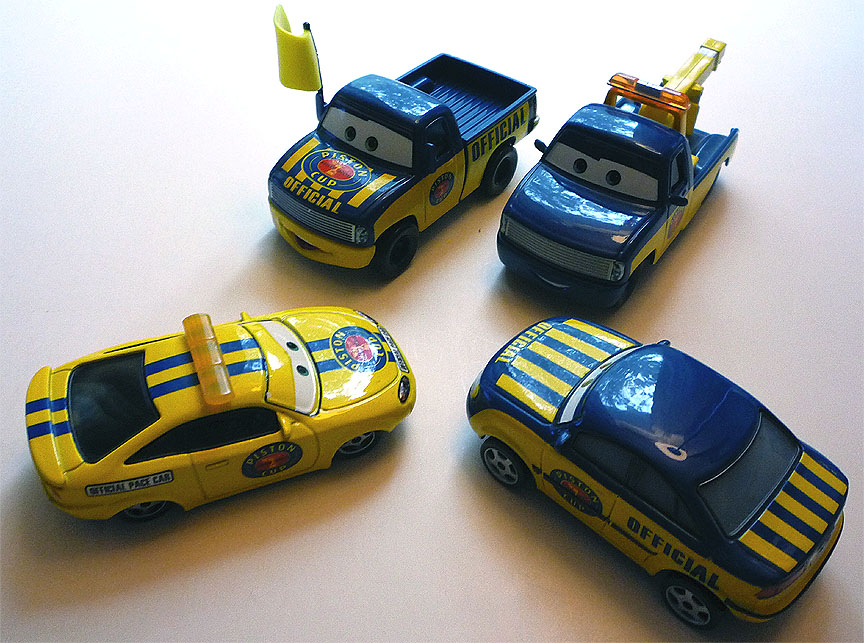 metroxing

30 October 2008

Advertising, collecting, diecast, Film, Marketing, Mattel Disney Pixar CARS, Retail, Toys, TV


49 Comments