Home
»
Advertising
,
collecting
,
diecast
,
Mattel Disney Pixar CARS
,
Retail
,
Toys
,
TV
Mattel Pixar Diecast CARS: The Kmart Collector CARS Day's Strategy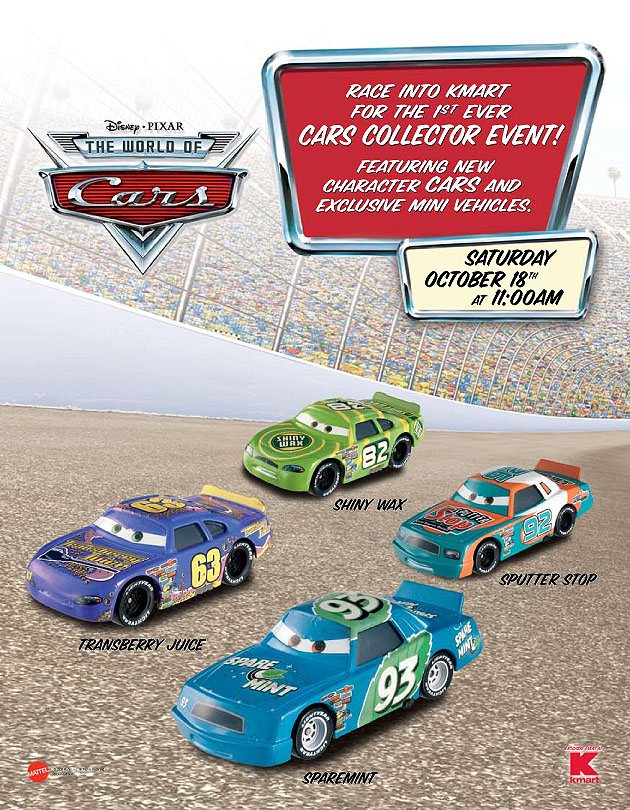 We are still three weeks away and since this the first CARS Collectors Day, no one is quite sure what to expect and of course, the amount of business & traffic in your area Kmart will vary greatly from 'normal' to 'sparse.'
Since the closest Kmart to me is about 25 minutes away, I decided to check it out today – as mentioned before, the store is a time capsule to 1972 with 2008 pricing. I say this with all kindness but I think everyone who works at this Kmart has been incarcerated … and it's "nice" that Kmart is giving them a second chance in society … they're obviously not hardened criminals and just had some misfortune in life but I also think they might have tried to smoke the linoleum … they try very hard to be helpful and pleasant but sometimes the synapses don't all connect … paying for something usually gets off to a rough start, " … no, no, you work here, I'm the customer … yea, no problem …"
And to keep it uncomplicated, they like to just open one register.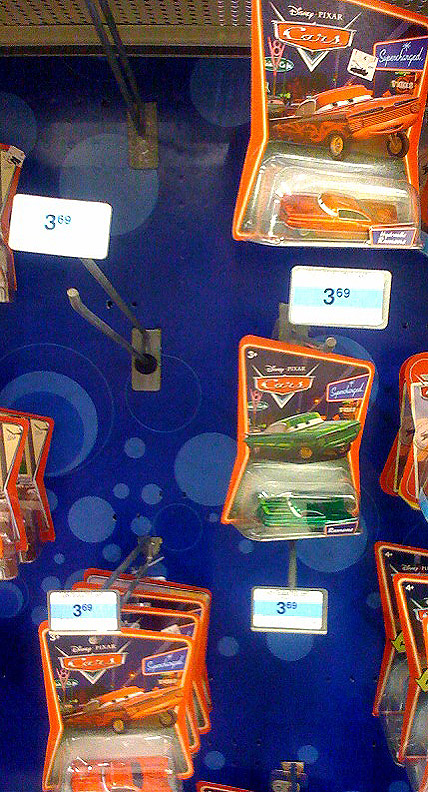 They do have fewer SuperCharged CARS than the last time I was here so they have sold 10 CARS in the past 6 months, a number I'm sure that sends a brain blot through Mattel … but hey, at the least the peg space is here. Off to the side of toys, there is an empty space that you can park 4 Hummer's in … most stores just have an empty space in the middle of the selling space, right?
I'm no psychic but something tells me they are not really getting anything for the CARS Event OR I may be the only shopper.
And not just in CARS, I may be the only shopper on the 18th.
There are no flyers.
This is one of those situations where I'm either 100% right or 101% FAIL.
I will either roll the die and be able to buy up 10 CASES of CARS or they will stare at me blankly and ask if I also see that the registers have legs and if they can have my change so they will stop chasing them.
The other option is to check the Hot Wheels section to see how many HW's might be left over from the HW's Event the other day.
I found like 10 Hot Wheels – not a good sign.
Looks like I may have to drive to the other Kmart about 15 minutes away.
But hey, if this were easy, what would be the point?
Here's the full list Kmart stores (some Sears) "participating" so call and double check.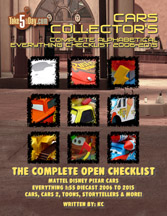 metroxing

22 September 2008

Advertising, collecting, diecast, Mattel Disney Pixar CARS, Retail, Toys, TV


49 Comments