Home
»
Advertising
,
CARS
,
Disney Pixar
,
Film
,
Gadgets
,
Marketing
,
Mattel Disney Pixar CARS
,
Retail
,
Toys
Disney Pixar CARS: Global Warming Averted!
Finally, a solution that we can all get behind … the Fisher-Price Power Wheels Lightning McQueen …
SWWWWEEEETTTTTT!!!!!!!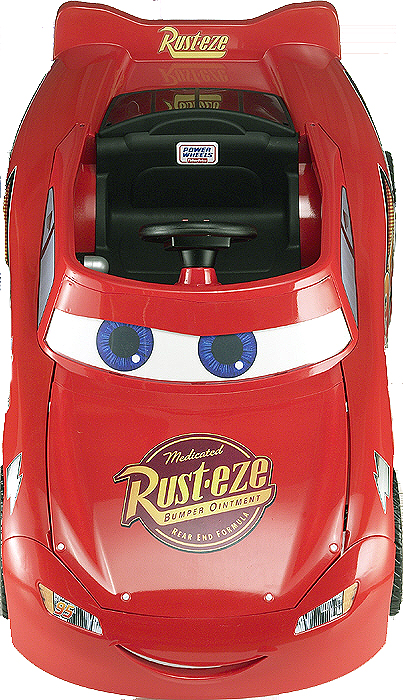 Battery Powered to save the environment!
No Dinoco Gas needed here, thank you very much.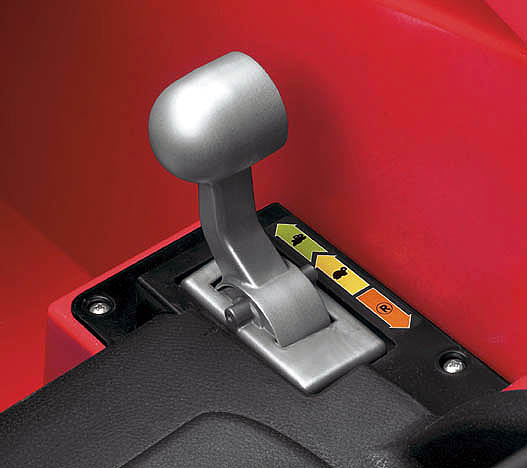 Shifter – all the settings anyone needs – fast, twice as fast and reverse*.
okay, in this case – fast means 2.5 MPH and twice as fast – you guessed it – 5 MPH. Reverse, well, if they made a Mater, he would get the twice as fast reverse but McQueen, only one reverse speed.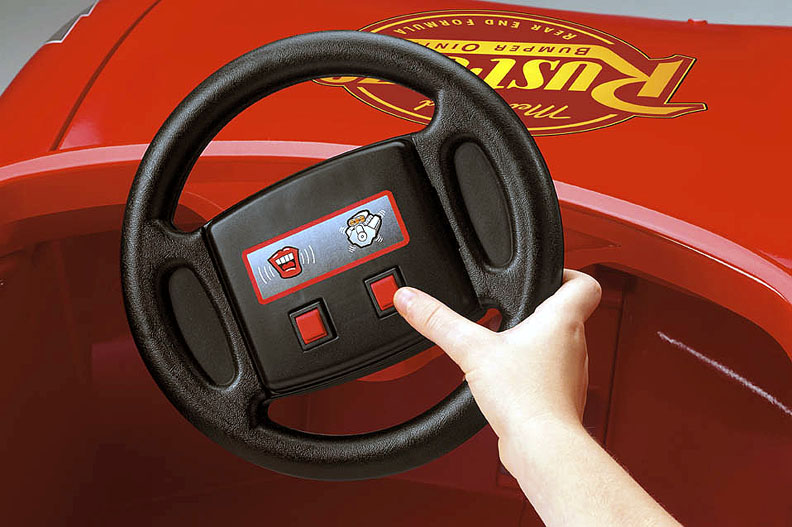 Steering wheel … bluetooth, iPod control, ejector seat and video game controls … okay, that might be the upgrade version. Instead, you get TWO sound effects to broadcast to all the other kids, "Cool racecar sound effects and actual voice phrases from the movie add to real driving fun!"
My car does not have that 🙁 and I can't plug it into my neighbor's outdoor plug to juice it 🙁
You will have to supply your own creepy hand model …
Sure, you're thinking, Mattel/Fisher-Price's PR photos look sweet but in real life, it's probably nothing … well, you are wrong, "Christine" was nice enough to spot this first in the stores and send us some excellent pics …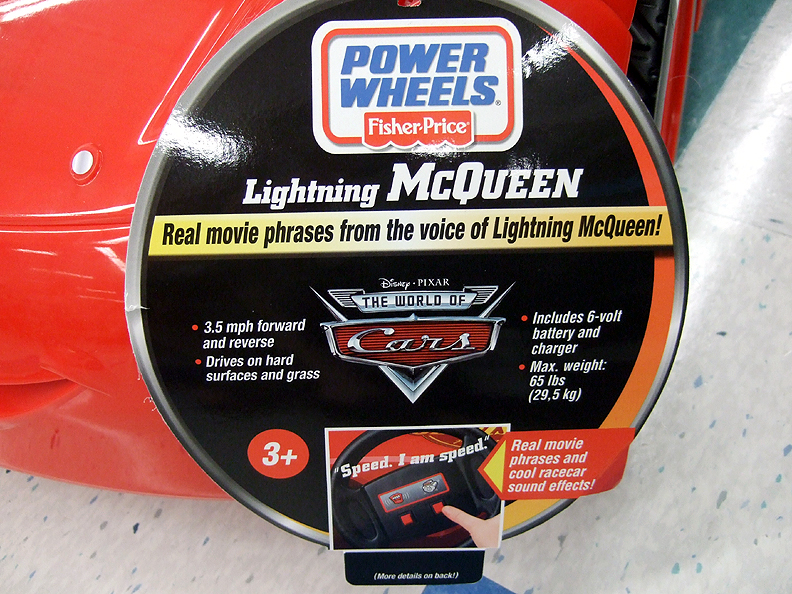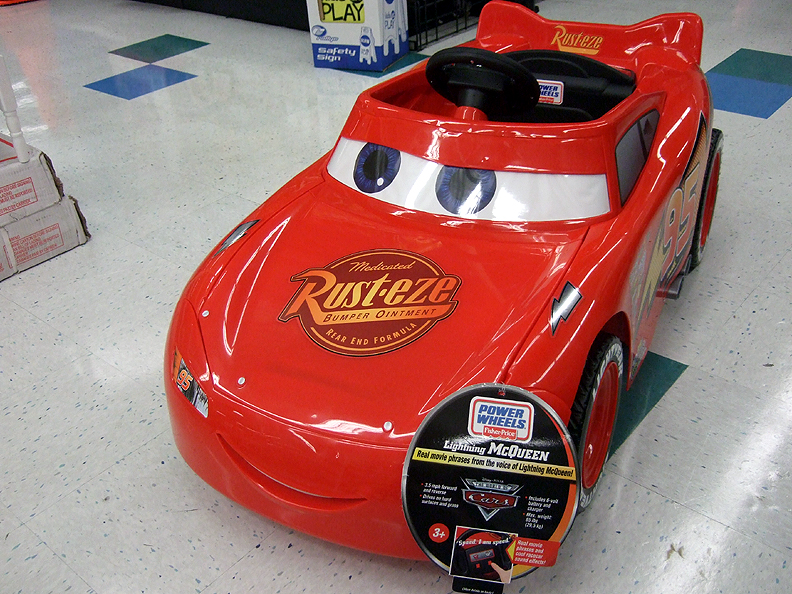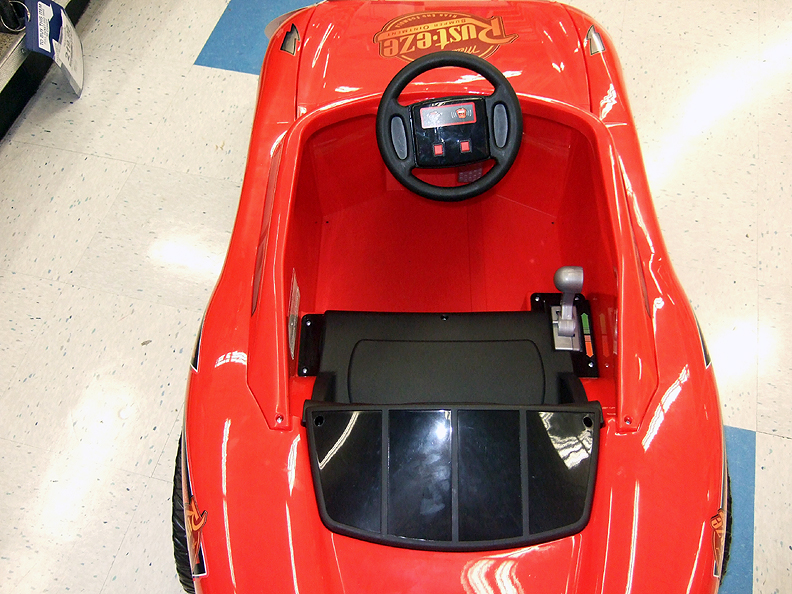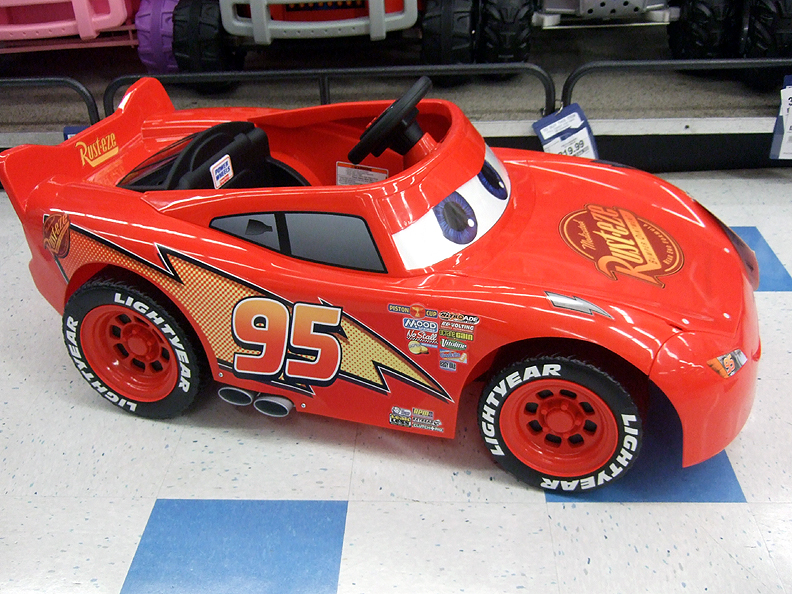 Nice … Maybe I should glue my CARS to this and drive it around the neighborhood?
Works on hard surfaces and grass! Spinout!
Equipped with a high-speed lock out for beginners and Power Lock brakes. Backed by Power Wheels One Year bumper-to-Bumper Limited Warranty. Includes 12-volt battery and charger.
Bad news – 65 lbs weight limit. Pesky kids – they get to have all the fun! … And stay off my lawn with that thing … unless I get to drive it!
And of course, the lawyers have to get involved:
Direct adult supervision required. Keep children within safe riding areas. These areas must be away from swimming pools and other bodies of water and generally level to prevent tipovers. Keep away from steps and steep inclines, cars, roads and alleys.
Riding Rules Make sure your children know and follow these rules for safe driving and riding: Always sit on the seat. Always wear shoes. Only 1 rider at a time.
Man, this is going to make for a dull YouTube video.
@$249.00 …
Here's a shocker as Christine notes – SOLD OUT at her TRU … gee, imagine that – a CARS item sold out at TRU …
As far as I know, the only CARS themed Power Wheels – there is a Jeep & an F150 …
Since I weighed 65 lbs once (3rd grade?) … I think I'm okay.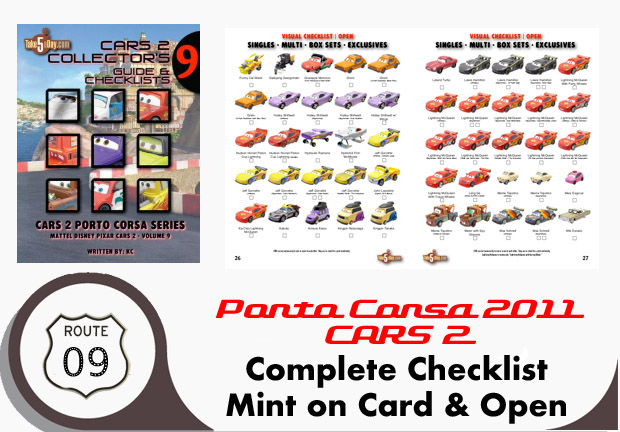 metroxing

19 September 2008

Advertising, CARS, Disney Pixar, Film, Gadgets, Marketing, Mattel Disney Pixar CARS, Retail, Toys


One Comment