Home
»
Disney
,
Disney Pixar
,
Mattel Disney Pixar Diecast CARS
Mattel Disney Pixar CARS: CARS 1 Releases Recap 2013
"Mike I." wanted a recap of the CARS 2013 Themes releases that are "new" from CARS 1 … it is trickier than it looks (naturally) so here's the updated chart: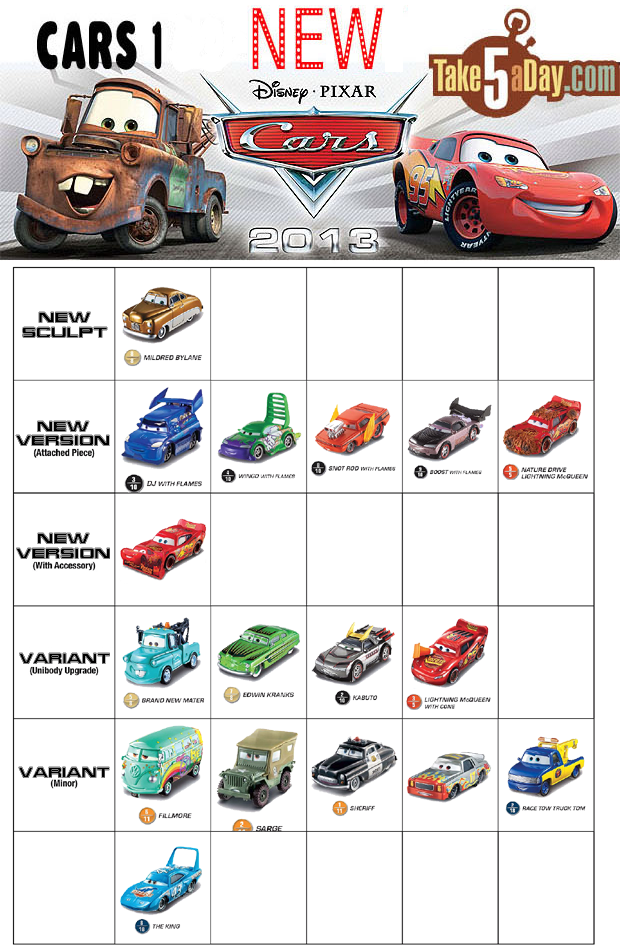 There is really only one new sculpt – Mildred Bylane which is still not technically scheduled so she might actually be bumped to next years theme, probably starting in late October.
There are 5 new versions of released CARS but of course, who doesn't want flames on the tuners? Technically new as they have new names but the sculpts you're familiar with. Same with Nature Drive Lightning McQueen – just starting to float out – Lightning McQueen with plastic "leaves" glued onto him (or those in Toronto, "leafs.")
And to a lesser extent, a 2-pack of Lightning (with Fred) plus his Rust-eze sign – same diecast car, new accessory.
That essentially concludes the "NEW" CARS 1 releases of 2013. So, technically 7 new CARS 1 releases for 2013.
But completists should note there are 3 or 4 major variants. Brand New Mater is actually a return to his first-release unibody from 2007 so if you collected him in 2007 and through part of 2008, you do not need BN Mater again but from 2008, he became much more plastic and much, much lighter so if you did not start collecting until 2008 or later, you may need 2013 Brand New Mater. The other three are definitely upgrades to unibody's – previously with segmented face pieces – Edwin Kranks, Kabuto and Lightning McQueen with Cone. Yes, Kabuto is technically a Toon release but since he was previously released prior to CARS 2, we'll call him a CARS 1 era release.
Then we have some minor variants that you may decide to collect (or not).
Fillmore is different than the previous CARS 1 releases of Fillmore. He is essentially Race Team Fillmore without the LM 95 logo.
Sarge is also different than CARS 1 Sarge's – also essentially CARS 2 Race Team Sarge without the LM 95 logo.
Sheriff – slightly lower and perhaps with much better production quality.
Darrell Cartrip is actually a unibody upgrade but because of his paint job and bumper, it's pretty hard to actually tell so unlike the other unibody upgrades which took away an ugly seam gap clearly visible, he's an upgrade but hard to tell so he's grouped in the minor upgrade group.
Race Truck Tow Tom – you can chalk it up to production variation but his tow hook package is a different yellow than the last release, more bright yellow than dark yellow and a better match to the yellow color on his body so it might be a called-out production correction fix – but again, minor.
King – an odd return to his Thailand mold where the back wheel well has an extra piece clipped off. Minor variant.
You can read more details of the variant differences in this post (which includes some CARS 2 variants) HERE. The Sarge variant is covered here. Sheriff – here.
What's interesting is that none of the Radiator Springs Classic re-releases have been variantized. With the exception of the King which is the same in the Themes 2013 releases, all other RS Classic releases are the same re-releases.
So, if you are collecting ONLY CARS 1 diecasts, here is the 2013 list for your consideration of what to add/replace in your collection.
If you are a card completist, here is your CARS 1 complete checklist available in 2013 (not counting the Convoy Brothers) HERE.
Good luck!


metroxing

20 August 2013

Disney, Disney Pixar, Mattel Disney Pixar Diecast CARS


4 Comments