Home
»
Disney Pixar
,
Disney Pixar CARS 3
,
Mattel Disney Pixar CARS
,
Mattel Disney Pixar Diecast CARS
Mattel Disney Pixar CARS Diecast: Themes 2013 Re-Release Variants
It's been nice to get re-releases from CARS 1 in the new series, many have been unavailable for a while or in the case of Final Lap CARS, hard to find to begin with … what's nicer is that many of the re-releases have been "upgraded" to unibody all-metal diecast or higher quality production ones.
This "upgrade" generally applies to just the re-releases featured in the "Themes 2013" cards and not re-releases available solely at the TRU-only "Radiator Springs Classic" series (there are some crossovers). The exception being diecast re-releases available in both series … this makes sense as the TRU RS Classics are being produced in lower quantities so unless it's also available in the higher quantity "Themes 2013" series, it does not get the upgrade (such as Marilyn).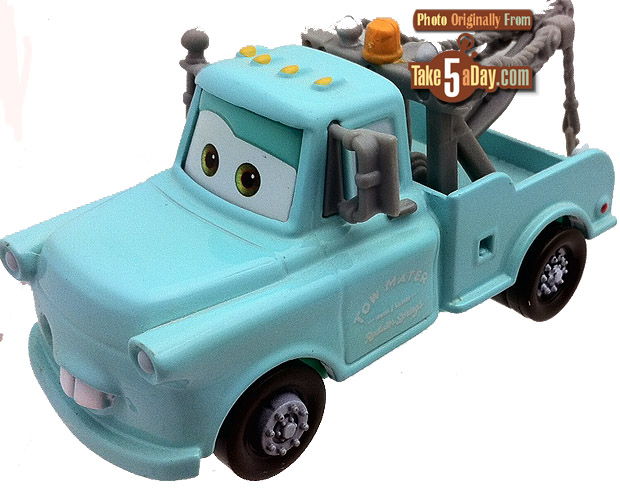 Brand New Mater is actually a return to his original version. If you look closely, the original release of Brand New Mater was solid metal diecast through and through except for the tow package. His cab and bed was all metal – if you look closely, you can see it's all contiguous piece. Sometime in 2008, they switched the back cab area to plastic – just his front cab staying metal. But with the return of BN Mater to the lineup, he is back to all metal cab & bed – so a nice retro upgrade to what he once was.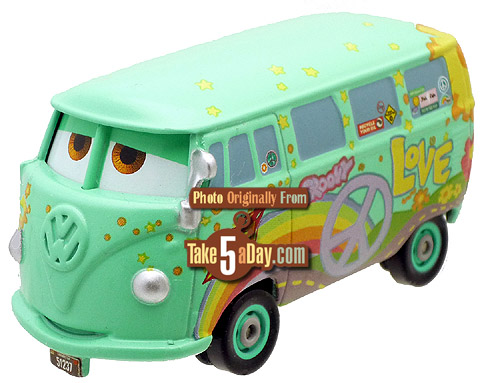 Fillmore got a new mold for most of CARS 2 and he looks slightly different as they carried over the new windshield "insert eyes" design from the lenticulars Fillmore design – but while the lenticulars Fillmore also featured the softer mold lines, this new Fillmore (and Race Team Fillmore) features much sharper lines (see the VW logo) along all the edge pieces. So, not a massive upgrade but a slight variant and improved mold all around.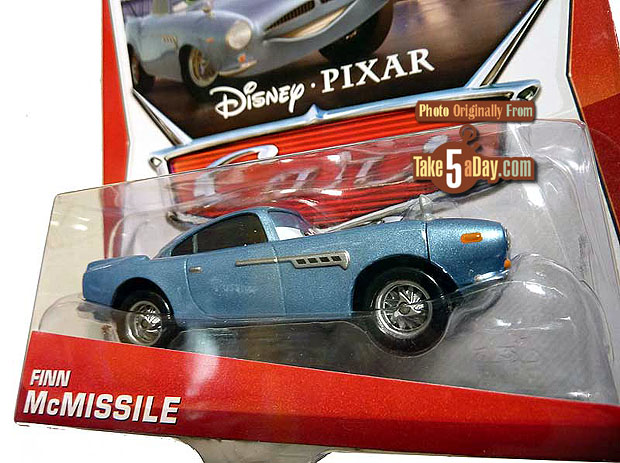 Finn was upgraded to a unibody with the London Rescue 12-pack and was issued in EU as a unibody single but was NOT available as a unibody single until his recent re-release (you might be able to guess why Finn has not been a case assortment in over a year – and why we still do not have a shortage of Finn's  🙄  ).
He has now been re-released as a unibody single in the "Themes 2013" series – HOWEVER, be warned – somehow, HARD TO BELIEVE but Mattel apparently found some segmented 2-piece Finn McMissiles in the warehouse so LOOK CAREFULLY if you want a unibody Finn. As "John H." sent us this photo, there exists 2-piece Finn McMissiles on the latest card. Finn McMissile look so much nicer as a unibody – the plastic segmented piece was a horrible version.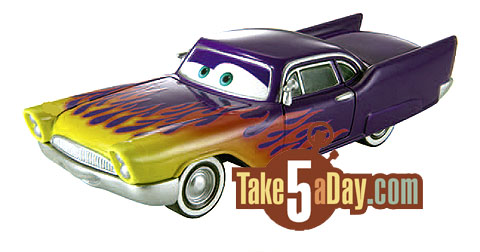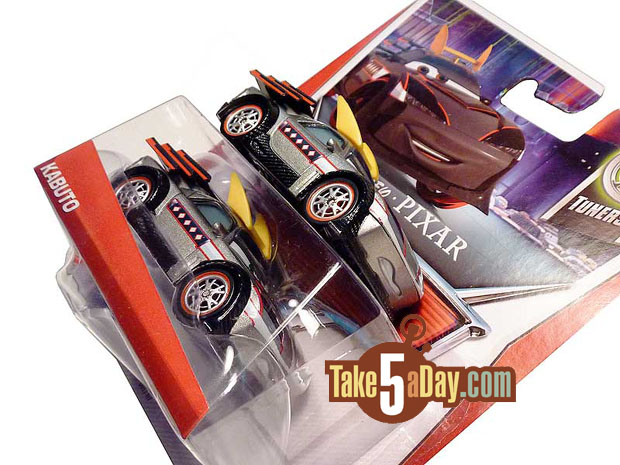 Kabuto is a nice and surprising upgrade also. With certain CAR character designs, it's natural to have a line-crease across the front so while it's always nice to get a all-metal unibody diecast, in some cases, it's not really a tragedy because the crease design of the CAR itself, it doesn't really detract too much from the overall look so either way, Kabuto is great but the all-metal unibody upgrade is still a nice upgrade – also nice in that it's part of the regular lineup now – AND if you missed his last release, he's scheduled to be in more cases going forward so don't panic if you missed his last release. BTW, it does NOT look like he was upgraded in the Porto Corsa release but if you have yours handy, look and note in the comments otherwise (the Porto Corsa one I have was not a unibody yet).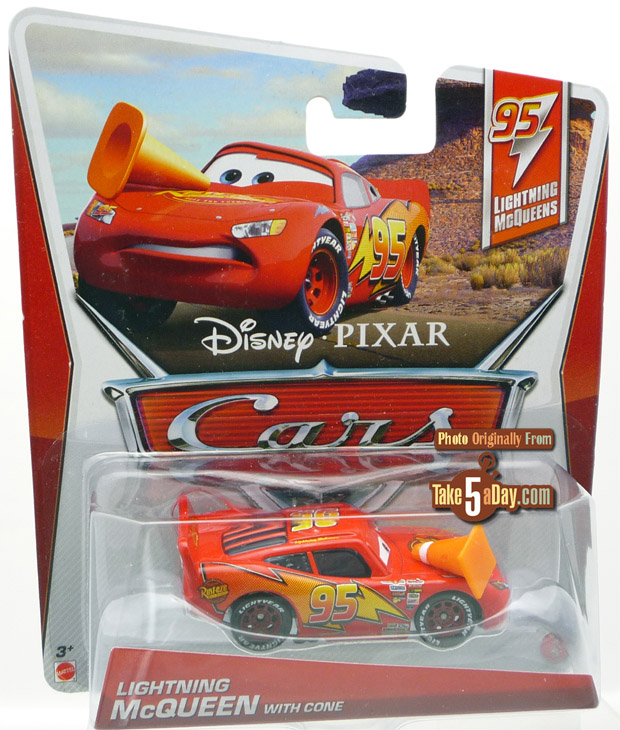 Lightning with Cone upgrade is definitely nice as they even went to the trouble to keep the same expression on the mouth so they did a new mold just for LM with Cone. He was a 2-piece and now is a all-metal diecast unibody.  Again, if you missed him, more are coming.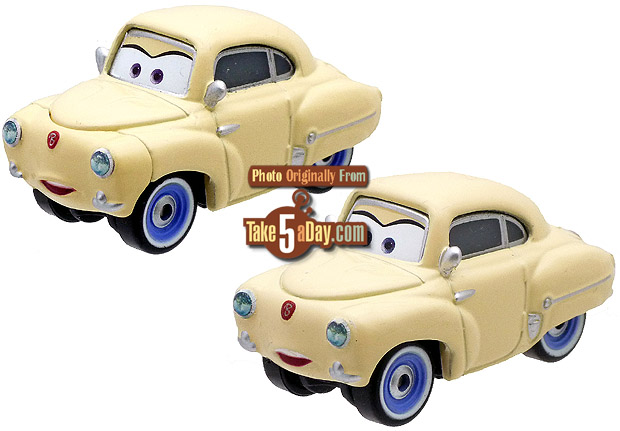 Another surprising upgrade was Mama Topolino. She was upgraded in the Europe release of Mama & Uncle Topolino 2-pack so presumably when she arrives in CASE G, she will be upgraded to the unibody. She is definitely a nice upgrade and looks like a real auto now instead of a cheap diecast with a plastic faceplate … it is interesting that Mattel must've crunched the numbers and realized it was cheaper to re-do the mold than have to buy and paint X number of plastic faceplates for Mama Topolino.

Also a worthy upgrade (not that original Security Guard Finn was easy to find).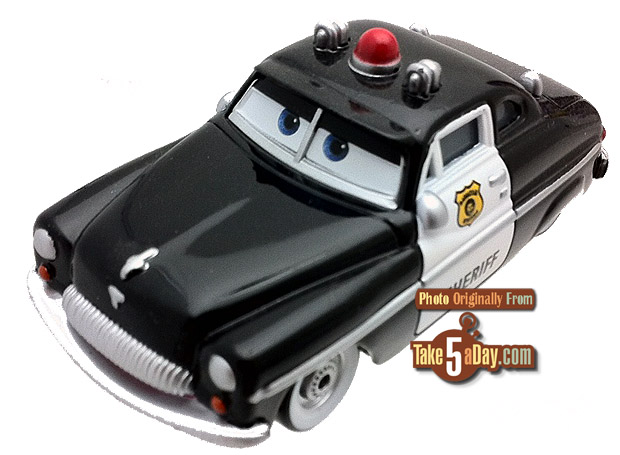 Sheriff is a slight variant. He's actually slightly lower but 95% is this new Sheriff is the higher quality controls and production. There is a lot less paint bleed and paint leak than older Sheriff's so not a must-have upgrade but if your sheriff is a little older and looking a bit haggard … the new Sheriff seems spiffed up.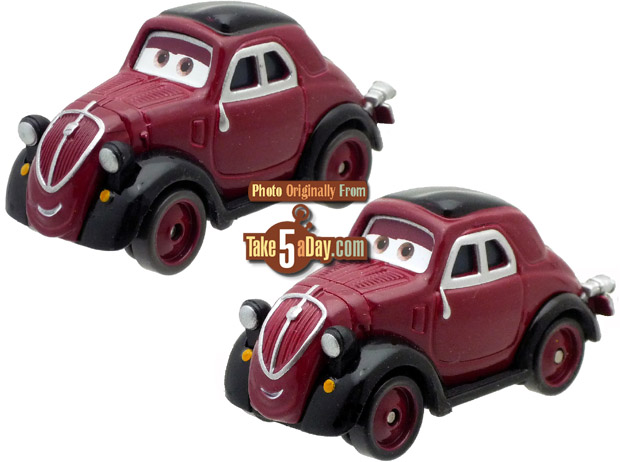 Another "upgrade" this almost completely imperceptible is the Uncle Topolino upgrade – again presumably only driven by the numbers – that it's cheaper than buying X number of plastic faceplates or it's close enough that it'll save time and effort with continual re-releases … as this auto has the old style hood with lines/creases all over, it was easy to hide the plastic faceplate piece (top left) and it's pretty much impossible to tell other than if you look very very closely, there is a tiny gap that is now not there as it's really just a design-element crease line (bottom right). And since zinc is non magnetized, there's no way to tell and it's such a tiny upgrade, the weight addition is almost imperceptible – no real reason to buy the upgrade if you don't want to but the option is there.
Some photos from "John H." Thanks, John!

metroxing

21 April 2013

Disney Pixar, Disney Pixar CARS 3, Mattel Disney Pixar CARS, Mattel Disney Pixar Diecast CARS


6 Comments