Home
»
Advertising
,
CARS
,
Checklist
,
collecting
,
Design
,
diecast
,
Marketing
,
Mattel Disney Pixar CARS
,
Media
,
Toys
,
TV
CAAF Dream Halloween October 25, 2008 – Mattel & Darth Mater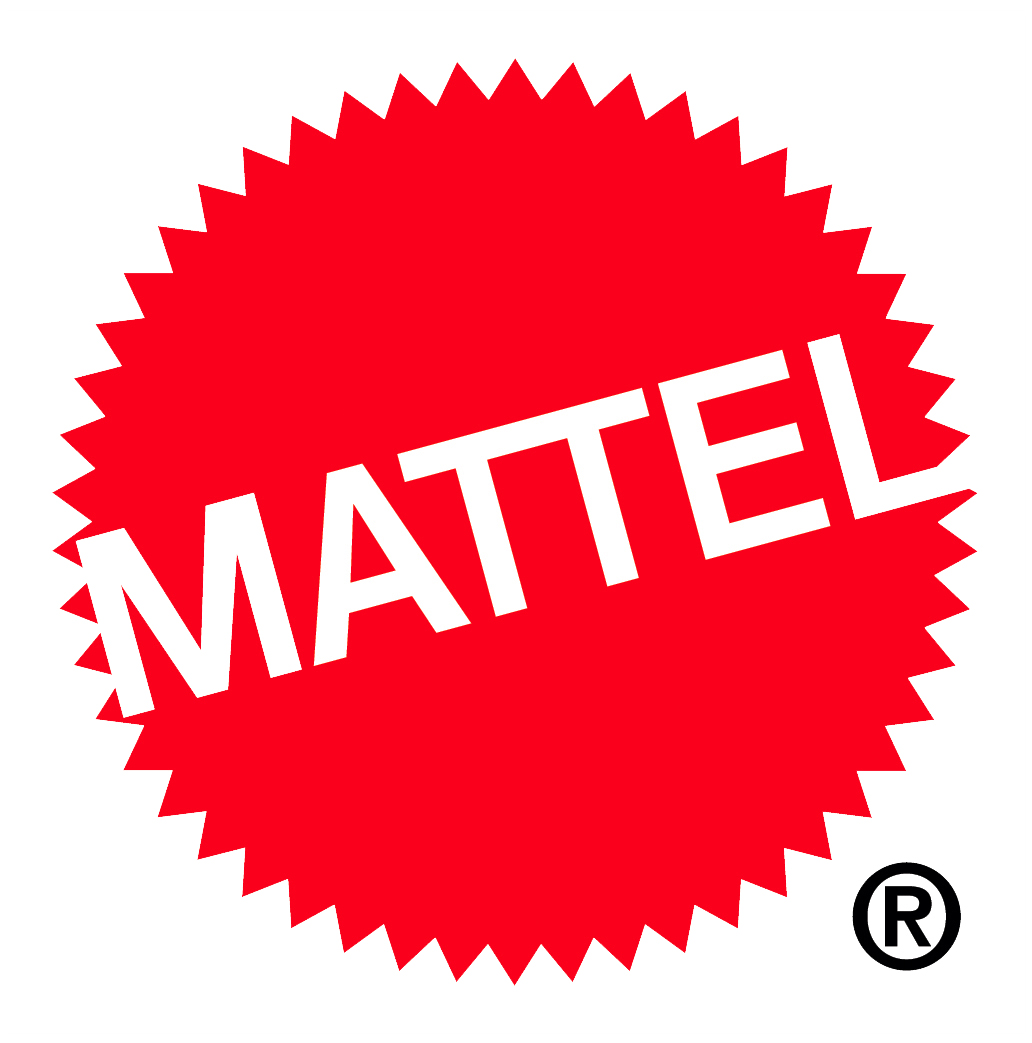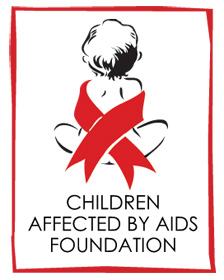 Every Halloween, Mattel creates special one of a kind items to benefit CAAF, the Children Affected by AIDS Foundation for their auction event & fundraiser – Dream Halloween.
Of course, last year, for CARS fans, this was the item that really caught their attention …
Ultimately won by the President of TRU for @$13,000 …
This year, of course, the ante has been upped with all sounds, all dancing and all cool – giant scale Darth Mater …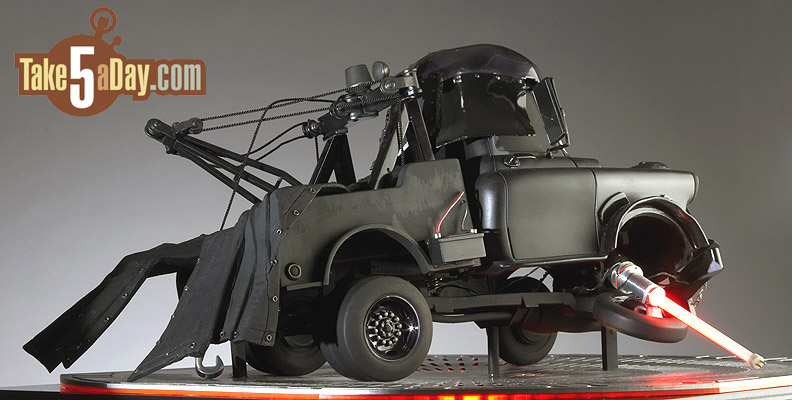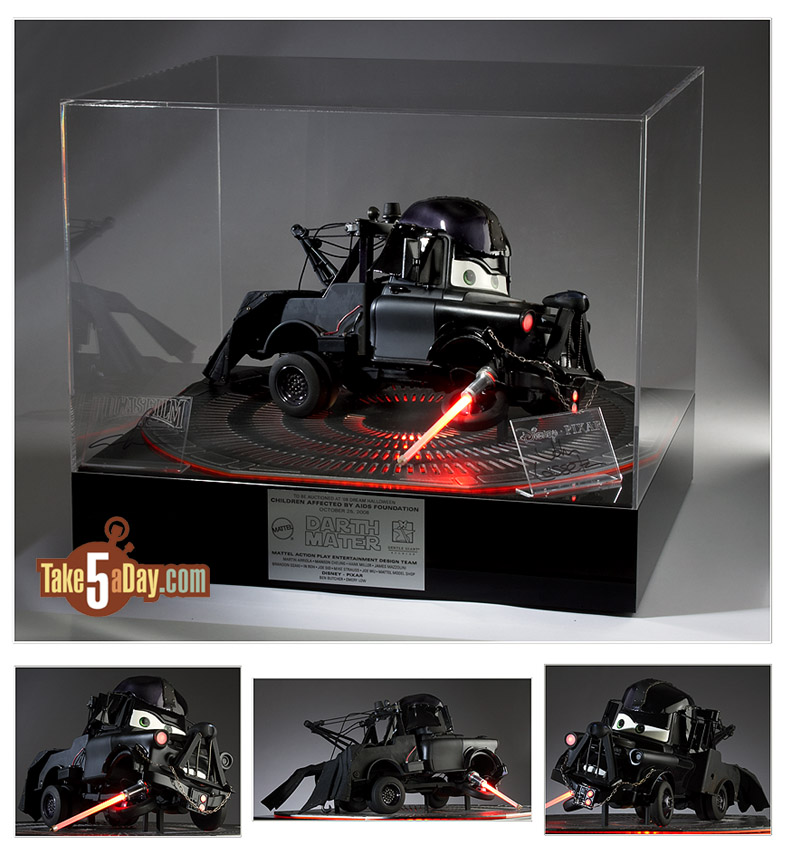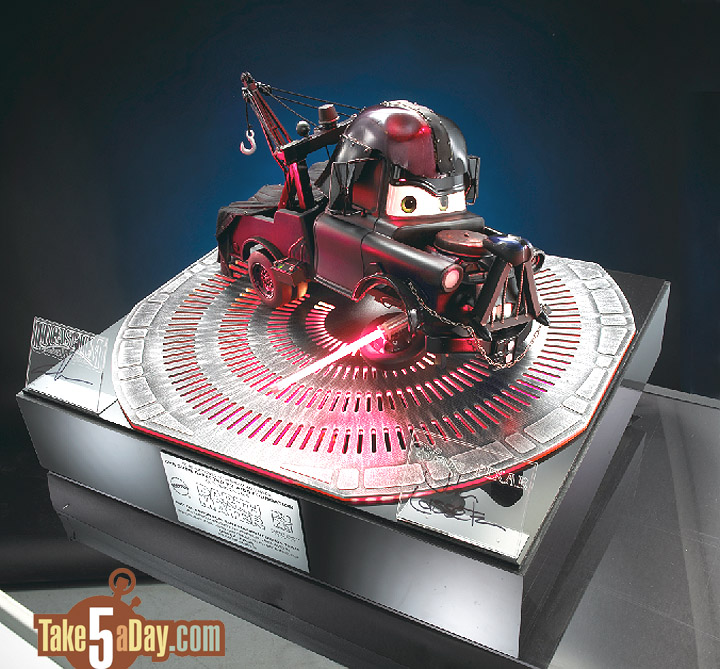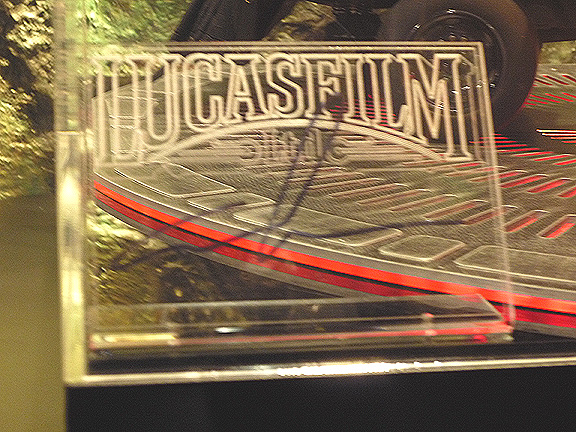 Oh yeah, signed by two guys – George Lucas …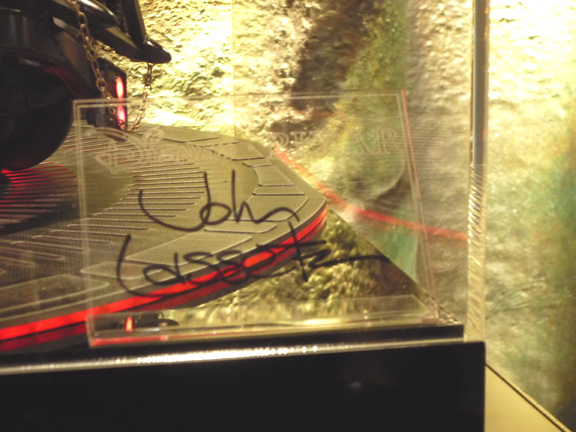 … and John Lasseter … so, if they get into a bidding war for this thing? Um, you might need one of those jumbo golf tournament checks to take on these guys … but there's plenty of other things to check out and bid.

One–of-a-Kind dolls in the likeness of Jada Pinkett Smith and daughter Willow Smith
One–of-a-Kind dolls in the likeness of Jada Pinkett Smith and daughter Willow Smith
by Linda Kyaw: One of the most talented actresses of our generation Jada Pinkett Smith is honored in a one-of-a-kind Barbie creation. At the premiere of "The Women" in L.A., she wears a Zac Posen taupe-colored silk chiffon dress adorned with graphite beadwork. Her exotic jewels and accessories are a trio of silver, gold & platinum.
Rising star Willow Smith is also honored in a one-of-a-kind Barbie creation. Attending the premiere of "Kit Kittredge: An American Girl," Willow wears a silver & white striped sequined tank dress. Her ensemble is tied together with a pair of Ray Ban aviators, and an eyelet newsboy cap.
Minimum Bid – $5,000
(If Wil Smith stays home, we might have a shot at this but otherwise, good luck!

)

"Toast Of The Town" by Robert Best: Toast of the Town Barbie is a one of a kind, Silkstone Barbie doll dressed in a dazzling evening gown of taupe silk satin. Lavish gold embroidery accented with hand-beaded Swarovski crystals are just the right accents to this stunning doll. A shrunken evening jacket in blush pink silk faille, long pink evening gloves, a full petticoat trimmed in taupe silk satin and gold and rhinestone jewelry are the exceptional details that make this doll a unique beauty. This one of a kind Silkstone Barbie from the Barbie Fashion Model collection also comes with an original signed sketch by designer Robert Best.
Minimum Bid – $2,500
"Being Koi" by Jim Holmes: Inspired by the playful, timeless fluidity of ancient Japanese traditions, this luminescent beauty is airbrushed into a shimmering golden goddess of the garden. She is a modern interpretation of a Hollywood goddess. Her auburn mane is beaded with tangerine seed beads that flow onto her shimmering shoulders. Flowing down her arm of Japanese inspired tattoos we segue into a dress that swims with yards of train as she steps into the waters of the world.
Minimum Bid – $2,000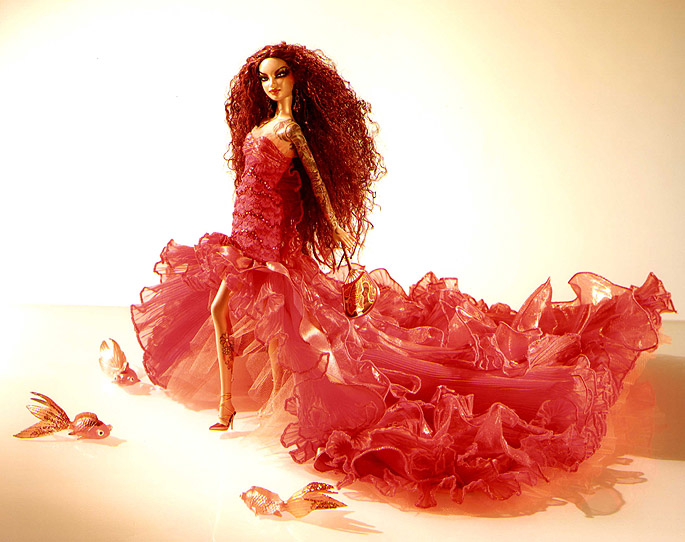 "Princess Snow Feather" by Yoori Park: Princess Snow Feather is a one of a kind doll inspired by a winter Blue Jay. The doll's ombred dress is edged with Swarovski crystals and delicate pastel colored feathers. The background consisting of a crystallized tree and floor illustrates an icy winter night.
Minimum Bid – $2,000
"Kiss the Frog" by Amy Lee: This shimmering princess drops her ball into the well (fountain) and the frog prince retrieves the ball for her. In return, the princess promises to do 3 favors for him—eating, drinking and kissing. In the end her kisses turn him into a handsome prince.
She's dressed in an ombre dyed gown adorned in jewels. In her hand she holds the frog prince. The fountain and ball—that are part of the story—are included in the presentation. Like all elegant princess', she adorned with jewelry.
Minimum Bid – $2,000
"Snow White and Dopey – Fairest of Friends" by Anna Choi: Do you remember the first time you saw Snow White on the big screen—the porcelain white skin, satiny black hair, and ruby red lips? Her breathtaking beauty and gentle kindness captured the hearts and minds of everyone around her. Inspired by the classic Disney film, this one-of-a-kind Snow White doll turns heads dressed in an exquisitely beaded satin and charmeuse gown, soft velvet cape, and gorgeous, uniquely hand-painted face. Snow White and her loveable companion Dopey are nestled in a beautiful cottage scene that glows softly with warm light. As she turns to give Dopey a gentle kiss on the head, Snow White won't just warm her friend's heart—she'll warm yours as well.
Minimum Bid – $1,000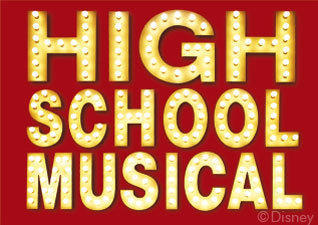 "A Night to Remember" for High School Musical 3 designed by Oscar Moreno: features the popular sweethearts, Troy and Gabriella dressed in one-of-a-kind prom fashions faithfully recreated by the talented Mattel team.  Unique face painting, beautiful fabrics and meticulous details make this pair a sure bet for prom king and queen!
Minimum Bid – $1,000

"The Batpod" by Hank Miller and Steed Sun
In celebration of the success of The Dark Knight and the "year of the Bat", here's a one of a kind, hand build Batpod motorcycle and Batman figure.  The Batpod is a highly detailed version from the movie and is approximately 27" long.  It has working lights (head lights and targeting scope).  The Batman figure is in scale with the Batpod and stands approximately 14" tall.  Both items are proudly display on a beautiful black on black base with the Dark Knight logo on top and will be edge lighted for display.
Minimum Bid – $1,000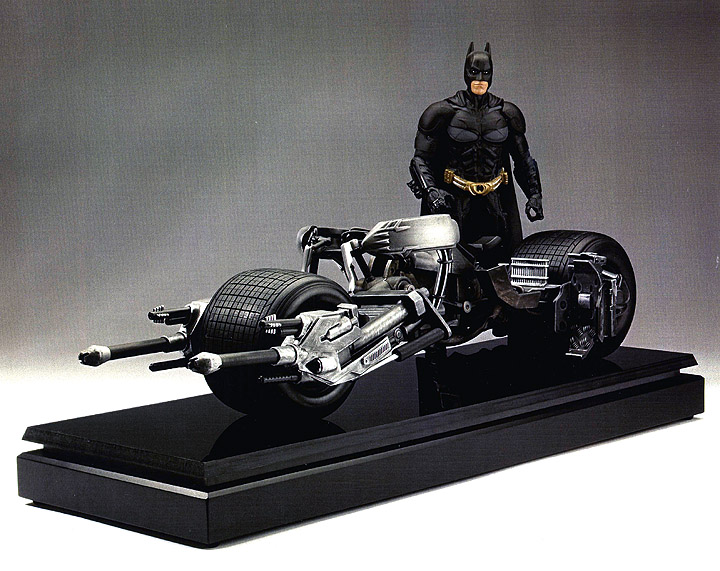 "The Groovy Knight"- Winner of the Paint the Bats Competition by Brian D. Johnson: Never underestimate the competitive nature of the Mattel Design team when a challenge is put forth. Over 20 designers created their version of Batman and were given no limits to their image of the Dark Knight. Brian D Johnson's Elvis, Liberace, and Evel Knievel inspired crime fighter came out the victor!  Made with Sculpey, jewelry, feathers and fur, this Batman is groovylicious!
Minimum Bid – $500
Super Elite Batmobile by designer Bruce Schultz: This 1:18 scale replica of the 1966 TV Batmobile has over 100 parts and an illustrious paint job that would impress even the most dedicated collectors! Designed and painted by Bruce Schultz (who created many of the Hot Wheels custom jobs), the die-cast masterpiece debuted in our "Super Elite" series and now sells for over $250! To give it an extra special touch, its display case is fitted with a metal base and plexi-glass cover, while the vehicle itself is autographed by one of the best-known custom car designers in the world, George Barris! This item also includes a tour of the famous Barris Design Studio!
Minimum Bid: $1,000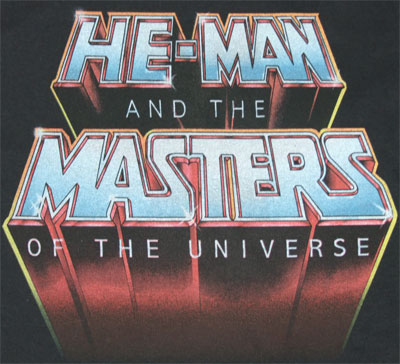 "The Spirit of King Grayskull" He-Man by designer, Scott Neitlich: King Grayskull is the first new Masters of the Universe Classic figure from Mattel featuring the first ever highly detailed fully articulated versions of classic Masters of the Universe characters from the world of He-Man and She-Ra. King Grayskull is the ancestor of the heroic warrior He-Man and defended the ancient land of Eternia from the Evil forces of King Hssss and Hordak!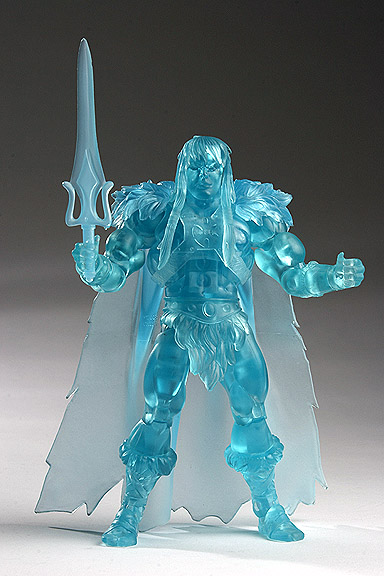 To help celebrate the return of Masters of the Universe toys to collector's shelves, Mattel has created a special two-of-a-kind variant of their San Diego Comic Con exclusive King Grayskull action figure as a "Spirit" which will forever live in the walls of his castle. Only two editions of this all-clear version of King Grayskull will be made for the public. One was raffled off at the SDCC 2008; the second will be auctioned for charity at the Dream Halloween event.
King Grayskull comes complete in a diorama pop out package which folds out to create a mini Castle Grayskull play set featuring flashing energy and the sound of King Grayskull declaring "I have Power!" when the jaw bridge opened. He includes his shield, battle axe and Power Sword.
Minimum Bid – $300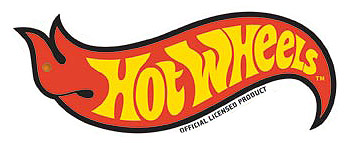 "Hot Wheels ® "Designer for a Day, donated by Mattel, Inc.: Have you ever wondered what it would be like to work at the world's largest toy company? Now you can live out your childhood dream and become a Mattel toy designer for a day! This once in a lifetime opportunity will send you to the Design Center of Mattel's worldwide headquarters in El Segundo, California, where you'll be working alongside the people who design all the toys we know and love. Whether you're assisting Chief Designer Larry Wood with the latest Hot Wheels car or picking out next year's holiday doll and Barbie Fashion Designers, it's sure to be a day you'll never forget!
Minimum Bid – $2,000
One-of-Kind Hot Wheels® with actor,  Wilmer Valderama designed by Alec Tam: 1951 Merc 2 car set, featuring a 1/18th and a matching 1/64th version Hot Wheels die cast version of Wilmer's favorite car. The 1/18th version will feature a custom sculpture of Wilmer chilling in his custom Hot Wheels ride. This is a special request by Wilmer and represents his "dream Hot Wheels design". It will be a chopped and lowered custom, coated in a primer black finish, blood red interior and a chrome outline of flames on the hood.
Minimum Bid – $2,000

"Titan's Fairy" from American Girl by designer – Megan Boswell: This romantic Fairy princess captures a fantasy spirit. Framing her mocha brown eyes is a waterfall of golden blonde curls that are held in place with salmon silk ribbons and a gold braid.
The Gown is made of crisp magenta taffeta trimmed with gold braid throughout the bodice and hem. The overskirt and bell sleeves in shimmering gold and magenta crinkled organza add drama to the overall design's color and texture.
She wears salmon suede slippers with gold beading, an amethyst and gold drop pendant, and iridescent stud earrings. Gold edged fairy wings with glitter and pearls are the finishing detail that makes her magical!
Minimum Bid – $500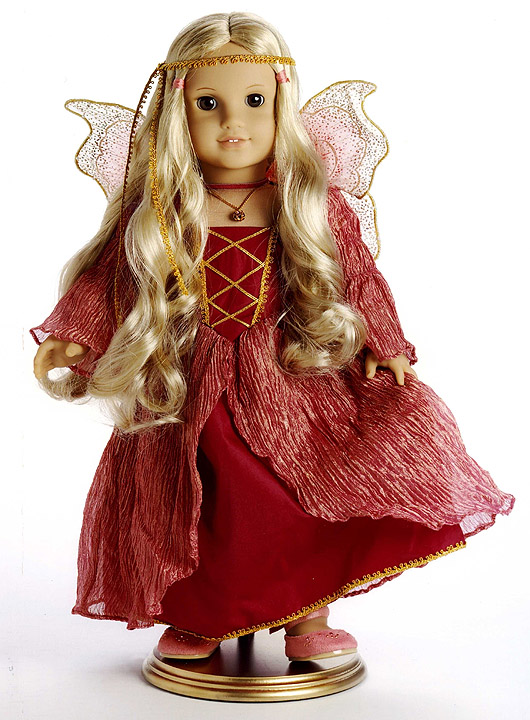 But of course, THIS IS THE REASON TO BID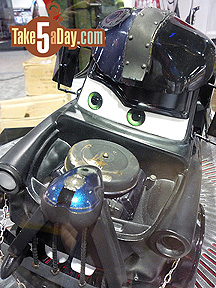 One-of-a-Kind Darth Mater – Conceived by John Lasseter & George Lucas, it was conceptualized by Ben Butcher at Pixar. Then at Mattel, led by Martin Arriola long with 10 artists, craftsman and technicians – it was brought to 3-dimensional life … so the beloved Mater from Pixar blockbuster CARS has merged with the iconic Star Wars villain Darth Vader – The result? A light saber wielding tow truck called DARTH MATER! Those lucky enough to attend this year's Comic-Con in San Diego got a sneak peek of this one-of-a- kind creation.
Darth Mater speaks and waves his light saber around while notorious "Imperial March" plays in the background. The piece is autographed by none other than John Lasseter and George Lucas! Unsolicited five figure offers have already been turned down for this item – you can only purchase it here at Dream Halloween.
Minimum Bid – $1,500
Yea, minimum bid of $1,500, that's funny, that's what we dropped on CARS in WM this month … you're gonna have to step up – $1,500 … as if!
The evening sounds like fun and a great way to raise money & awareness – wish I could make it … but if you're interested in attending …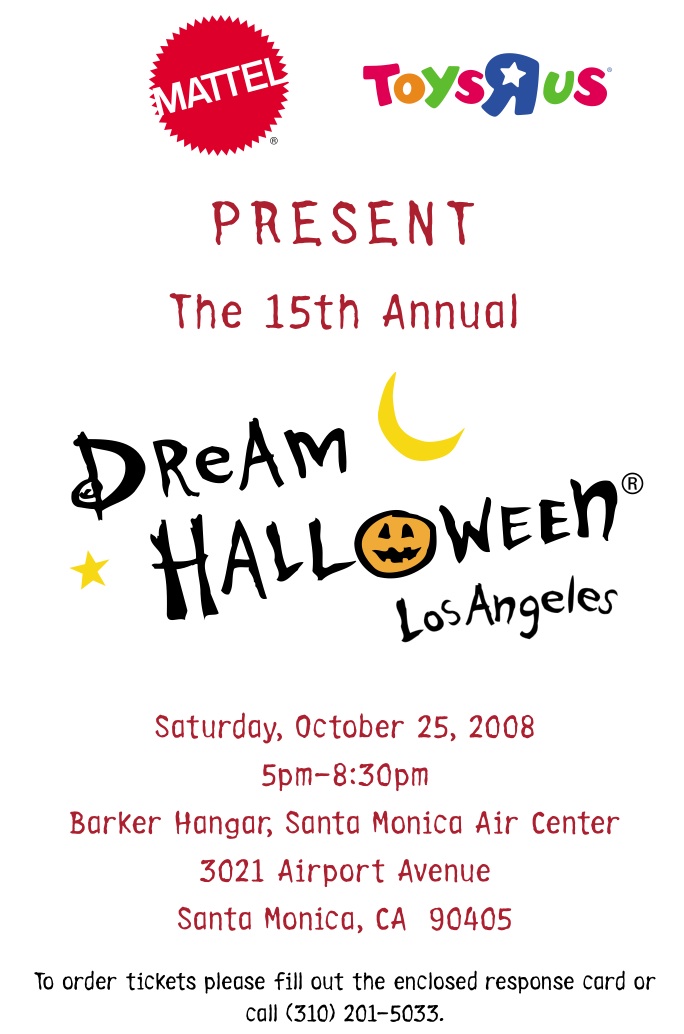 Call the 310 number for ticket info, I believe they are $300 each or if you wish to donate directly – CLICK HERE.
If you're interested in bidding on any items, call the 310 number and they will set you up with a volunteer who will be your on-site source for updates on bids and bidding so if you want an item but can't make it to LA, it's as easy as a phone call to bid.
If you're in the LA area and interested in volunteering, CLICK HERE.
Official PRESS RELEASE for the event:
JAMIE LEE CURTIS, JADA PINKET SMITH AND WILLOW SMITH DREAM OF HALLOWEEN AT THE CHILDREN AFFECTED BY AIDS FOUNDATION'S 15TH ANNUAL DREAM HALLOWEEN® LOS ANGELES
Wilmer Valderrama, Jason Priestley, Doris Roberts, Melina Kanakaredes and Marlee Matlin Also Participate in the Halloween Festivities
LOS ANGELES, October 1, 2008 – Honorary event chairs Jada Pinkett Smith and Willow Smith join Host Jamie Lee Curtis to support children affected by AIDS at the Children Affected by AIDS Foundation's 15th Annual Dream Halloween® Los Angeles.  Celebrities and families will join Joe Cristina, Founder and Board Chair of the Children Affected by AIDS Foundation (www.CAAF4kids.org), in Holly-Weird, Mali-Boo, 9021-Uh-Oh and Bel-Scare Estates for a "The LA Scene"-themed Halloween celebration dedicated to children in the U.S., Latin America and the Caribbean who are affected by the HIV/AIDS epidemic.
Wilmer Valderrama, Jason Priestley, Melina Kanakaredes, Marlee Matlin and Doris Roberts will serve as honorary vice co-chairs for the event.
This year's Dream Halloween® Los Angeles takes place at the Barker Hangar in the Santa Monica Air Center from 5:00 pm – 8:30 pm on Saturday, October 25, 2008.  One-of-a-kind dolls created in the likeness of Jada Pinkett Smith and Willow Smith will be presented to them by Bob Eckert, Chairman and CEO, Mattel, Inc. and Jerry Storch, Chairman and CEO, Toys"R"Us, Inc.  A one-of-a-kind Hot Wheels® will be made with actor Wilmer Valderrama and presented by Tim Kilpin, Mattel General Manager and Senior Vice President Boys/Entertainment and Jason Priestley, last year's recipient.  All three celebrities have agreed to auction these unique items during the event with the proceeds benefiting the foundation.
In addition, Jerry Storch, Chairman and CEO, Toys"R"Us, Inc. will receive the foundation's Ribbon of Dreams ® Award in the Children's Advocate Award Category and Paul, Hastings, Janofsky & Walker, LLP will be honored in the Industry Award Category for their work in helping the organization achieve its mission.
"World-wide there aremore than two million children living with HIV and an additional 15 million who have been orphaned due to AIDS.  Events like Dream Halloween® Los Angeles allow us to raise critical funds to support these children in need," said Cristina.  "Our gracious sponsors, event attendees, performers and volunteers have helped us to raise more than $30 million since our inception in 1993."
The LA Scene-themed Los Angeles landmark towns will feature trick-or-treating for toys, costume characters, games, arts and crafts and delicious food from Blue Velvet, Chaya, Citrus at Social, Dessert Alert, Drago Ristorante, Fleming's Prime Steakhouse & Wine Bar, Roy's of Woodland Hills, Global Cuisine by Gary Arabia, Law Firm of Keesal, Young & Logan, Lucky Strike Lanes, New Zealand Natural Premium Ice Cream, Pastries by Edie, Roy's Woodland Hills, Sashi Sushi & Sake Lounge, Tanino Ristorante and Universal Studios Hollywood.
Mattel, Inc. and Toys"R"Us, Inc. are Founding and Presenting sponsors of Dream Halloween® Los Angeles. Other event sponsors include American Airlines, Paul, Hastings, Janofsky & Walker, Besser Design Group, Jill and Tom Barad, Freeman Companies, and Latham & Watkins. American Baby and Parenting Magazines are Media partners.. These generous businesses provide the underwriting, travel, décor, toys and other children's activities that make Dream Halloween® an incredible success each year.
How to Attend
For tickets and information, call (310) 201-5033.
About CAAF
Worldwide there are more than 33 million people infected with HIV and more than 15 million children orphaned by AIDS.  The number of children affected by AIDS in the U.S.alone is currently estimated at nearly 125,000.
The Children Affected by AIDS Foundation was founded in Los Angeles in 1993 by Joe Cristina, a Mattel, Inc. executive whose desire to help children was inspired by the outpouring of support he received when he disclosed his own HIV-positive status. It is the only organization devoted to providing social, educational, recreational and other critical support for children impacted by HIV/AIDS in the U.S. and other countries.  CAAF accomplishes its mission domestically and abroad through four programs including domestic grant making, domestic initiatives, international grant making and international initiatives.


metroxing

16 October 2008

Advertising, CARS, Checklist, collecting, Design, diecast, Marketing, Mattel Disney Pixar CARS, Media, Toys, TV


22 Comments