Home
»
CARS
,
Disney Pixar CARS 3
,
Disney Pixar CARS 3
,
Mattel Disney Pixar Diecast CARS 3
Mattel Disney Pixar CARS: Collect 'Em All CARS 3 Diecasts 2017
Happy New Year All!
You really ready to Collect 'Em All?
After careful analysis, there are going to be FIVE separate diecast singles lines.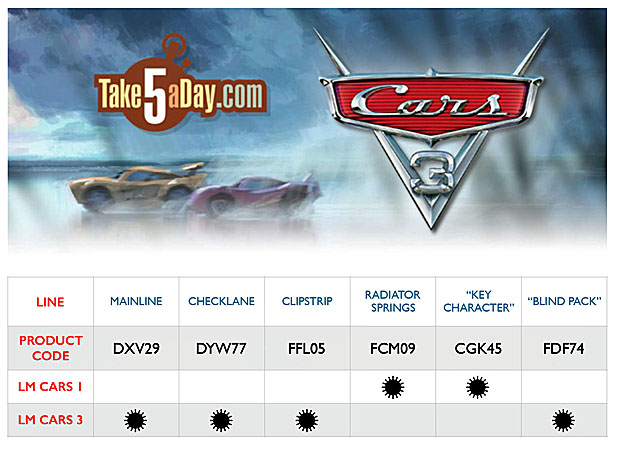 The "mainline" is the typical main diecast line that has been ongoing since 2006 with some returning characters but most of it will be CARS 3 diecast characters. Of course, after 4 years of the "themes" design, the all new CARS diecasts from CARS 3 will be under a new PRODUCT CODE, DXV29. They are embargoed until May 1, 2017 though Walmart generally breaks that usually. 🙂 It looks no CARS 2 characters are on the list of releases.
The CHECKLANE lineup is generally a repeat subset of the mainline releases on a smaller card at the register. The oddity is that the previous CARS Checklane releases were on a card only imperceptibly smaller than the mainline unlike the Hot Wheel cards which are easy to spot.
There is also an oddball CLIPSTRIP lineup which at this point we don't know if the cards will be different than the mainline (the lineup of releases is a subset of the mainline) … in 2011, for CARS 2, there were also clipstrip releases – the cards were slightly different as there was no j-hook diecut – leaving the card artwork "complete." You can check out the 2011 release photos here. So, true again in 2017?
The RADIATOR SPRINGS lineup seems to replace the RADIATOR SPRINGS CLASSIC line (TRU exclusive). Still an exclusive? The reason they seem to have dropped the word classic is that there will be some CARS 3 releases along with CARS & CARS 2 diecast characters in the lineup. So far, it doesn't look like CARS 2 Lightning McQueen is listed in any of the other lines but maybe they are just waiting until later in 2017 as to not confuse people.
There is also a KEY CHARACTER line which seems to be the "classics" lineup. Exclusive? This seems to comprise only CARS and CARS 2 diecast characters.
And there is a BLIND BOX/BAG lineup which only comprises of the various versions of Lightning McQueen.
Good luck to card completists!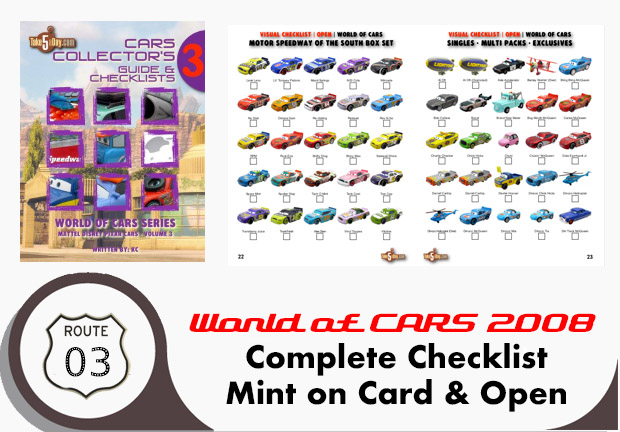 metroxing

3 January 2017

CARS, Disney Pixar CARS 3, Disney Pixar CARS 3, Mattel Disney Pixar Diecast CARS 3


2 Comments