Home
»
Disney
,
Disney Pixar
,
Disney Pixar CARS 3
,
Mattel Disney Pixar CARS
Mattel Disney Pixar CARS: Rescue Go! Go!
A few days we created a family tree for the CARS diecast Universe + CARS diecast Expanded Universe. Most you knew or were already out or about to come out (Planes) but there was a mysterious one hinted at by Disney called "Rescue." It looks like Disney gave the go ahead to Tomica (in Japan) to start up a 1:64 scale series called RESCUE GO! GO!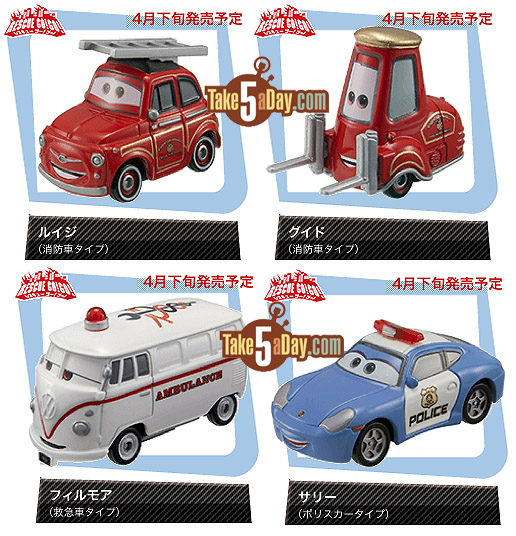 These are the only 4 CARS out in the Rescue Go! Go! series so far – they had already released a Rescue Squad Mater and this Police Lightning McQueen in their Toons series …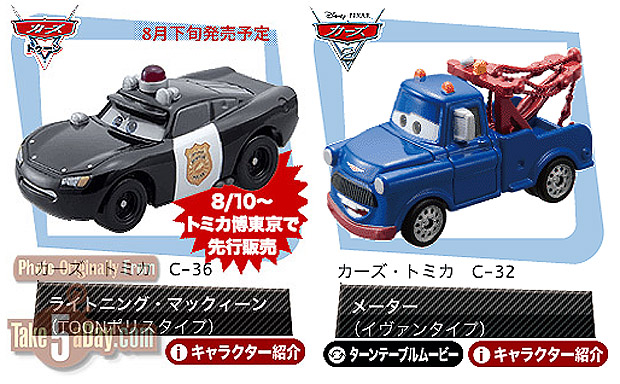 These are 1:64 in scale not Mattel's 1:55.
There is apparently a backstory in this issue of "Sprouts," (Japanese)
From Google Translate …
"One day, I decided to Sheriff and red attracted the friends of Radiator Springs, to form a fire company. We were asked to paint the fire brigade color Ramone, companions, seems to training now ……
Well, you will be seen what kind of activity.
Followed by …
Learning picture book of Shogakukan "sprout April issue" (released 3/1 around) series of "Rescue Go! Go! Series" is to start! So stay tuned!"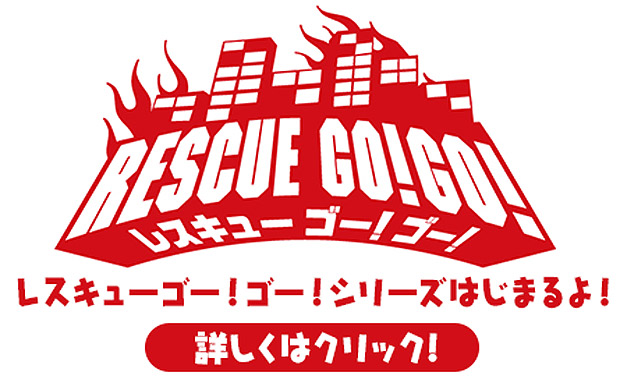 This is the Japan logo (it pretty much reads RESCUE GO! GO! underneath in Japanese – according to Google Translate).
I'm presuming Rescue Go! Go! sounds more Fisher Price in English so I think it's just shortened to Rescue or maybe Radiator Springs Rescue in the US … It seems likely if there is an official Disney backstory, we will get Mattel 1:55 versions of the above CARS. Tomica generally creates much fewer diecasts (see last post) so it's more likely there are more Mattel ones in this series.
Of course, you can find the Tomica Rescue Go! Go! ones on eBay. This is a better time as the Japanese Yen is about 1 to 1 versus the dollar (well, technically, it's @100¥ to 1 USD but most people drop the last two zeroes when talking about the Yen). In Japan, each are @$735¥ or @$7.35 USD.
In Japan, there are already three play sets/carrying cases … a very cool FOLD OUT RED …
A cute carrying case …
And Fire Season in Radiator Springs! (Okay, I made up the name) …
So, you ready for another Expanded Universe series?
Thanks for the heads up reminder "Dragon-Ninja-Finn."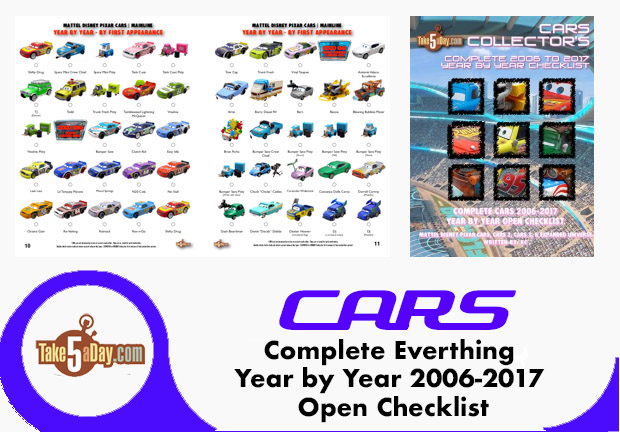 metroxing

19 May 2013

Disney, Disney Pixar, Disney Pixar CARS 3, Mattel Disney Pixar CARS


6 Comments