Home
»
Disney Pixar
,
Disney Pixar CARS 3
,
Disney Planes
,
Mattel Disney Pixar Diecast CARS 3
,
Mattel Disney Planes Diecast
Mattel Disney Pixar CARS Diecast: Mainline & Big Bang Expanded Universe
CARS, the Universe was very small for a very short while – after the initial 12-CARS release, it exploded into 2-pack Movie Moments, box sets, track sets, town playsets, Mack's and then it exploded bigger by Supercharged and now, 7 years later … we need a chart to keep track of the mainline and all the components of the Expanded Universe now and coming …
NOTE – this ONLY covers DIECAST METAL releases …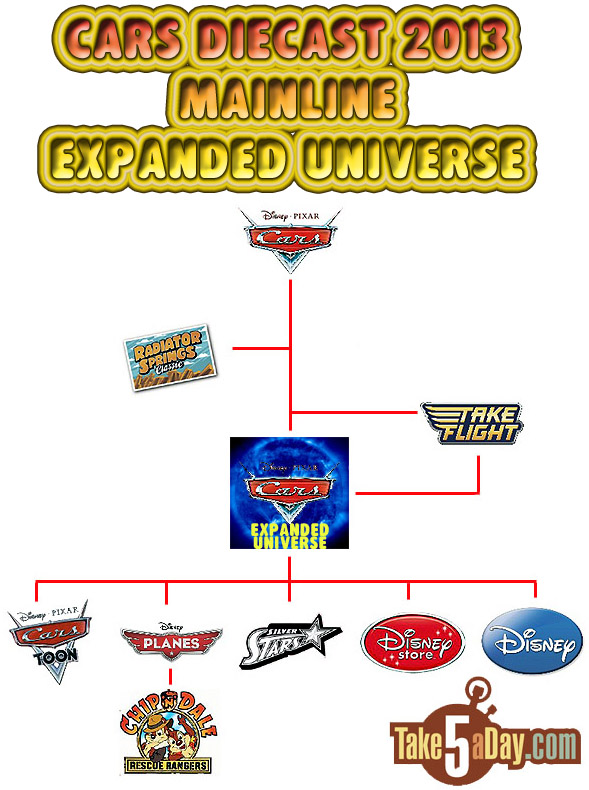 There is of course …
The MAINLINE comprising of singles, deluxe/oversized, 2-packs, box sets, gift sets, haulers, & launchers.
The RADIATOR SPRINGS CLASSICS (TRU only) mostly comprise of CARS 1 re-releases – including singles, gift sets and box sets.
The TAKE FLIGHT series which are mostly Toons/Expanded Universe Deluxe/Oversized CARS but there are some MAINLINE characters in the mix so it's the only crossover series as of now.
Then the EXPANDED UNIVERSE multiple series – which includes Storytellers but for now, that seems to be a series at rest so for the current listings, it's not included.
The largest number of releases have been in the TOON SERIES – now also mostly on hiatus except for exclusive re-releases at Walmart. Currently there are only deluxe oversized releases plus gift sets. It looks like we will be getting Wedding Day Stanley & Lizzie (probably this Autumn) in a box set – does this portend the return of TOONS as an ongoing non-exclusive series? Probably but no set word yet.
PLANES is coming in June. It is definitely the largest Expanded Universe series of 2013. There will be singles (deluxe oversized), gift sets, and box sets (All other formats contain plastic PLANES).
In 2013, Disney is also backstory launching the Silver Racer series (that logo is totally made up) through the CARS magazine. While the Silver chromed CARS 2 racers have mostly been released (except for Rip Clutchgoneski), Rip seems to coming for the October Kmart CARS Day Event – will there be other Silver Chrome Metallic CARS?
??
It's just that it is kind of a strange new expanded universe when 10 of the racers have already been released and as an exclusive that normal shoppers will be confused as to where they can be found? As of now, we only have singles releases in this series.
The Disney Store has been releasing 1:43 scale CARS since 2006 but occasionally will offer a CAR or playset or large character that fits in Mattel's 1:55 world …
Disney (theme Parks) has already offered 3 Mattel 1:55 CARS re-purposed as Goofy Mater, Pirate Mater & Mickey Lightning McQueen so will there be more? Will most collectors count the 1:43 Star Wars CARS as Expanded Universe?
Yes, there is a new entry but there's not much info. Disney PR alludes to a Rescue Series so of course, I lifted the Chip 'n Dale Rescue Ranger logo. 🙂 I do not know if it's a PLANES Expanded Universe or CARS Expanded Universe but since there's not a whole lot of CARS Rescue/Emergency vehicles, it might just be another Toon series? There are some race ambulances in CARS 2 and of course, since I have not seen PLANES, I have no idea if there's a lot of PLANES crashing that require rescuing and medical attention … but clear yet another shelf. 🙂
So, there you go … happy collecting!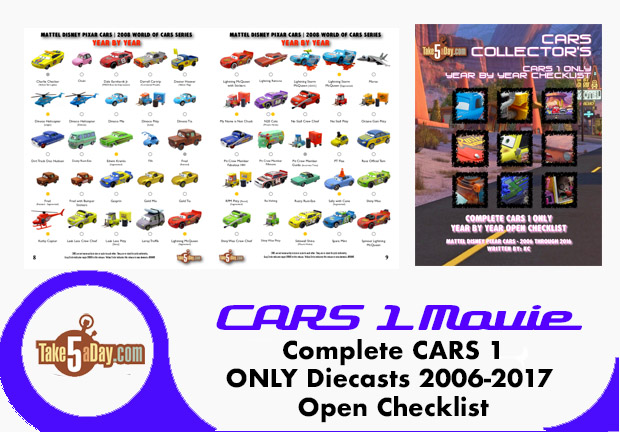 metroxing

13 May 2013

Disney Pixar, Disney Pixar CARS 3, Disney Planes, Mattel Disney Pixar Diecast CARS 3, Mattel Disney Planes Diecast


4 Comments