Home
»
CARS
,
CARS Land
,
Disney Pixar
,
Disney Pixar CARS 3
,
star wars
Disney: Star Wars CARS Weekend Celebration – Darth Mall Update
Star Wars CARS Weekend Celebration? Like Darth Maul, it was cut in half and fell down a dark hole … apparently Star Wars CARS & Vinylmation product DID NOT ARRIVE.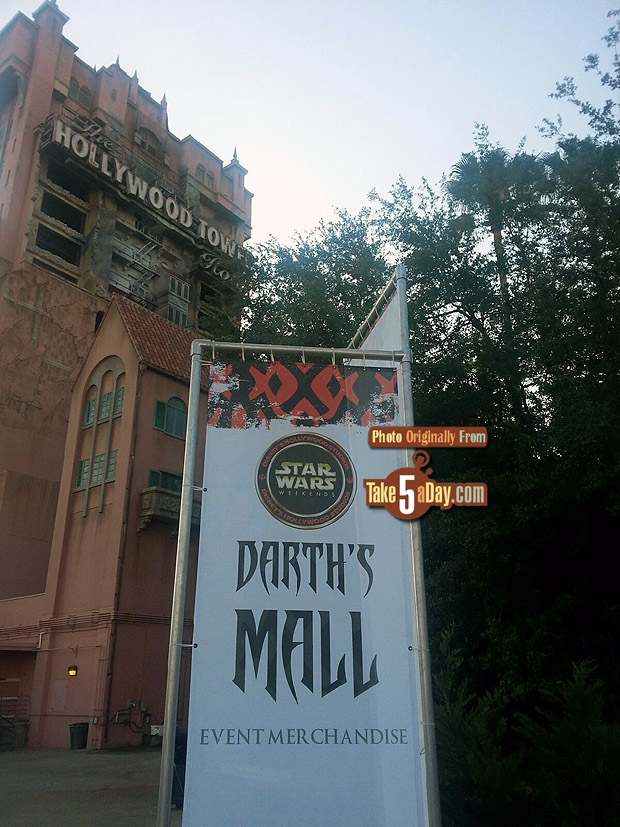 OH THE HUMANITY – as "AidensMom624" reports in …
I actually had my uncle doing all of my leg work today.
Here's his synopsis — he showed up at 7am for an 8am park opening.  They had already given out the 2,000 wristbands to get into "Darth Mall" to shop.  They were letting 750 people in at a time.  There was a manager there with master lists of what was available and where in the tent it was supposed to be.  Uncle John was in line next to someone who wanted the Vinylmation and told him he was there for the Cars – the manager told them those were the 2 sets that aren't available this weekend – that they hadn't arrived. They got to talking – manager dude knows Aiden's godmother – and after 3 "where are these products?" rounds … They have no idea. They are somewhere in transit, but are nowhere near where they should be. Boat – plane – train … Who knows ?? Manager dude told uncle John he wasn't sure they'd even be here for next weekend!

Thanks for the update, "AidensMom624" (and family!)
So, the bottom line is they did NOT arrive for the first weekend. The Star Wars Merchandise Weekends run through June 9th but ONLY on the weekends so presumably even if it shows up on Monday, they will not put it out until next weekend … Memorial Day, No one will be in the park that weekend. 🙂
BUT for those who do not live Orlando, "PicksOurCars" has updated information … He says that if you call the 800 number, they said,
"I called to order the Star Wars Cars today and they told me to call back next Friday. They had just gotten the list today but the ordering ability begins next week."
The 800-number for Theme Parks products is: 1-877-560-6477.
However, we do not have any product numbers or the UPC's but there are 6 choices … and presumably the "character names" on the front of the cards should work.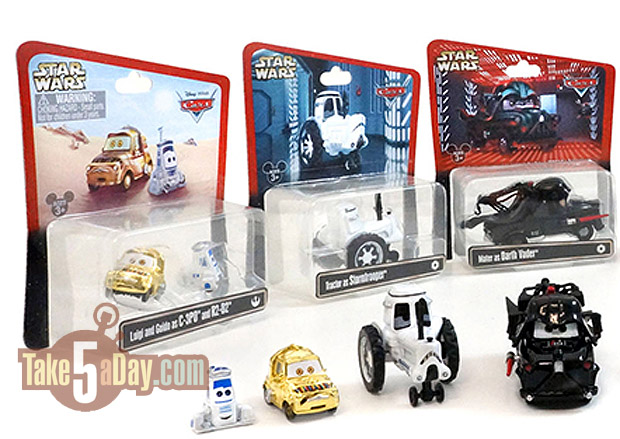 Luigi as C3PO and Guido as R2D2.
Tractor as Stormtrooper and:
Mater as Darth Vader.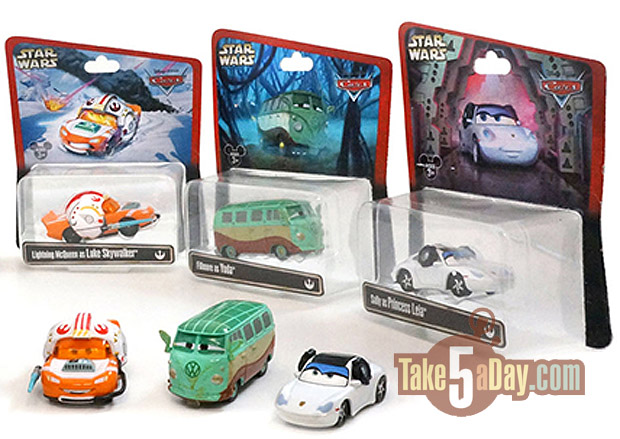 Lighting as Luke Skywalker, Fillmore as Yoda and Sally as Princess Leia.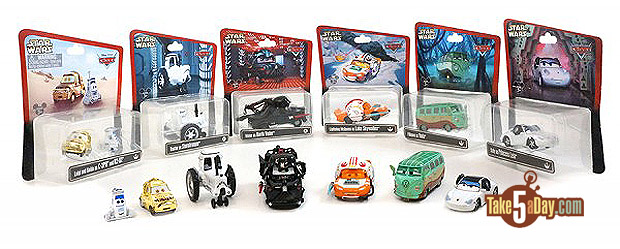 There is no pricing info but it seems likely to be between $7.95 and $9.95 each.
So, if you call the ordering number (1-877-560-6477) and you get a confirmation email – send us product numbers – thanks!
I believe they will accept international orders.
Good luck!
And if you can wait, they will be available by this summer at the other US theme parks (not sure about international Disney's) which means yes, it will be available at the stores "outside the parks." That is NOT to say all 6 will be available or in stock for very long but eventually, they will get caught up – unless Disney announces it's a limited item or a specific run, they like to sell things that customers want – weird, huh? So by Fall or Holiday, these should be common at the Theme Parks or of course, you can always call to order direct.
Thanks, "AidensMom624," and "PicksOurCars, " for the updates!
Meanwhile, you can read the real truth about R2D2 and Chewbacca.


metroxing

19 May 2013

CARS, CARS Land, Disney Pixar, Disney Pixar CARS 3, star wars


24 Comments