Home
»
CARS Land
,
Disney Pixar
,
Disney Pixar CARS 3
,
star wars
Disney Star Wars: Nothing But Pixar CARS Wars …
To be released at Disney World for Star Wars Celebration Weekends starting May 17, 2013 and through June 9th. (well, technically Disney's Hollywood Studios in Orlando).
For CARS fans, the ultimate crossover …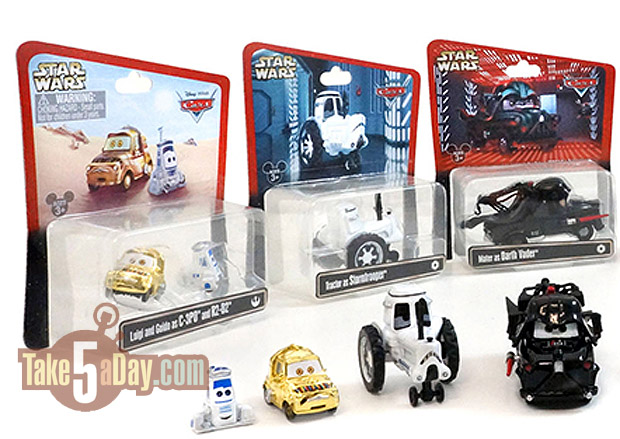 Love the expression on Luigi – he's C3PO and Guido is R2D2 for many of you too young to remember a film from 1977 … some of you may have heard of this property. It's quite famous among science fiction fans and as I understand it, any baby more than 3 days old can name all the characters.
Tractor as Stormtrooper and Mater as Darth Mater.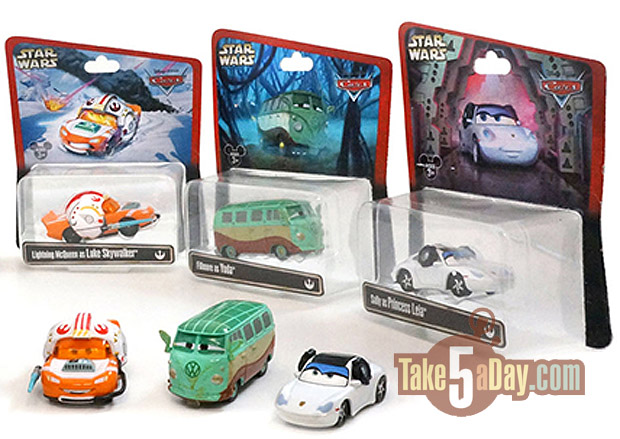 Lighting as Luke Skywalker, Fillmore as Yoda and Sally as Princess Leia.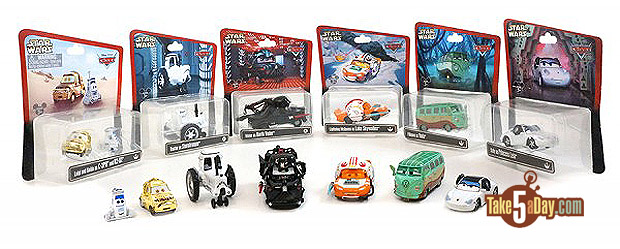 I'm going to go WAY out on a limb and say these should sell well … and by well, I mean bazillions and bazillions of them … in fact, they shouldn't even bother to peg these, they should just thrown them off the back of the truck into waiting arms (after you throw gold bouillon first, of course).
BTW, these are the Disney Store 1:43 scale CARS.
These are NOT limited edition items and will ONLY be available at the theme parks and NOT the Disney Stores or Disney Stores online. After arriving at the Disney World/Orlando parks and later distribution at DisneyWorld/Cal Adventures … I do not know about the international theme parks will carry these but being that these are two of the best selling franchises, it seems fairly likely.
As for purchasing, The theme parks will accept phone orders (1-877-560-6477) but do not have an online ecommerce site. Obviously they are not available yet so if you're not in Orlando on May 17th – you can try calling in May to order.
Thanks, "Simba1814" for the first heads up and all those that followed!
Other Disney-Star Wars items available that weekend are HERE.
And the official theme song for the weekend (I think).
Meanwhile, you can read the real truth about R2D2 and Chewbacca.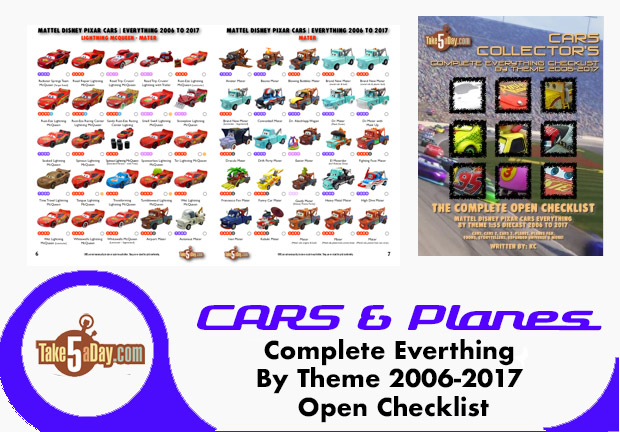 metroxing

28 March 2013

CARS Land, Disney Pixar, Disney Pixar CARS 3, star wars


41 Comments