Home
»
Disney Pixar
,
Disney Pixar CARS 3
,
Mattel Disney Pixar Diecast CARS
,
Mattel Disney Pixar Diecast CARS 3
Mattel Disney Pixar CARS 2 Diecast: The Missing CARS Diecasts …
"Quercy" asks about the CARS that we have seen backdoor releases of or was at one point listed to be released …
For instance, What about "Chauncy Fares the London Taxi, Bernie Caliper, Dan Sclarkenberg and McQueen fan yellow truck?"
(This McQueen Fan prototype now stands as the longest from showcase to actual release – 2.5 years as of now and it's unlikely we will see this before 2014 – if we see it).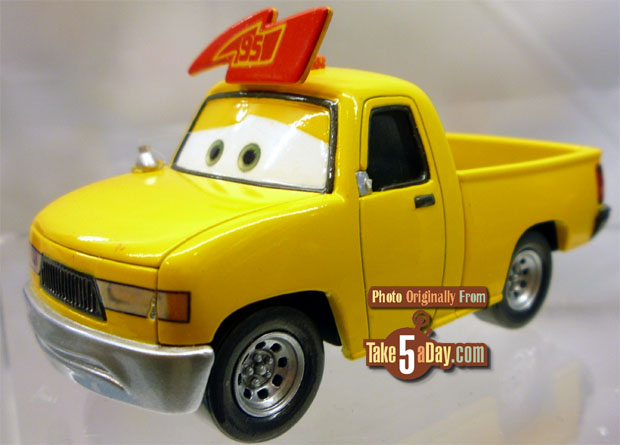 Long time collectors know this – things on a list can sometimes fall off a list and disappear forever … There were 8 more CARS on the Final Lap list … Wilmar Flatz did get a lenticular release, outside of the CHASE CARS that were lenticular, I believe that is the ONLY release that is not available as a classic fixed eyes CAR.
But a few on this list has surfaced after almost 2 YEARS later – Kit Revster is in the Target 4-pack and Mildred Bylane is featured on the poster but she is not on the case assortment list for 2013 yet.
Basically, if it's on the poster, it's pretty much likely to get a release in 2013.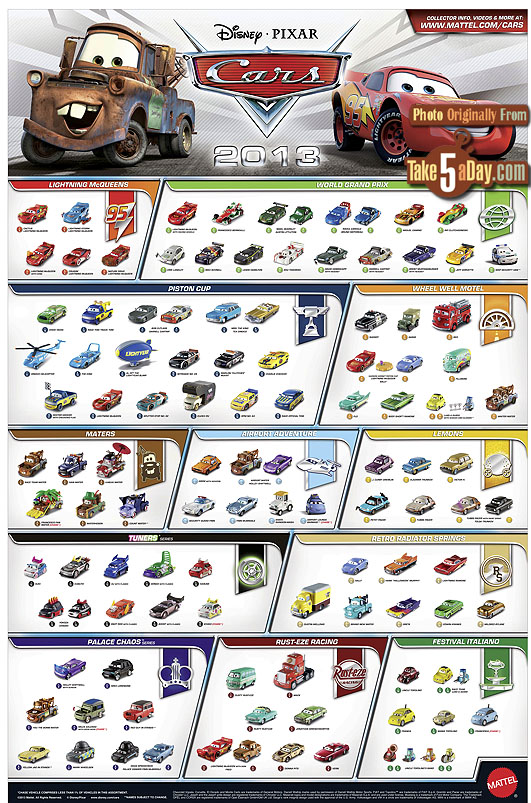 Keep in mind that while the Mattel calendar ends in October, they can move a CAR to the "2014" series that still gets released in calendar year 2013. Though there is the 'subject to change' clause and since they haven't taken any money upfront, there's no guarantee it'll ever get released but if it's on this poster, the odds are 99% it will get released.
What's not on the poster? Anything that is an exclusive so are there many Target 4-packs and 7-packs coming after the summer? Pretty likely. We have zero breakdown listings – for instance – the release of Kit Revster was a surprise. As of now, there are no box sets exclusive from WM or TRU so as of now.
There are the Kmart exclusives also NOT on the poster – Ivan, and the JL Epilogue Woody.
TRU does have the Radiator Springs Classic series which some Final Lap releases have appeared (or are about to appear). We are at the end of the list for now but so far, probably because of the low quantities of ordering from TRU, they have NOT gotten any "new to market" CARS in the RS Classic series – only re-releases. Will that continue? Perhaps we could see some "new" CARS 1 releases but so far, not happening.
So, there are CARS character diecasts that have fallen into a black hole and with no one championing their cause – they seem to remain there.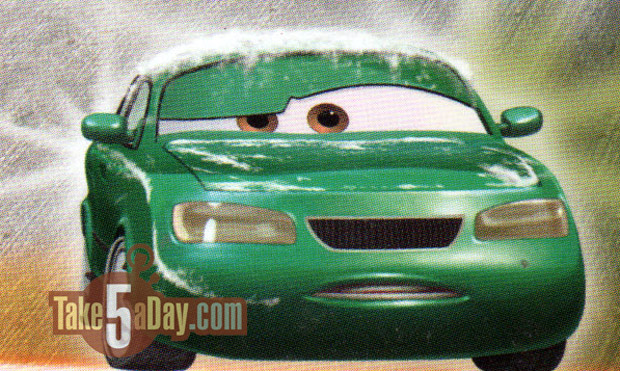 This is "snowy" Dan Sclarkenberg. The previous list of "most likely" seem to center around the Blu Ray Finder which actually named 217 CARS – most of which have gotten a release but there are some glaring omissions such as 50% of the haulers and nearly 100% of the RV's …
Or "Pitty Tokyo Party Staff and Cartalina 2-pack in the US?"
It is surprising these two 2-packs which were released in Europe still has not gotten a US release.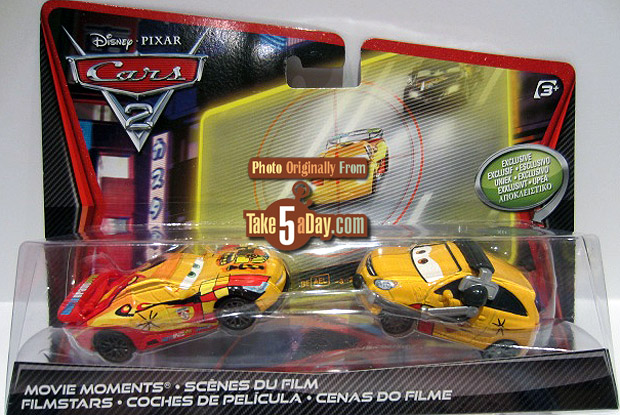 It seems pretty likely both of these will get a release in 2013 calendar year.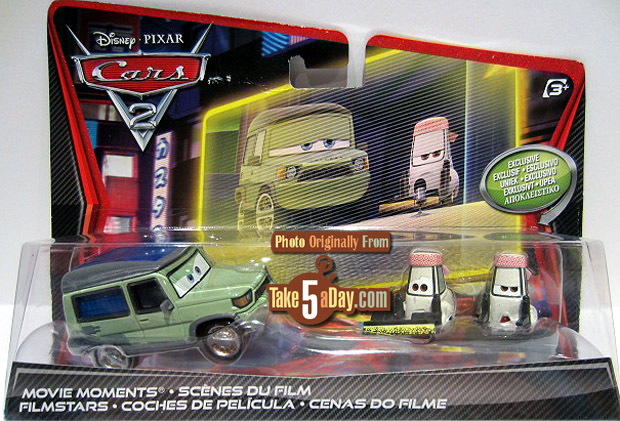 And some CARS featured on a variety of posters last year also seem likely to get releases:
In Flight Mater, Danielle Muffler & Shelley Shift Flight Attendants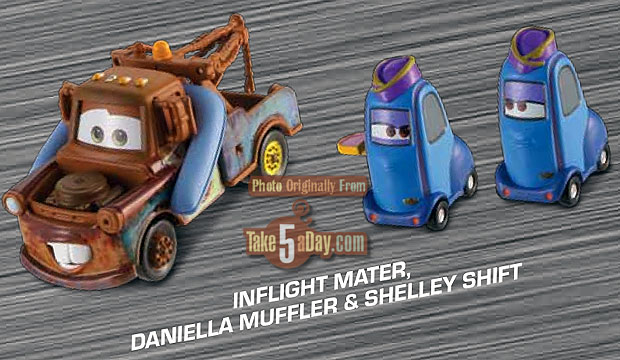 Mater* & Paris Mime, Louis LaRue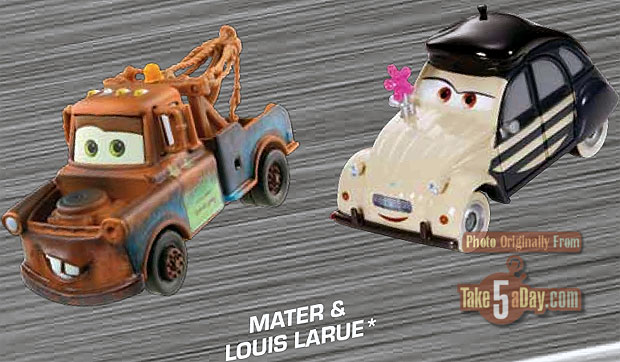 Max Schnell & Otto Bonn.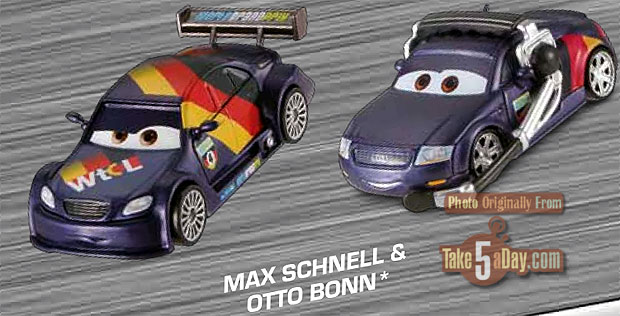 So, there's no real rhyme or reason that some get sidetracked and others get pushed up – sometimes it's a mundane reason, sometimes they just forgot they delayed that one and forget to bring it back, sometimes they think we don't want it and othe times, someone just hates the color of that character … so if it's on a list, it's looking good but until that case assortment gets released and is sitting in a warehouse, it means very little …


metroxing

28 April 2013

Disney Pixar, Disney Pixar CARS 3, Mattel Disney Pixar Diecast CARS, Mattel Disney Pixar Diecast CARS 3


11 Comments