Home
»
Disney Pixar
,
Disney Pixar CARS 3
,
Disney Planes
,
Mattel Disney Pixar Diecast CARS
,
Mattel Disney Planes Diecast
Mattel Disney Pixar CARS Toons: Walmart 3-Packs
We still don't have the complete info yet such as when they are arriving but the Toons 3-packs are Walmart exclusives and they are $15.97.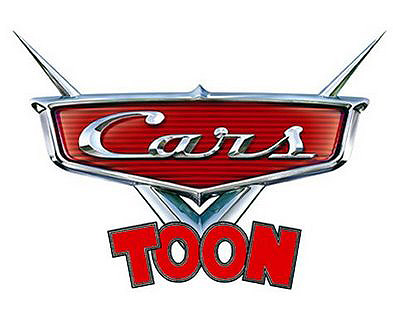 One of the 3-packs is called THE CONCERT so it seems pretty likely it will include 3 TOON CARS from HEAVY METAL MATER – probably Heavy Metal Mater, Heavy Metal Lightning McQueen and likely either Rodney the Rocker or the easier Dex which is really just a Mel Dorado-Tex Dinoco production version.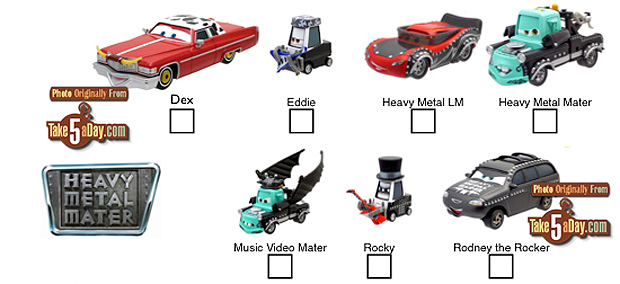 Music Video mater won't fit in the box and it's hard to break up Eddie & Rocky … or Mattel could pull out the "exclusive car snipe!" so along with HM Mater & McQueen, it could be the drummer Pitty – new and easy to create …
(BTW, if you want your checklist in chronological order – this is the complete checklist for you).
The other 3-pack is called THE FEARLESS which would seem to indicate a MATER THE GREATER box set. Too many to show – but the obvious one is Mater the Greater (the one with the helmet) + one of the Lightning McQueen with Rockets (finally the flame one?) … if we get the LM with rockets, we're almost certain to get a Pitty or maybe the oddball "Big Fan."
Or will the 3-packs each contain a LM & Mater + "New" so we'll all have to collect them all?
You can click the checklist magazine preview to see them all.
That leaves 2 3-packs un-named as of now … is it's for Rescue Squad Mater (FIRE IN THE HOLE!) and what else – UFM or El Materdor?
(Since Wrestling is covered with the "singles" release and Tokyo probably covered by CARS 2?)
Thanks for the heads up & info "JD."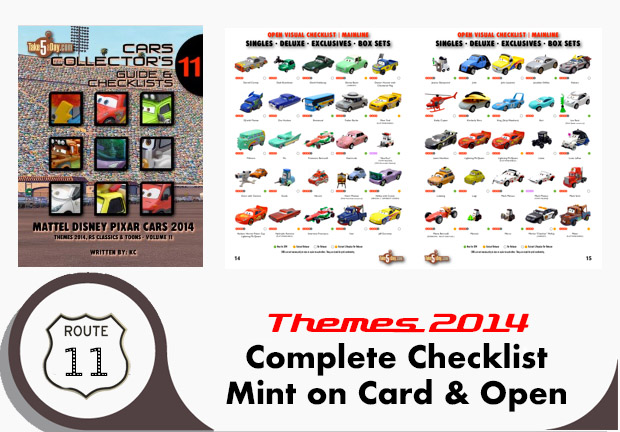 metroxing

29 January 2013

Disney Pixar, Disney Pixar CARS 3, Disney Planes, Mattel Disney Pixar Diecast CARS, Mattel Disney Planes Diecast


12 Comments