Home
»
Disney Pixar
,
Disney Pixar CARS 3
,
Mattel Disney Pixar Diecast CARS
,
Mattel Disney Pixar Diecast CARS 3
Mattel Disney Pixar CARS Diecast: Race Day Fan 4-Pack Box Arrives in Australia
It was hard to tell if these were still coming but it looks like 2 new 4-packs have arrived in Australia at Kmart.
Thanks for the great photos and heads up "OzzieMum."
It looks like in Australia they are not a Target exclusive but here in the US, they still continue to be.
This set contains: Jeff Gorvette, Jeff Gorvette's fan, Raoul Caroule and Lewis Hamilton.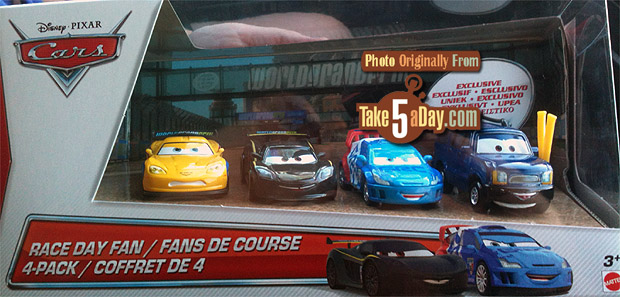 At least we're getting a quasi-new sculpt with the SUV fan, Clutch Foster.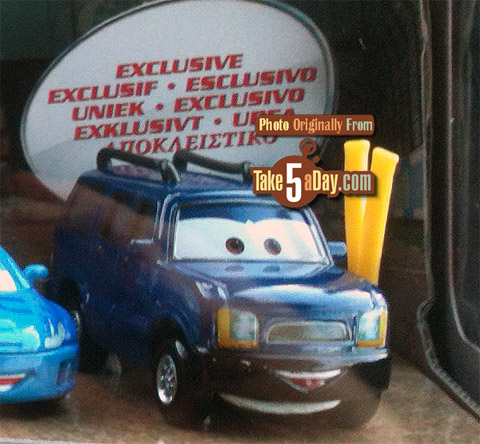 With all the international info, maybe Europe will actually get this 4-pack also? If you don't mind paying 3 times as much. :-/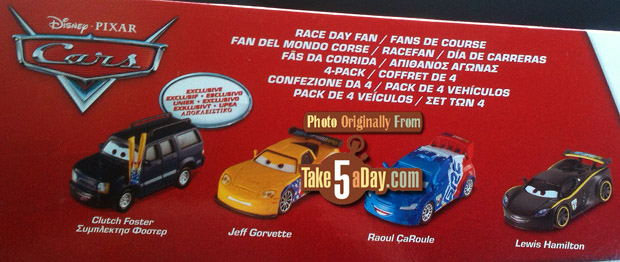 The other Race Day Fan 4-pack out is less enticing to long time collectors as Marty Brakeburst is Lightning McQueen's fan in this 4-pack – though since he was only available as a Final Lap CAR, he was not necessarily easy to pick up.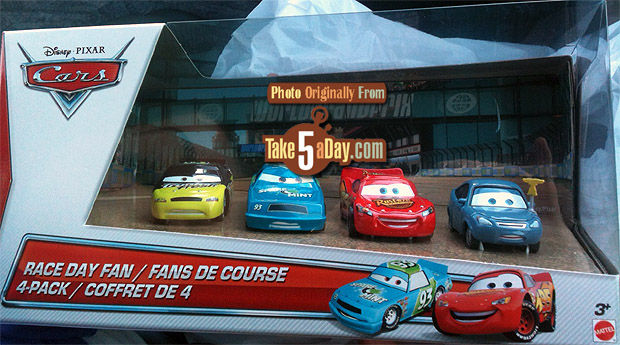 From this brief view, it looks like these 4 CARS are the same as the last release … also note that 4 CARS 1 diecasts have been magically teleported to a CARS 2 scene – hence Trunk Fresh and Spare Mint's* expression along with Marty Brakeburst's shocked face.
* yes, he's still called Spare O Mint now – O, the humanity! Or carburatoranity?
One thing to note – these are configured differently than the original 4-packs listed as they have undergone a name change from Race Day 4-Packs to Race Day Fan 4-pack. Hence, many configuration changes.
And since FAN is not plural, you won't ever be confused in thinking you'll ever get more than one "exclusive" character or as in the case of Marty Brakeburst, not even that – no exclusive snipe – but he is a fan.
For those keeping track, the Racing 4-Packs started out as 4 racers in each pack which evolved into the 3 racers + a fan plan (Denise Beam as Carla's fan and Ronnie Del Cooper as Lightning's fan (even though he sports a Union Jack flag design)) and then the plan was 3 racers + a crew chief.
The Jeff Gorvette, Lewis Hamilton, Raoul and his crew chief, Bruno Motoreau was the only one under that plan released in the US August of 2012.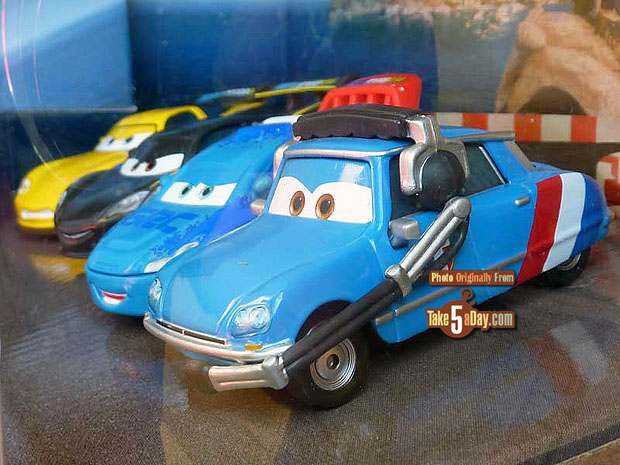 Bruno of course is now available in a 2-pack as was the plan for a box set with Nigel and his crew chief, Austin Littleton – also out as a 2-pack Movie Moment.
So, now, going forward, since they've gotten a name change to Race Day Fan 4-packs, we should expect to see the 3rd box set as it was originally configured: Max & Max fan – this set is listed to also include Shu & Miguel.
The 4th set was Nigel and his crew chief as the exclusive CAR along with Lightning McQueen & Francesco. We know that Nigel's crew chief no longer qualifies as a fan so what gets replaced? Mama Bernoulli seems like the most obvious fit here … since TRU has no further box sets listed …
There was never a listing for the CARS 1 Race Day Fan pack so it's hard to tell if it's an addition or a replacement …
Thanks for the great photos and heads up "OzzieMum."


metroxing

27 January 2013

Disney Pixar, Disney Pixar CARS 3, Mattel Disney Pixar Diecast CARS, Mattel Disney Pixar Diecast CARS 3


21 Comments