Home
»
Disney Pixar
,
Disney Pixar CARS 3
,
Mattel Disney Pixar Diecast CARS
,
Mattel Disney Pixar Diecast CARS 3
Mattel Disney Pixar CARS: The Top 5 Rarest Promotional CARS Diecasts
The Top 5 rarest promotional CARS diecast … there is a surprise on the list. 🙂
#1 is the still the ONLY CARS promotional diecast that has an entire production run of 1. It is the Red Ransburg Lightning McQueen with white tampo decals included with the Dream Halloween auction set won by the then President of TRU.

At #2  with a production run of 50 is the Spectraflame "red" Brainstorm 50 given out with a few other items at a Disney-Pixar-Mattel diecast creative brainstorm meeting. While this has been a popular bootleg-counterfeit reproduction, all of them have gotten one major production detail wrong. It's NOT red ransburg but "red" Spectraflame which is ONLY available at Mattel's plant. There have been no backdoor production leaks at Mattel's plants. Spectraflame is like Ransburg but the color is slightly different and owned by Mattel so there have been no leaked-bootleg-counterfeit "spectraflame" Brainstorm 50. (Mattel's Thailand plant produced the original 12-Desert Card diecasts but when they needed more production and it was no longer done by Hot Wheels, CARS diecast production moved to China). None of the original 50 with accompanying gift bag items have EVER surfaced on eBay.

#3 with a presumed run of probably less than 300 is a CARS 2 diecast given to Pixar employees. I have seen one and have been asked not to reveal it so if you ever run across a mysterious Pixar CARS diecast giveaway (it looks like this in a dark room) … email me and I confirm it for you. 🙂

At #4, 500 is the definite number for the Toy Fair giveaway to special D23 member guests, and the press for the CARS 2 unveiling in 2011. It's the basic Lightning McQueen with Racing Wheel release but with an acrylic case plus two extra drill holes in a white box. The JL Surfing John Lassitire with surfboard comes in an acrylic case and a comic balloon thank you on the side for the CARS 2 production crew. It's presumed there are about 500 as there were about 300+ people who worked on the film directly. It's unknown if John Lasseter/Pixar also sent extras along to the Marketing or Advertising people who worked on/for the film … so it could number slightly lower but 500 is a safe guess.
Yep, we gave away a Toy Fair Lightning McQueen.

At #5 is the special Motorama 10th anniversary CAR. Every year Pixar holds an auto show for employees – and for the 10th anniversary, they gave away a special Lightning McQueen … it's unknown how many were given away – one for every Pixar employee? About 700 employees at the time though not everyone is at Emeryville – one for guests and family? So about 1,000 seems to be a reasonable guess?

From 2006 to 2012 – these are the only non-general public  promotional CARS diecasts.
Cash out your 401k, collect 'em all. 🙂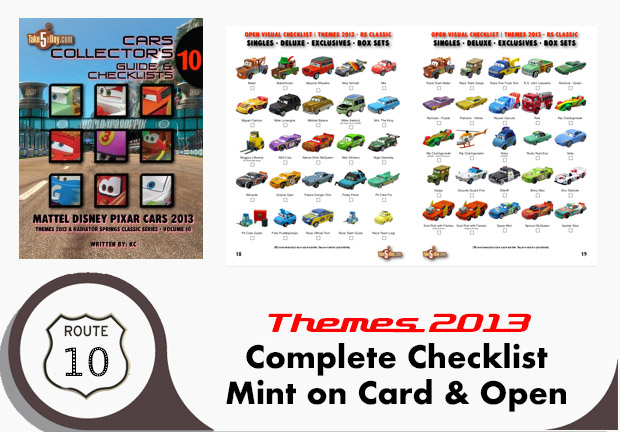 metroxing

1 January 2013

Disney Pixar, Disney Pixar CARS 3, Mattel Disney Pixar Diecast CARS, Mattel Disney Pixar Diecast CARS 3


12 Comments