Home
»
Disney Pixar
,
Disney Pixar CARS 3
,
Mattel Disney Pixar Diecast CARS
Mattel Disney Pixar CARS: Stunt Racer Hauler Transporter Launchers
The all-plastic "Stunt Racers" line extension is starting to hit the shelves (thanks for the great photos, "John H." – he says Target told him the on-shelf date is 1/6/3 (after the post holiday clearance) but he says if you ask nice, maybe they will crack open a case for you.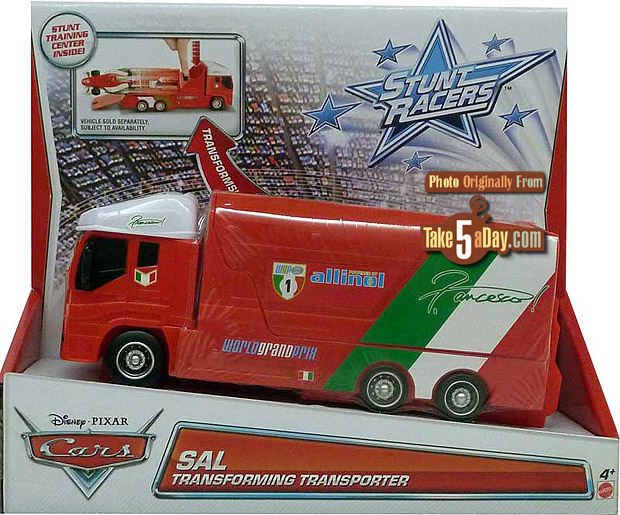 They are actually designed for a new series called Stunt Racers  – all plastic 1:55 replacements for Quick Changers … John H's review … "I looked at the singles and find them to be very unappealing and cheap looking. I can't see them selling at $5.99 …" The first case of 12 seem to be 3 of the 4 WGP CARS 2 racers below.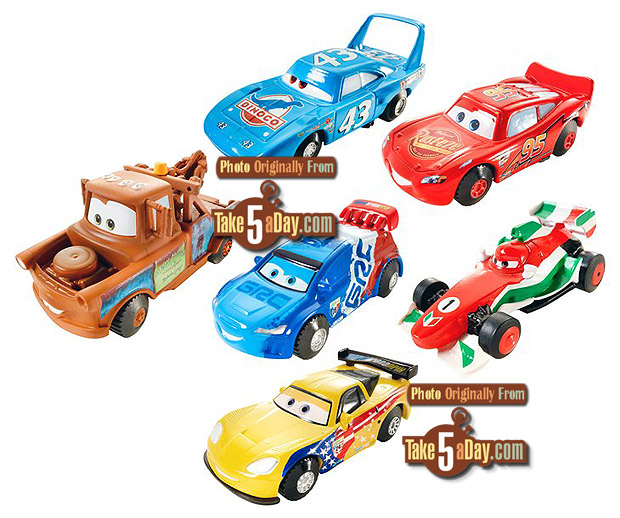 The hauler launchers match the racers, of course … there is a 360 degree spin effect (I guess to impress the kids?) … plus the typical launcher.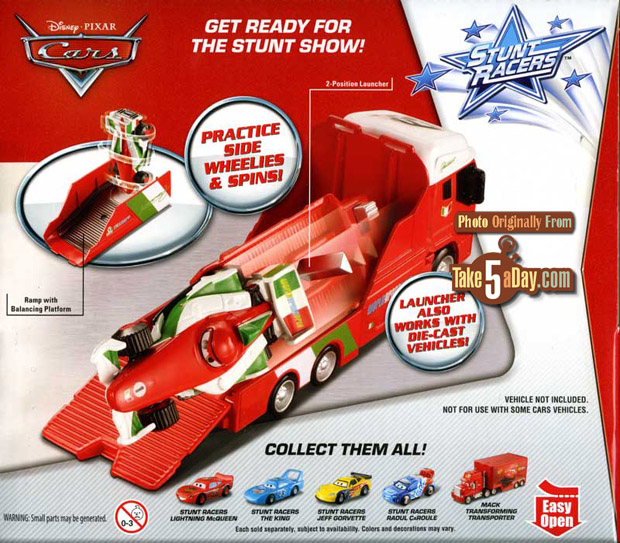 Yes, diecast 1:55 Francesco Bernoulli fits in the back of the space and will launch.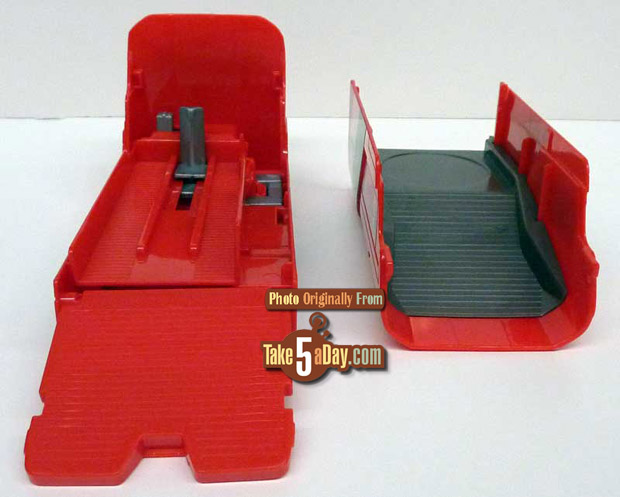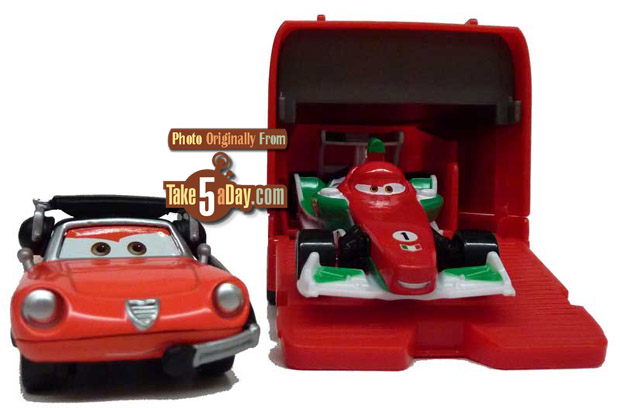 For collectors, it does bring up some interesting questions – is it canon to the 1:55 mainline? Well, it's totally your call as it's in scale and fits a diecast but here are the arguments against it:
• It's all plastic (no metal diecast parts)
• I do not believe this hauler appears anywhere in the film, even in the background in passing? I do not believe I have seen this hauler in any sanctioned Pixar/CARS book even as a sketch. This bullet point might change if there are subsequent book releases.
•It's part of a line extension clearly called STUNT RACERS and not part of the mainline diecast lineup.
Of course, you are free to spend your money as your like (or not). I am just bringing up the points for and against this purchase as a collector-only discussion if they are part of the 1:55 mainline diecast lineup.
John H. also points out that while it looks like a 3 axle truck, one of the axles if fake with just a fake wheel – there are only working axles on this truck. Unlike the Mack hauler release where all 5 axles are working axles. It is literally a 10-wheeler while "Sal" is a 4-wheeler.
I do also find the lack of details telling (eyes are stickers as John H. notes) – but for now, I will not consider them part of the mainline series.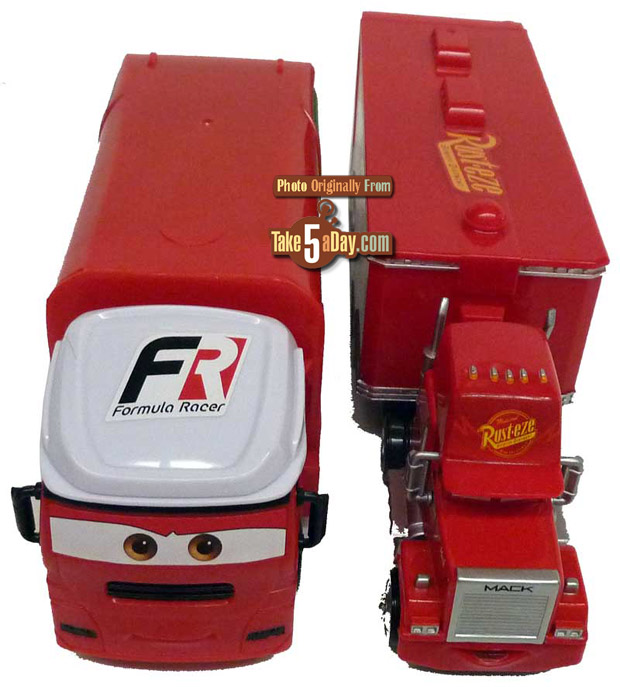 So, it should be fun for kids and it actually looks like a fun backdrop display item though the back actually looks much better – so if you want to park Francesco inside with the back dropped down, it does actually look much better and more realistic.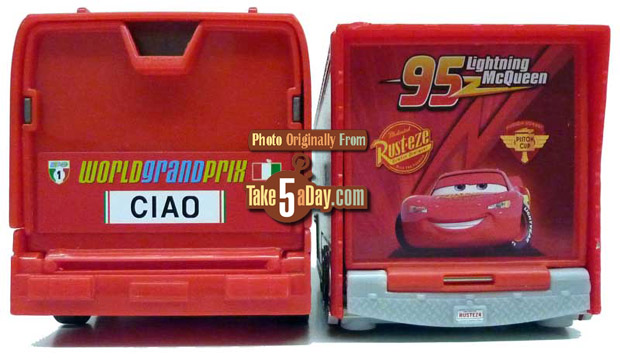 They appear to be $11.99.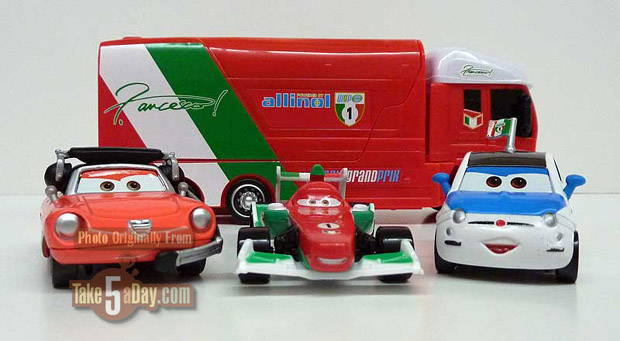 The two haulers out are Sal and Mack …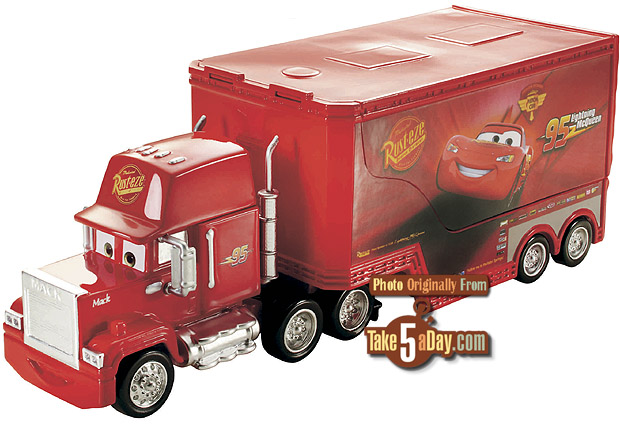 You can find a photo to the
Raoul hauler prototype here
(looks like the prototypes had more front paint-color elements – presumably a cost savings measure) as well as links to more singles photos.
So, if you're collecting these, send us some pics if the launchers work with all the accompanying racer diecasts …
Thanks John H. for the prying these out of the backroom, great photos and review. Thanks!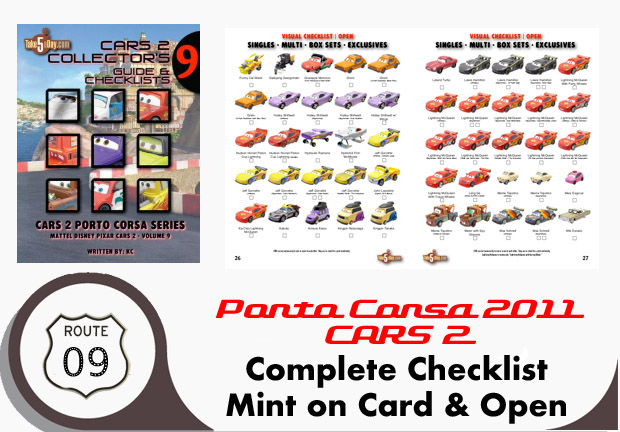 metroxing

19 December 2012

Disney Pixar, Disney Pixar CARS 3, Mattel Disney Pixar Diecast CARS


13 Comments