Home
»
Music
Amazon Voucher For $1.99 Christmas MP3 Album
While you are only restricted to one of 8 choices at $1.99, there are some great choices …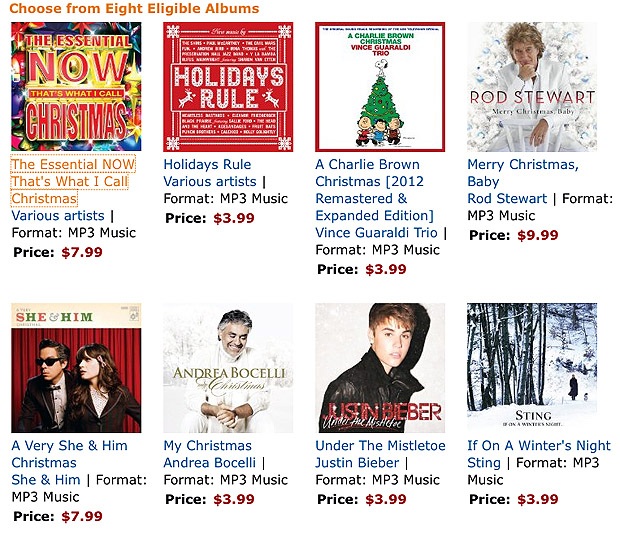 If you have zero Christmas CD's/LP's or just want one compilation that covers about 20 of the most played Christmas songs of all time, NOW THAT'S WHAT I CHRISTMAS compilation offers that (now, I did not say all were the greatest Christmas songs – Andy's Williams singing Most Wonderful Time of the Year, yes, Chipmunk's? Thanks, the first 17,542 is enough for me, thanks).
If you think Zooey Deschanel is adorkable, you will love her She & Him Christmas album.
What can you say about the Charlie Brown Christmas Special soundtrack? Unless you hate great jazz – MUST OWN.
Holidays Rule is an okay collection of ALT ROCK/AA3 Christmas songs – if you have 1,000 Christmas albums and wants something different …
I have not heard the other so you will have to chime in with a review.
Of course, you can click to buy direct from Amazon at the prices above but if you rather just spend $1.99, there's one extra step. First go to AmazonLocal (part of Amazon), log in with your Amazon account and get a voucher FREE. They will add the voucher/coupon to your Amazon account.
Why the extra step? They essentially want you to sign up for AmazonLocal (Amazon's Groupon competitor – speaking of Groupon, there's a TRU Gift Card offer) so the extra step of getting a FREE voucher to get an album for $1.99. Then just go to Amazon as normal – once you log in, you will see the voucher to apply to one of the 8 albums above. You only have until December 2 to redeem the voucher but remember, the voucher is free – you only pay $1.99 when you buy the album at Amazon.