Home
»
Disney Pixar
,
Disney Pixar CARS 3
,
Mattel Disney Pixar Diecast CARS
,
Mattel Disney Pixar Diecast CARS 3
Mattel Disney Pixar CARS Diecast: N20 Cola Radiator Springs Classic Arrives
N20 Cola, the last on the list of "Radiator Springs Classics" has arrived at TRU …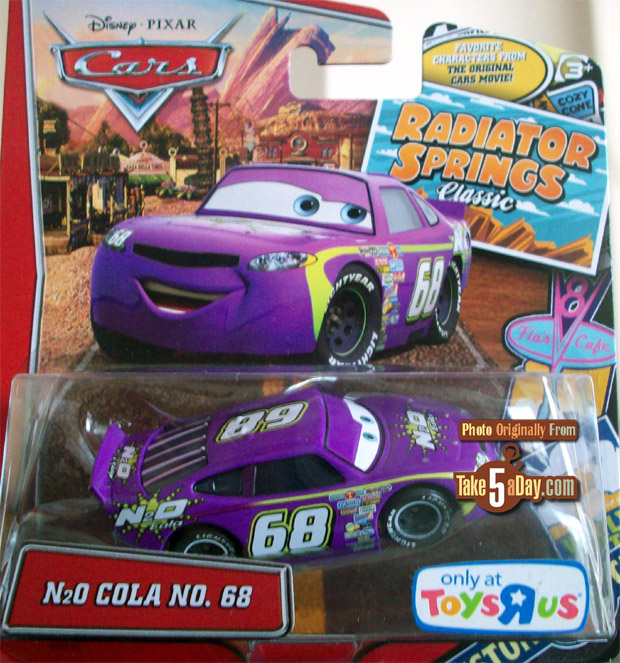 Thanks for the nice photos, "Steve R.," He also notes that, "there are more Hudson Hornets and Sheriffs than previously available on the pegs."
It seems safe to guess that this is CASE C – with only N20 Cola as the "new" release and the rest are Radiator Springs Classic CARS from CASE A & B.
Technically speaking, there are no more Radiator Springs Classic CARS on the list – and everything on the list has been released.
Is this it?
Was this merely to fill a gap before the new plan of releases – that since CARS 1 diecasts would be mixed in with CARS 2 diecast? This was just a stop-gap and a "gift" to TRU before these CARS are available to everyone?
There are some overlaps in releases but not everything – and RS Classics has some anomalies such as Lightning McQueen is NOT available as a single (only in the track set).
Was it a test?
If it was – it has done okay but not great. The singles have mostly sold out – certainly well enough as only a scattered few are on the shelf but the 3-packs and the 10-pack did not seem to have sold particularly well – in fact, they seem to have only sold a few of each at my local store. The Tractor Tippin' set, Flo's V8 Cafe, and the track set – all have been slow movers … again, the pattern of the CARS market holds – higher cost items are not moving.
The price increase doesn't help but I think the gift-packs not selling are very telling. They are decent packs and a fair value but that there is very little interest in them is troublesome. Singles are easier to sell, obviously appealing to both collectors and casual buyers but Mattel does not generate enough revenue with the singles – they need the higher priced items to pay for all that overhead so hence, there are always high riced-higher margin items released but when a gift pack around $15 (with 3 to 4 recognizable CARS) is not selling, that means the casual market has moved on so while they might yet be ready to call this a total failure – it seems likely the RS Classics line won't have too many more releases left.
If they continue it, they might simply sync it with production with the regular mainline so they don't have to create new cards – so the 15 or so released already might get more re-releases but don't expect too many "new" RS Classics … or they might simply tell TRU to order the mainline (with many CARS 1 in it) and simply fold any "exclusive" RS Classics CARS 1 releases into the new mainline.
Thanks for the photos and heads up, "Steve R."

metroxing

27 November 2012

Disney Pixar, Disney Pixar CARS 3, Mattel Disney Pixar Diecast CARS, Mattel Disney Pixar Diecast CARS 3


5 Comments