Home
»
Disney Pixar
,
Disney Pixar CARS 3
,
Mattel Disney Pixar CARS
,
Mattel Disney Pixar Diecast CARS
,
Mattel Disney Pixar Diecast CARS 3
Mattel Disney Pixar CARS Diecast: New Singles 2013 – Collect By Theme Visual Checklist, Part 1
While the new card design is bright, it does seem designed by a someone who did not realize they would actually place a blister over it and a car inside.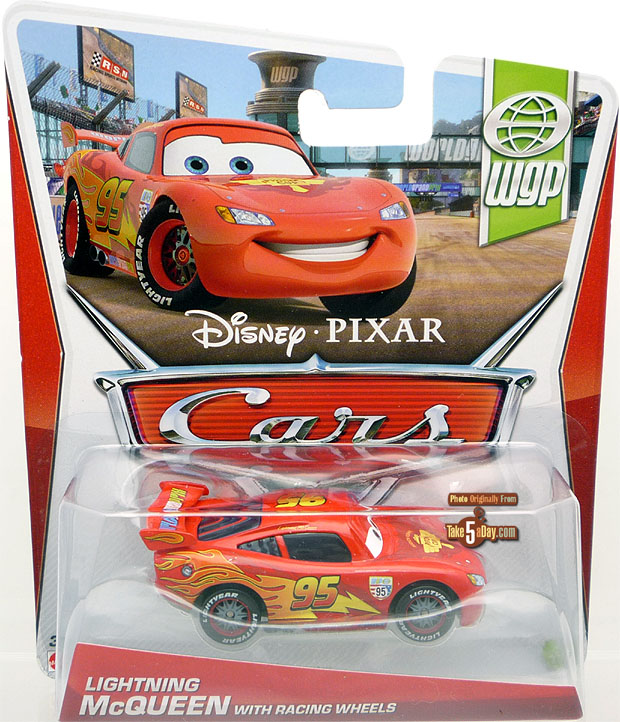 … the back of the card is a very nice upgrade though – each theme getting its own screen shot and specific CARS to that theme … in this case, The Piston Cup category. You even get a re-affirmation there will be 18 CARS in this sub-series.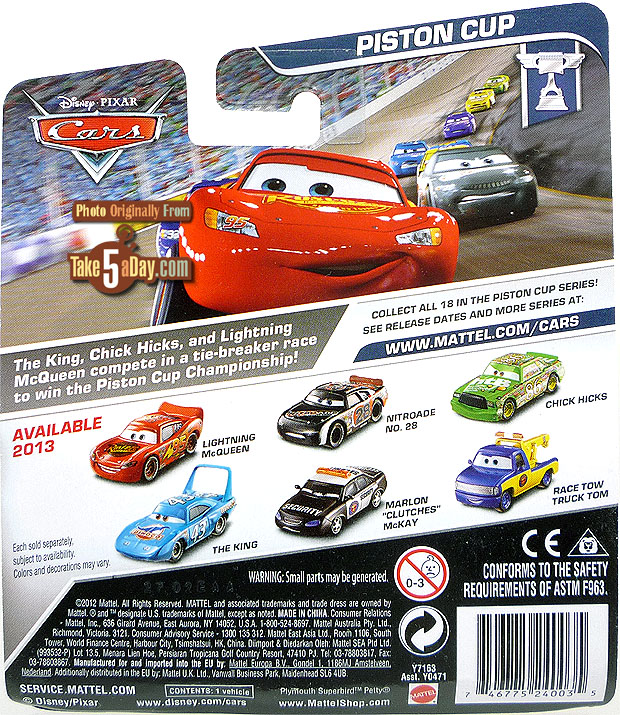 Of course, for the "Piston Cup" theme, 18 is definitely not a very complete set but no real huge surprise there … the Piston Cup series is the one with the most blank holes based on what's featured on the card and what is on the list of singles that fit …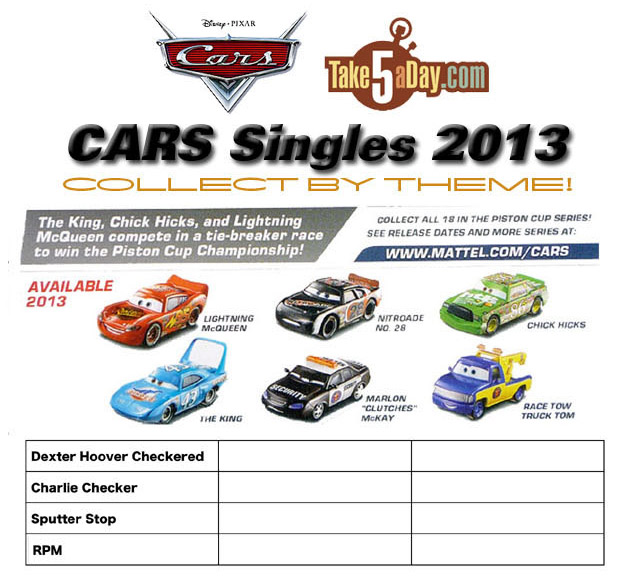 The obvious choices are Piston Cup racers as of blank yet un-named/not-selected list. But if you're counting deluxe-oversized as Mattel seem to – I guess Mack, Al Oft, Dinoco Chopper and Elvis all go in here? And it seems that each Movie Moments count as "one," then another two slots are filled with the first MM releases: Bob Cutlass & Darrell and Mrs. The King & Dinoco … really only leaving 2 slots …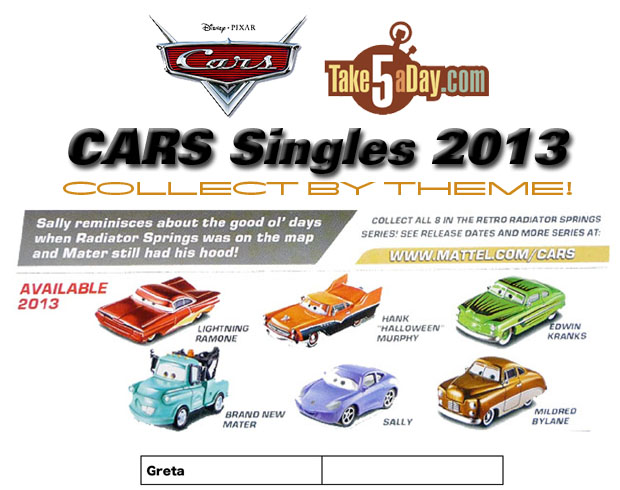 Only one unknown in the Retro Radiator Springs theme release list though if oversized count, then write in Dustin Mellows.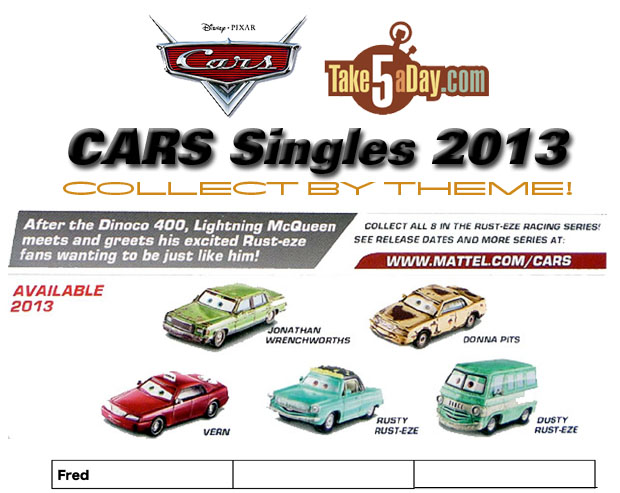 Of course, Vern doesn't really belong in the Rust-Eze Racing grouping … hopefully the blanks will be filled by NEW rusted CARS releases.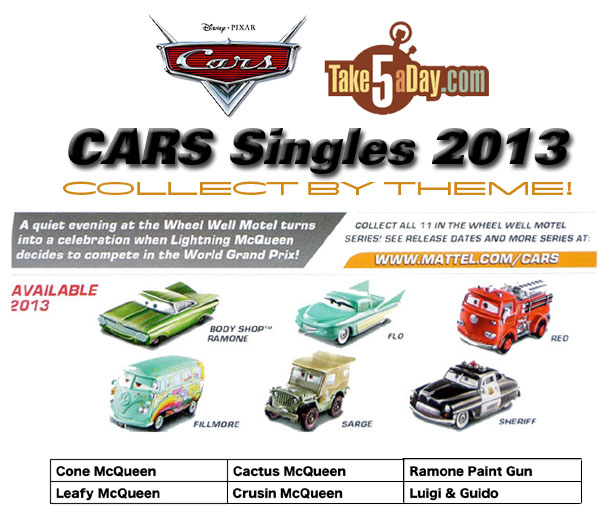 Looks like Lime Green Ramone will actually be called Body Shop Ramone – the Wheel Well Motel grouping seems complete. Though RED is listed in the Deluxe-Oversized listing so it is odd that RED is listed here – maybe in 2013, they will combine singles & deluxe-ovesized under one numbering scheme? Of course, that's 4 years late and $1,000 short?
Part 2 coming next.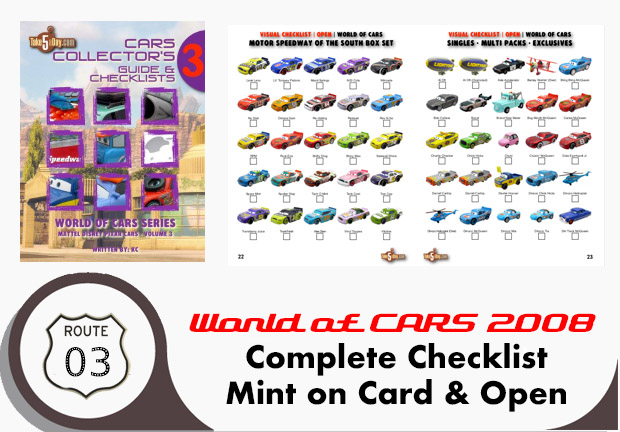 metroxing

6 November 2012

Disney Pixar, Disney Pixar CARS 3, Mattel Disney Pixar CARS, Mattel Disney Pixar Diecast CARS, Mattel Disney Pixar Diecast CARS 3


10 Comments