Home
»
Disney Pixar
,
Disney Pixar CARS 3
,
Mattel Disney Pixar CARS
,
Mattel Disney Pixar Diecast CARS
Mattel Disney Pixar CARS Diecast: New Singles 2013 – Collect By Theme Visual Checklist, Part 2
Part 1 of this post is HERE.
As noted, the new releases of 2013 are now classified by theme. There are 8 so far, 4 mostly featuring CARS 1 in the earlier post … these themes mostly cover CARS 2 …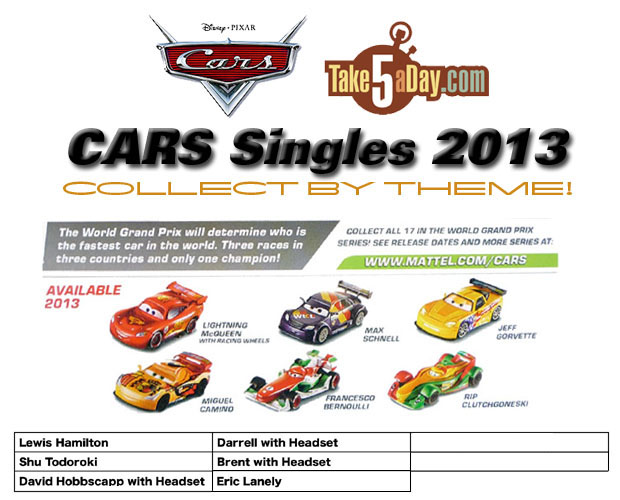 It does look like ALL diecast releases are assigned a number – so it looks like Raoul's Crew Chief (Bruno Motoreau) and Nigel's crew chief (Austin Littleton) actually fill the last two spaces of the WGP group.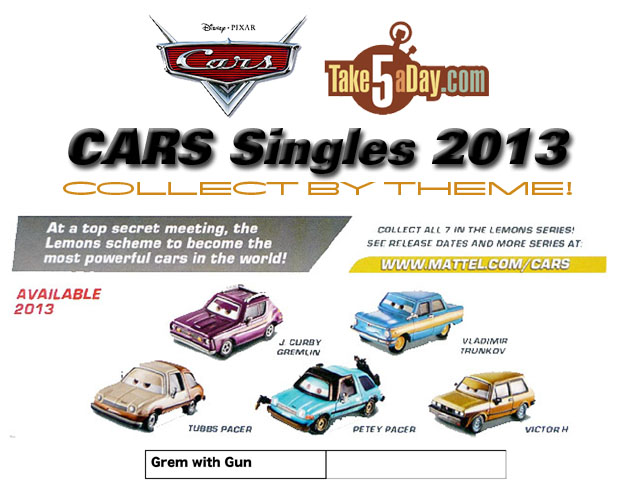 Blue Pacer with Welding Torch gets a name! Singles-wise, there is only one blank space in the Lemons grouping.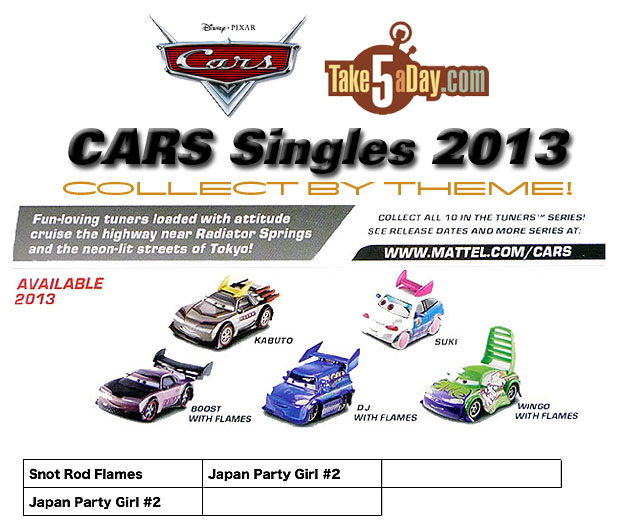 This is the crossover group with CARS and CARS 2 diecasts … There is also a listing for the three Japanese game show CARS from the TV series Mater & LM are watching on the plane, do they fit here? Are they a 3-pack "Movie Moments?" so they only take up one slot?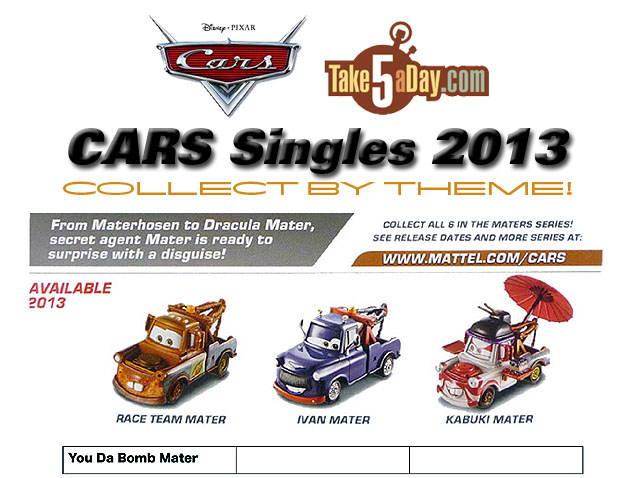 There are several oddities in the Maters series. There are least 4 other Mater's in the oversize listing – since now the plan seem to be included numbering the oversized and Movie Moment releases in each series' numbering – unless, of course some of the Mater's are counted in the SPY series?* That would defeat the Maters series plan of all Mater's in the Mater series and of course, Ivan Mater would definitely belong in the SPY series.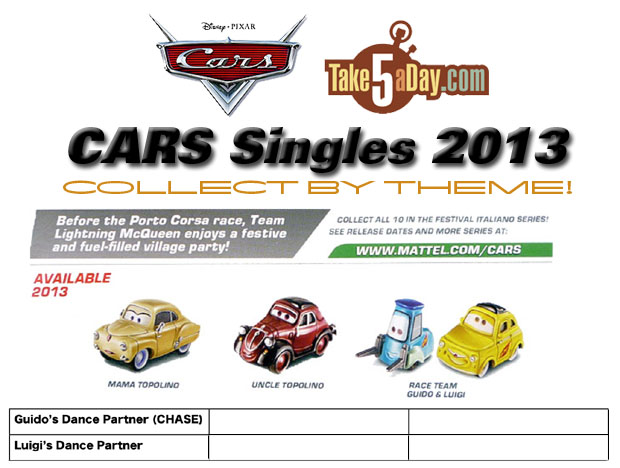 And the oddest twist of all, I'm not complaining, just surprised that there is an Festival Italiano series – and on top of that, it has more releases than the LEMON and the MATER series. Weird. I like it but it's weird. I'm hoping we get the Pitty's band … there's lots to pick from – I hope it's not Sarge with Olive Oil Can or mopey McQueen with a tear glued on to his windshield. Whoops, should I have not have said these out loud to give Mattel an idea?
*There are about 10 other releases (singles) that do not fit in any obvious category (or that is not already full) so my guess there's at least one more series not yet revealed – most likely some SPY themes series (Security Finn, Finn & Holley with Screen are three that are obvious fits) … there are also some fans in stands releases so maybe there's a TOKYO series also?
I guess if each Movie Moments release counts for only "one" slot/number, that covers two of three missing WGP racers: Raoul & Nigel – leaving only Carla unaccounted for? Box set?
So, while you can conjure up some marketing reasons for implementing themes, the numbering of each packaging choice seems to make very little sense – especially when two Movie Moments only count as "one," you pretty close the book of logic … but hey, collect them all and sort it out later, right?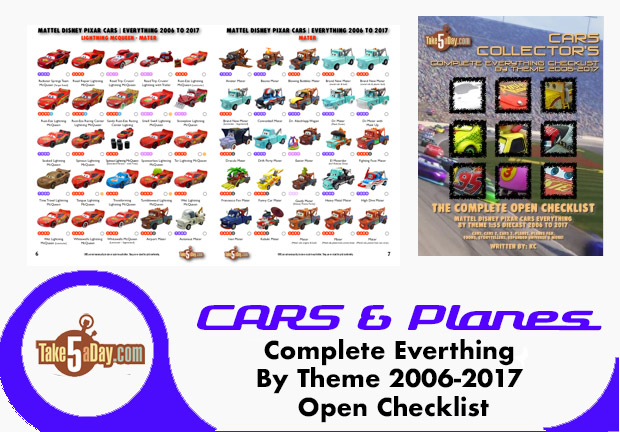 metroxing

6 November 2012

Disney Pixar, Disney Pixar CARS 3, Mattel Disney Pixar CARS, Mattel Disney Pixar Diecast CARS


17 Comments