Home
»
Mattel
Mattel 1:18 Scale Elite – Chrome Batmobile, Ghostbusters & RC
Entertainment Earth has the Mattel 1:18 scale Chrome Batmobile:
This incredible vehicle is a massive 1:18 scale, die-cast replica of the 1966 George Barris Batmobile of Batman fame. And now it's presented in a limited edition chrome finish! The car features excellent detail, a sleek chrome finish, real rubber tires, and an engine hood and driver and passenger doors that fully open to reveal the fine points inside. Take home this sweet ride today! Limited edition of 3,000 pieces.
It's almost Christmas time – one gift for the kids and one Batmobile for you. 🙂
The non-chrome 1:18 scale version is out of stock for now.
They also have the 1966 Bat motorcycle 1:12 scale for about 50% off.
This new RC 1966 Batmobile looks pretty cool.
Now fans of the classic 1966 BATMAN™ television series can own the legendary BATMOBILE and drive it for the very first time! With nearly elite-level decos-down to the curved windshield, rear bat chutes and fire extinguisher-full-function RC capabilities and a transmitter that looks like it belongs on the utility belt of BATMAN™ himself.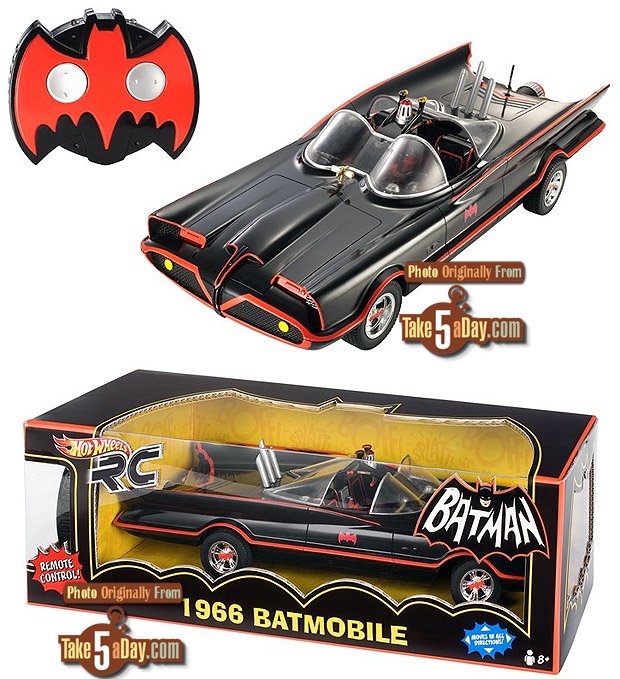 Mattel makes some nice 1:18 scale diecasts – though very spendy … Can't complain about the detailing on the Ghostbusters Ecto-1.
Also the A-Team Van …
There is also the Knight Rider KITT car though for $160, I want that red light that pulses back and forth and I want William Daniels' to randomly insult me during the day.
The Ghostbusters ECO-1 also comes in a 1:43 version but no photos so it's hard to tell if it's equally as detailed. Though the 1:43 DeLorean from BTTF looks pretty sweet.
You can also check out listings on Amazon for Mattel's Ghostbusters and Batmobile's large scale diecasts.