Article Archive for 27 September 2012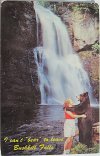 Save a Mail Carrier and Help Out Lorri's Son – Send a Postcard to his Class!
Posted in
Internet
on 27 September 2012
Stats: and
9 Comments
Lorri's son's class needs your help! My son's humanities class is having a contest, they are collecting postcards from other states and around the world. If its not too much trouble can you send them a postcard? It is supposed to have a picture of the place it is coming from, like if its from […]

Mattel Disney Pixar CARS 2 Diecast: Chrome Silver German Lightning WINNER!
Posted in
Contests
,
Disney Pixar
,
Disney Pixar CARS 3
,
Mattel Disney Pixar Diecast CARS 3
on 27 September 2012
Stats: and
12 Comments
Dolly P. was kind enough to send along an extra SILVER METALLIC mail away CAR from Germany/Austria (original post here) as a contest prize. Thanks, "Dolly." The contest was answer what CAR you'd want for Kmart CARS Day #10 (#9 coming up will fill out the rest of the silver chrome metallic racers). I'd like […]

Mattel Disney Pixar CARS 2 Diecasts: David Hobbscapp & Jaguar E-Type
Posted in
Disney Pixar
,
Disney Pixar CARS 3
,
Mattel Disney Pixar Diecast CARS 3
on 27 September 2012
Stats: and
4 Comments
The Tokyo Race Day 7-pack contains the first release of David Hobbscapp, the British race announcer represented as a Jaguar E-Type. "John H." (thanks!) sends along pics of him compared to Leland Turbo … Of course, the problem really starts with Finn. Even the larger/largest of the British CARS of the 1960's were not very […]