Home
»
Lego
UK Only Lego Team Great Britain Olympic Mini Figures
For the first time in history LEGO has launched a special edition range of Team GB Minifigures. The collectible range will only be available in the UK to commemorate this once in a lifetime event for the nation.*
The Team GB LEGO Minifigures spark the sporting imagination, so you can stage your very own Games.
They are £1.99 each, & the Team GB LEGO 8909 Minifigures will be in stores July 1, 2012.
There are nine exclusive Team GB LEGO Minifigures in the line-up.
Looks like UK collectors will suddenly find new friends! 🙂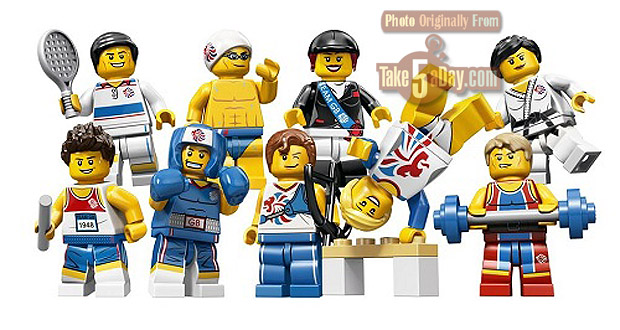 You can see larger pics at Toys n 'Bricks.
* They mean the Olympics®™ but if you're not an official sponsor, you cannot say or write the words Olympics lest the reader or person who saw your advert might think you are an official sponsor – then panic and chaos would ensure … much like uttering the unsayable words Super Bowl®™, March Madness®™, Oscars®™ or Disney Pixar CARS®™. Though since T5 is in service to humanity, like Doctors without Borders®™, we can actually write those words plus our offices are really hard to find in the Atoll.
It should be noted that "once in a lifetime event for the nation" may be just be LEGO throwing the barrister dogs off the scent since London has actually hosted the Olympics 3 times now in the past 100 years … (1908**, 1948 & now 2012) so while there might not be many who are still alive who can bear witness to thrice in a lifetime, I will go out on a limb and say there are a couple million in London who will have witnessed it twice in their lifetime but then the modern LEGO minifigure was only born in 1978 so what happened before disco never existed.
** I should know – I have my Tug of War Bronze still around my neck.