Home
»
Disney Pixar CARS 3
,
Mattel Disney Pixar Diecast CARS 3
Mattel Disney Pixar CARS 2 Diecast: Victor Hugo – The UGO is Silent
Victor Hugo has arrived in CASE D only his name is now just Victor H.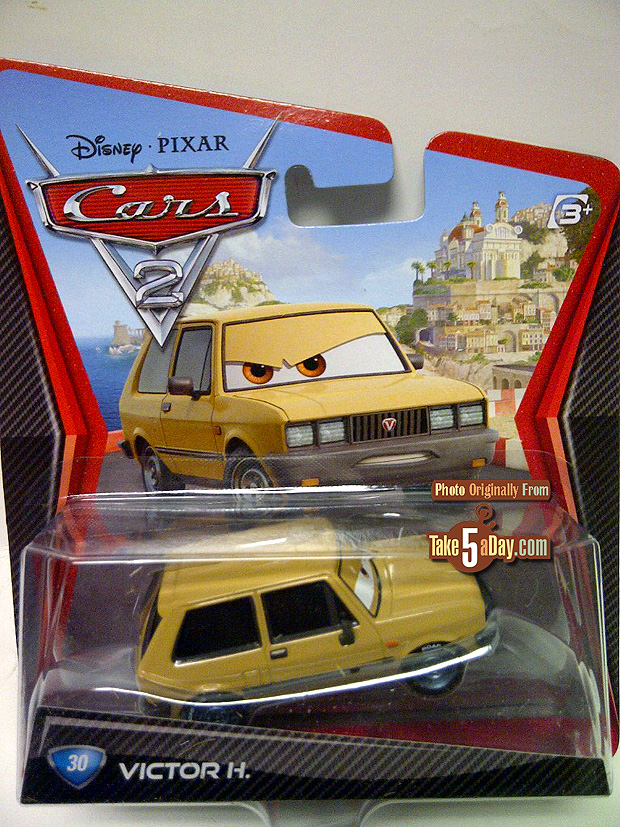 The Top 10 reasons for the change?
10) The nameplate designer had an interview with Spinmaster so no time to type in three more letters.
09) Victor Hugo's (the writer's) great, great, great, great, great grand kids might sue. It's not like if you say the words Victor Hugo to American High School students, you'll be met with bored indifference.
08) His full name of Victor H. Christ might be NSFW?
07) The package designer hated the Hunchback of Notre Dame so no tribute to the writer.
06) HUGO might be one of those newfangled text shortcut words that would offend nuns, Teamsters and rumspringa Amish.
05) The country of Yugoslavia might re-form as a country to sue for besmirching the name of their national car company.
04) If you look closely, it's not really an H but a vertical bar over a double L square – clearly Masonic – to the Illumanti!
03) There will be variant nameplates where his name is spelled out.
02) They just don't give a darn?
And the Number One reason?
01) They just don't give a damn?


metroxing

11 May 2012

Disney Pixar CARS 3, Mattel Disney Pixar Diecast CARS 3


6 Comments